Are you looking for How to Bypass MI Account on Xiaomi? Now in this tutorial, you can Unlock Mi accounts that forgot passwords on all types of Xiaomi easily.
Mi Account is a very useful feature when you want to backup all your important data, All you need to do is enter your Mi Account on your Xiaomi device and the data will be automatically synced to your new phone.
All Xiaomi devices come with a Mi ( How to Create MI Account ) account associated with them which allows backup of all your important things including contacts, audio, video, messages, pictures, notes, and much more.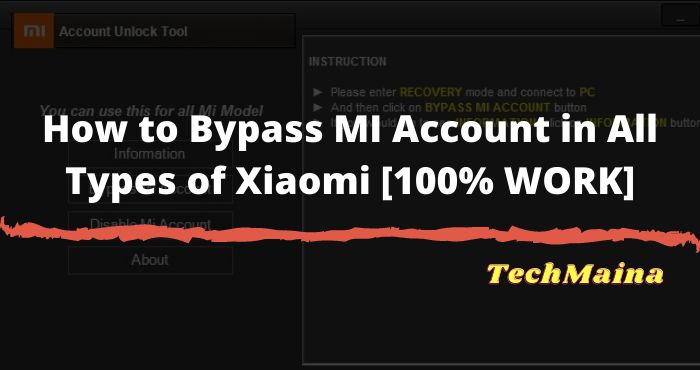 This will be very useful when the user buys a new Mi phone and wants to get all the data from the old phone.
All you need to do is enter your existing Mi Account login credentials into your new phone and the data will be automatically synced to your new p.
With the help of the MI Account Unlock Tool, you can easily open an MI account that forgot the password. So here's how to bypass MI accounts in all types of Xiaomi.
What is Mi Account Unlock Tool?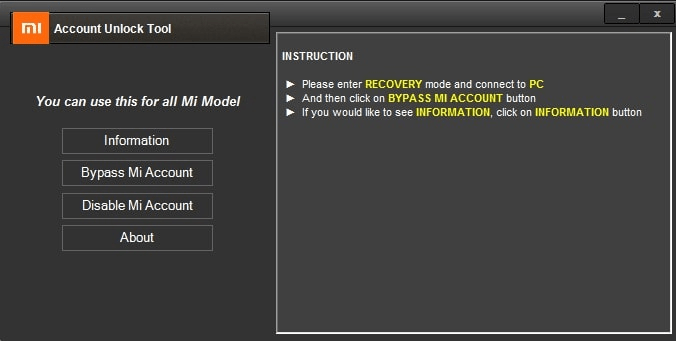 This is how to Bypass the Mi Cloud Account when you forget Mi Account Login & Password. Using this tool you can Bypass your Mi Account or Deactivate your Account. These are the only two services available in this program.
Anytime you reset your device, On the first boot, we have to enter Mi Then Account ID Login without entering details which you cannot use the tool.
Now, to Bypass that we have two options, First, it will choose to ignore the password and regain login or if you don't remember the correct ID then you can use this way to Bypass Mi Account or Disable Mi Account option.
Download Mi Account Unlock Tool 2023:
| | |
| --- | --- |
| Filename | Mi Account Unlock Tool.rar |
| Developer | Advance Mobile Software |
| Size | 51 MB |
| OS supported | Windows 7/8 / 8.1 / 10 |
| Download Link | Mi-UnlockTool_3.5.1108.44.zip |
| OPEN PAID [Check Now] | www.3toolsgsm.online |
Note:   We can't make sure the above files will work for you or not. Many people have complained about it. If you find a file that works fine then share it with us via the comments section.
Alternative:
Download Easy FRP Tool: → Download Now
File Password:  frpbypass.net
Hardware ID:  6A8398C2
Activation Key: 2656711213965662805333266584828898864832
Read Also:
How to Bypass MI Account in All Types of Xiaomi
Resetting your device using this toolkit is very easy. You will need to boot your device into Recovery mode which will boot your device into PC Mode.
Here's a quick guide to getting started with this tool.
If you have an antivirus installed on your pc then please turn it off before drawing.
Open extracted folder & Run "MiAccountUnlock Tool.exe".
The application will open your display. Reboot your device into Capture Mode, First Turn Off Your Phone. Now, Press Volume Up Button + Power On Button both at once & keep it on till you see Mi Logo or pcsuite.mi.com.
Connect the smartphone using a USB cable to the PC.
In the tool, Click the info to judge whether your device is connected or not. You will see the information on the connected phone. In that case, it does not show a recognized meaningful suggestion of the tool. Go back and install the appropriate Xiaomi USB Drivers again. 
Finally, Press "Bypass Mi Account" to remove cloud verification or Xiaomi FRP Lock.
Do not plug out the device before the unit does not start properly. Also, don't link to the internet until you boot into the main display.
1. With 3ToolGSM
If you are tired of looking for how to bypass mi account, use the 100% unlock method from 3ToolGSM service.
This method is suitable for all Xiaomi devices with my account locked, but it has some limitations:
The device is in a LOST (lost or stolen) state
Currently, the device activation region is not supported
To receive free information about deleting MI account, leave a request on the official website of the 3ToolGSM service.
Before submitting an application to unlock mi account, read the FAQ on the 3ToolGSM website.
The service specialist will process your application, after which you will receive an e-mail message which will contain all the information about the possibility or not the ability to delete the MI account from your device, as well as the service fee.
ATTENTION!
Service to delete mi account and is done only with 100% upfront payment.
The official website for 3ToolGSM service is www.3toolsgsm.online.
2. Send Email to Xiaomi:
Now, this is the way to Bypass MI Account without a PC. If you have a box from the phone, a tick is, of course, the phone itself, then you can write a letter to the support service [email protected] in English. You will be asked to submit the following details:
The country you are in
Check, box (photo)
IMEI of two sim cards (photo)
Phone Lock Screen Capture
email and/or phone number added to Mi account
3. Bypass Mi Account Via mi.com:
You can bypass this account by logging into your Mi account at account.xiaomi.com (previously i.mi.com).
But this is only if you know the login and have access to a phone number or mail, and you can't log in from your smartphone for some reason.
We visited the official page and clicked "forgot password?" Below the orange "Enter" button.
The confirmation code will be sent to the attached number or email, which we enter in a special column. Unfortunately, nothing will function without a phone number or mailing address.
Next,  we created a new strong password.
We take out the smartphone and enter the updated login information. The keys must be released if you do everything right.
Read Also:
How to Bypass MI Account on PC
1 – Download Mi Account Unlock Tool   (  Windows 10/8/7 / XP  ) and copy it to a folder on your PC. Then extract the Mi Account tool file and run it as administrator (folder password:  ourflashfile.com  ).
2 – Then turn off the phone and enter recovery mode. To do this, press and hold the Volume Up and  On / Off buttons simultaneously and release them as soon as you see the Mi logo.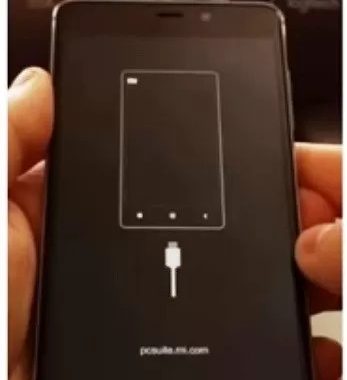 3 – Then on the PC, run the Mi unlock tool and connect the phone via USB cable.
4 – In this program, click "  Information  ". After that, all the information about the Xiaomi phone will be displayed.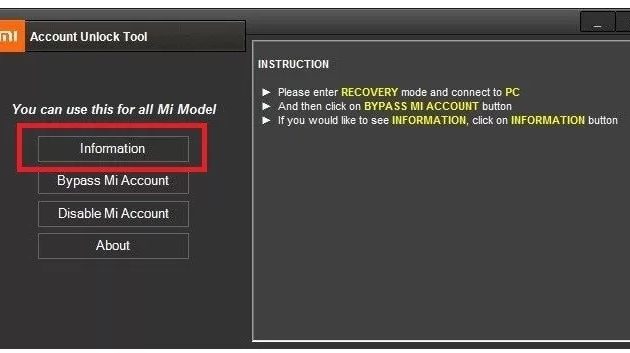 5 – Now click "  Bypass Mi Account  ". Then your phone will restart.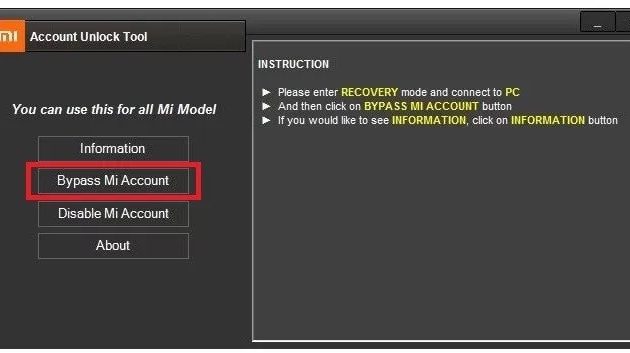 6 – The phone will automatically restart after the process is complete. Do not take any action on the device until it is fully initialized. Now you can use your Xiaomi smartphone as usual.
Conclusion
Well, that was how to bypass mi accounts on all Xiaomi types. Hopefully, this article can be useful for you.