You want to know how to solve Roblox error code 524 because you have come to the right place Are you also facing Roblox error code 524?
If so, here is the solution! Are you going through messages like "Not authorized to join the game" or "You don't have permission to join the game"?
That means ROBLOX servers are down! The reason can be many, including the connection that has been exhausted. The main concern here is now How to fix the error? Scroll down to find out more!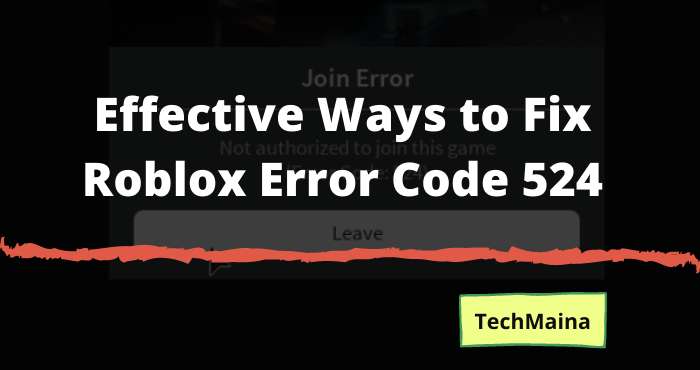 When you find free time to play your favorite game and relax, but ending that mistake is really frustrating! When the player wants to join a VIP server, he may receive such authorization errors.
The other reason is that maybe your internet connection is too slow to connect to a server, then you will get this kind of errors. But that is not all true!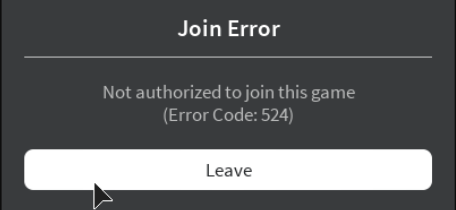 What is Meant by Authorization Error 524 in ROBLOX?
ROBLOX Error Code 524 is an error seen by users when they try to join a VIP server (normally or as a guest) but they cannot join.
The main reason behind this error is that game creators make VIP games, so only a few people can play the game. Another reason for this error is that there is a problem with the ROBLOX application on PCs and Mobile devices.
How to fix ROBLOX Error Code 524
There are only 2 ways to resolve this 524 error.
Method 1: Get an invitation from a friend who uses a VIP server
This method is 100% successful in resolving error 524. If you can get an invitation from a player who is already on a VIP server, then you will get permission to access the server.
=> Open the ROBLOX settings.
=> Select Privacy settings.
=> Scroll down and you will see a Tab Box that says, Who can invite me to the VIP server.
=> Choose Everyone, not Friends.
=> Click OK to save and apply changes.
=> The next thing you need to do is look for players who play the game.
=> Wait until that person accepts your invitation.
=> Click join the game after the invitation is accepted.
Also, check out how to fix Roblox error code 610 easily.
Method 2: Reinstall ROBLOX
The number one method is the best solution to overcome the authorization error 524. But if you still face the same problem over and over again, you can try to reinstall ROBLOX.
=> Open the Control Panel
=> Select the Uninstall program
=> Select ROBLOX
=> Click and uninstall
=> Open the official ROBLOX site
=> Search for the game you want to play
=> Click join and ROBLOX will allow you to download the Application.
=> Download ROBLOX Player and join the server
Conclusion
That's the article about How to Overcome ROBLOX Error Code 524. May be useful.
Well friends, thanks for reading! I think that now you will not have the problem again and if you can get a complete guide to solve it.
Roblox is a wonderful platform to learn and win. Some errors may occur, but all problems have similar solutions, all errors have solutions.
In addition to all this, we invite you to visit our home page where you will find all recent publications.
We also invite you to share this information on Facebook and Twitter groups. If you have any questions, please let us know by the comments to help you.