In this article, we are going to share with you on How to Change Moonton Account Password in Mobile Legends.
For Mobile Legends players, of course, Moonton is no stranger, because it is closely related. However, some players sometimes don't understand moonton.
There are also those who are confused about how to change the Moonton password.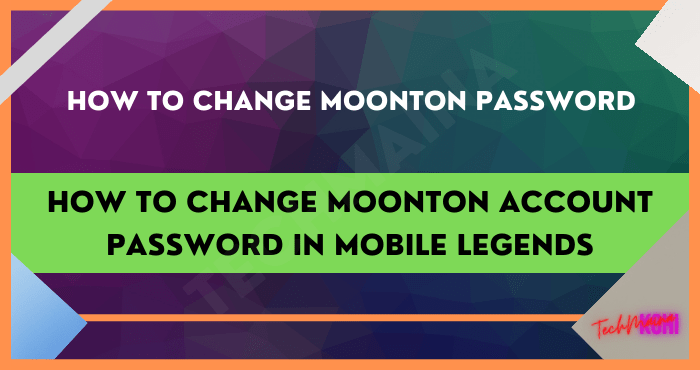 If you are one of them, then you should get to know him more deeply. The goal is not to be confused or curious anymore.
Moreover, this article will discuss in full, including how to change the password.
What is Moonton?
Before going to how to change the Moonton password, you must first understand the meaning and other facts.
Moonton's full name is Shanghai Moonton Technology Co. Ltd. Where previously had the name YoungJoy Technology Pte. Ltd.
| | |
| --- | --- |
| Company name | Shanghai Moonton Technology Co. Ltd |
| Industry | Video game |
| Type | Private |
| Year of Standing | April 2014 |
| Headquarters | Minhang District, Shanghai, China |
| Founding father | Justin Yuan |
| Key Figure | Justin Yuan (CEO) dan Watson Xu Zhenhua (CEO) |
| Employee | 950 more |
Moonton is a video game developer and publisher. Its head office is in Shanghai, China.
This company was founded in April 2014 and is famous for its MOBA (Multiplayer Online Battle Arena) games.
The game is called Mobile Legends: Bang Bang. Where it was launched in July 2016. If you want to know more about the specifications, you can see the description in the following table.
Moonton Travel
On April 6, 2015, Moonton launched its first video game, which is a tower defense game, the title is Magic Rush: Heroes. Then, develop a MOBA (Multiplayer Online Battle Arena) game.
The MOBA game is Mobile Legends. The launch of this game in Brazi in beta by Moonton. The subtitle at the time was called 5v5 MOBA. The first launch occurred on July 14, 2016.
Then Moonton launched it globally in November 2016. Since then, Mobile Legends has become very famous in Southeast Asia. Especially in India, the Philippines, and Malaysia.
It is proven that this game is one of the most downloaded game applications by iPhone users.
Even though this was only in 2017, about a year from launch. Later, this game in the United States was distributed by Elex Tech.
Moonton's Problems
After the game was launched, Riot Games claimed that Mobile Legends imitated the intellectual property of League of Legends.
Then, apply for removal to Google to be removed from the Google Play Store and App Store.
Finally, Moonton removed the Mobile Legends game before Google took action. However, relaunched it on November 9, 2016. Its name changed to Mobile Legends: Bang Bang.
That's not enough, in July 2017, Riot Games filed a lawsuit against Moonton. The charge remains the same, namely copyright infringement.
Riot Games said there are similarities between Mobile Legends and Magic Rush and League of Legends.
However, the Central California District Court rejected the claim. The reason is the non-conveniens forum.
After that, Tencent which is the parent of Riot Games filed a new lawsuit against Moonton CEO Watson Xu Zhenhua.
Where previously worked at Tencent and was a senior employee. The charge is a violation of law relating to the Non-Competition Agreement. Then, the court granted the claim in July 2018.
Finally, Tencent received compensation of US $ 2.9 million or 41 billion. Even so, without never giving up, Moonton continues to develop his game so that it still exists today.
It turns out that on March 22, 2021, TikTok developers, namely BABE, Resso and Lark, ByteDance announced that they had acquired Moonton.
The acquisition was through its subsidiary, Nuverse, for an estimated $4 billion.
The interesting news is that Tencent has also made an offer to acquire Moonton. Unfortunately, ByteDance beat it.
Unique Facts about Moonton
Moonton has some unique facts that you need to know. If you want to know, please read the explanation below.
1. Ever Changed the Logo
Moonton has changed its company logo to a more modern one. The meaning and philosophy of the logo is still the same, it's just that it's reaffirmed to a cooler look.
Chances are you won't notice the changes if you don't observe carefully.
Only when you compare the old and new logos, you will see the difference. The new logo is clearly lined making it more attractive when you see it. This change includes showing the world his new image.
2. Ever Had a Problem
For every tree that stands, there must be a wind that shakes it. Just like Moonton, even this problem has occurred in the early release of the game.
If you can't survive the incident, of course, Moonton will close long ago.
However, this is not the case and the company is progressing. The game is getting more and more popular all over the world.
Even so, Moonton had to pay for the problem with a very large amount. As previously explained.
3. Purchase a Game Engine License from Tencent
Many say that Mobile Legends is not entirely made by Moonton. That's because the engine license or game engine bought it from Tencent. So, this game has the same engine as King of Glory from Tencent
The King of Glory game was released internationally under the name Arena of Valor. In addition, both include MOBA genre games with a mobile version. Meanwhile, Tencent itself is the number 1 game developer in the world.
4. Moonton Only Has One Game
From the past until now, Moonton has only focused on developing one game, namely Mobile Legends.
Unlike other developers who develop more than one game. Even so, Mobile Legends consists of several subs with different applications.
However, most of the characteristics are still Mobile Legends. Examples such as Mobile Legends: Adventure with Chess Rush. Both of them are still tied to ML, starting from the characters and others.
By only developing one game, it shows that Moonton is total in his efforts. This company wants to maximize the game. This has been proven by the popularity of Mobile Legends.
5. Don't Have a Company Profile Website
Even though it's a big company, in fact, Moonton doesn't have a Company Profile Website.
These sites usually contain company or product information. Even so, you don't need to worry, because Moonton has a Mobile Legends website.
The web contains heroes or characters in the game and other related information. So, you can visit the site to find the latest info.
Moonton's Latest Logo Meaning
Some of you may be curious about the meaning of the Moonton logo. Given that every logo must have its own philosophy.
Likewise, Moonton does not carelessly use the logo without any specific purpose.
Even in changing the logo, there is a special meaning. This is evident from Moonton's story through their Official Facebook FanPage.
In the beginning, it describes a little about Moonton who writes that it is a company that specializes in the field of game development.
Then, Moonton said that the best project was indeed from Mobile Legends. It has more than 100 million downloads worldwide. Only after that, explain in detail the meaning of the logo.
Since human civilization began to develop, the moon has accompanied him and never left them.
It juts out in the sky and changes its shape every day. It is a form of existence that is indispensable for the impulse of curiosity.
In addition, as well as a sense of enthusiasm boost. Sometimes the full shape is like a white plate.
Sometimes the shape of a sickle is like a silver hook that radiates a lot of inspiration and ideals. Be it to wise men, poets, or commoners.
Moonton is committed to achieving perfection and harmony, like the symbol of the growing moon.
Full or half, the moon will continue to evolve, run until it develops. This will also be applied to games made by Moonton.
How to Register a Moonton Account in Mobile Legends
Players who are looking for a way to change Moonton's password, of course, already have an account.
If you don't know Moonton Account in Mobile Legends, you should join immediately. That's because of its many advantages.
One of the benefits is when your cellphone is reset or replaced a new cellphone. So, there is no need to play from the first level if you want to continue playing Mobile Legends. The solution is to log in with the Moonton account.
In addition, when your account is hacked by someone else, the Moonton account can help restore it.
Therefore, why creating this account is highly recommended. If you don't know how to register, you can follow these steps.
Open your Mobile Legends application.
Then, select the profile menu in the upper left corner.
Then, select the Settings option.
Please login to an existing account.
Click the Moonton account and a form will appear that needs to be filled out.
Fill in your Gmail account.
Next, fill in the password. Usually required to use a combination of uppercase, lowercase letters, and numbers. Make sure you remember it easily because if you forget it, you have to find out how to change the Moonton password.
After that, confirm by rewriting the password.
When everything is done, press the Send button.
Then, open a Gmail account, either through a cellphone or in a laptop browser.
Check incoming emails and read incoming emails from Moonton.
The contents of the email are in the form of how to activate a Moonton account. Usually, there is a link to make the process easier for you.
How to Link a Moonton Account to Mobile Legends
If your Moonton account registration has been successful, then the next step is to link it with Mobile Legends.
The method is not difficult, especially if you have read the tutorial below. Anyone can apply it.
First, open your Mobile Legends Account
Then, select the profile menu on the Mobile Legends menu page.
Click Account Settings.
Then, select the Associate Account option.
Next, select Moonton Account.
You will be asked to fill in your email and password. Make sure to write it correctly, especially in upper and lower case.
Then, select Sign in.
We recommend that when you have registered for a Moonton account, you should immediately link it.
Worried about forgetting the password, especially if it wasn't recorded beforehand. If you forget, of course, you have to understand how to change the Moonton password.
By linking your Moonton account to Mobile Legends, you can get a prize of 200 free tickets.
How to Change Moonton Account Password
You don't need to be confused when you forget your password, because this discussion will tell you how to change the Moonton password.
So, just follow the steps, but you should always try to remember the password.
That way, you don't have to replace it every time you need it. You can write it down on paper and if it's not easy for others to find.
How to change the Moonton password only takes a few minutes, here is the explanation.
1. Log in to the Mobile Legends Application.
The first thing you have to do is log in to your Mobile Legends account. Usually, the process will be a little long, especially this game including its size. So, just wait for it to enter the main menu.
2. Select the Profile Menu
The next way to change Moonton's password is to select the profile menu. Usually how much is on the top left.
After that, just select Account Settings or Account Settings. Then, select the Switch Account option again.
3. Login to Moonton Account
After that, select the Moonton account to be able to enter it. Because you forgot your password, the way to change Moonton's password is by pressing the Forget Password button. This stage can also be used when you really want to change it.
4. Enter Email
Next is to enter the email you used to register for a Moonton account before. The next new password change process will be sent via email. Then, click the Submit button, then Continue.
5. Click Tombol Change Now
If you have pressed the Continue button, then you just have to wait for the email from Moonton to enter.
It will contain a response message regarding your request to change your password. In addition, there is also a Change Now button and just click on it to continue the process.
6. Enter New Password
The last way to change Moonton's password is to enter a new password. After that, you will be asked to fill in again to confirm. When finished, the password has changed.
How to Change Moonton Account Email
What if the email is forgotten or it can't be used anymore? Of course, what you need is not how to change the Moonton password, but the stages of changing Email.
Because the method will be different as in the following explanation.
If you want to change your email, the first step is to go to the Profile menu.
Then, select Account Settings.
Then, click the Account Center option.
Next, press the Change Moonton account email address button. Then, a notification will appear that a verification link will be sent via the Email account included. So, of course, you will be asked to enter an Email address for sending the link.
Please check the email sent by Moonton.
Click on Change Email in the message. Usually, the text is already blue which indicates that there is a link.
Enter the new Email you want to use.
Click the Verification Code button. Later the code will be sent via email. Then, you can enter the code into the fields provided.
Finally, click the Confirm button.
If you want to know whether it works or not, then you can try logging in with a new email. Make sure to use an always-on Email. The goal is to minimize the theft of Mobile Legends accounts.
By changing the Moonton and Email passwords above, it is certainly very helpful when you need it later.
Don't forget to register for a Moonton account immediately and link it to Mobile Legends. Moreover, the opportunity to get a pretty big prize.