Free Remote Access Software: Remote desktop application or more accurately called remote access software or remote control software is an application that allows you to control other computers remotely.
With the remote control, you can take over the mouse and keyboard and use another connected computer as if you were using the computer in front of you.
Remote desktop applications are really useful for many situations, from helping your father who lives thousands of kilometers away from where you are now to helping him solve computer-related problems.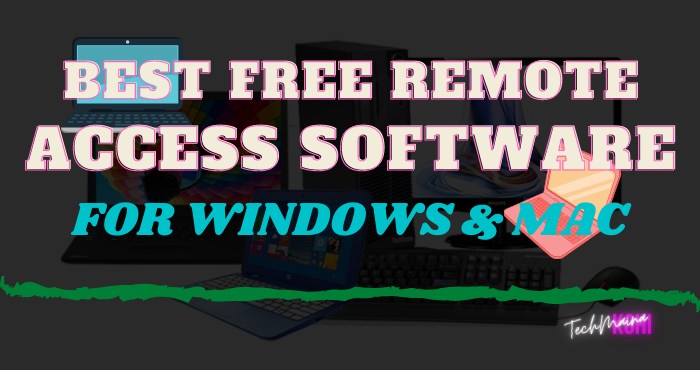 In general, to be able to access a computer that is far from where we now require installing an application on the computer that you want to remote or control called the host.
Once that is done, a computer or other device with valid access rights, commonly called a client, can connect to the host and control it.
Even though it seems too technical, you don't need to be afraid to use remote desktop applications.
The free remote desktop apps on this list only take a few clicks to get started and don't require any special computer knowledge.
15 Best Free Windows Online Remote Desktop Software
Below we are sharing the best free remote desktop tools and also provide the download link.
#1: TeamViewer
For me, TeamViewer is the easiest free remote desktop application I have ever used. Although there are many great features in this application, it is not difficult to install TeamViewer because you don't need to change the router or firewall configuration.
In addition, to supporting video, voice calls, and chatting, TeamViewer also allows file transfers, supports wake-on-LAN (WOL), and can even reboot a PC remotely and then reconnect automatically.
Host Side:
The computer you want to connect to TeamViewer can be a Windows, Mac, or Linux computer.
The full version with the installer is a good choice to install on the host site and is a safe choice if you are not sure what to do.
A portable version called TeamViewer QuickSupport is also a good choice if you want to remote only once or if it is not possible to install TeamViewer on the host computer.
The last option is TeamViewer host and this is the best version if you are frequently and continuously remote on that host computer.
Client-Side:
TeamViewer has a number of options for connecting to the computer you want to control.
The installable and portable versions are available for Windows, Mac, and Linux, as well as mobile apps for iOS, BlackBerry, Android, and Windows Phone, meaning you can use your phone or tablet to remotely connect to a host computer while traveling.
TeamViewer also allows you to use a web browser to access the host computer.
A number of other features are also included, such as the ability to share one application window with others (not the entire desktop) and the option to print files remotely to a local printer.
TeamViewer supported operating systems include Mac, Linux, Windows 10, 8, 7, Vista, XP, 2000, Windows Server 2012/2008/2003, Chrome OS, and Windows Home Server
Read Also:
#2: Remote Utilities
Remote Utilities is a remote desktop application with some excellent features. Remote Utilities works by connecting two computers with what they call " Internet ID ".
You can control up to 10 PCs with this application.
Host Side:
Install a part of Remote Utilities called hosts on a Windows PC to have permanent access to that computer.
You also have the option to just run Agent which provides instant support without having to install anything, you can even run it from a flash disk.
The host computer is assigned an Internet ID which the client will use to establish a connection to the computer.
Client-Side:
Install the part of Remote Utilities called Viewer which is used to connect to the Host or Agent computer.
Viewers can be downloaded separately or download the Viewer + Host combination. You can also download a portable version of the Viewer if you prefer not to install anything.
Connecting the Viewer to the Host or Agent is done without making router changes such as port forwarding, making Remote Utility setup a breeze.
Clients only need to enter their Internet ID number and password. There is also a client application that can be downloaded free of charge for iOS and Android users.
A slightly different module on the Viewer so you can actually access the computer remotely without looking at the screen.
Here are some Remote Utility modules that are allowed: remote task manager, file transfer, power control for remote reboot or WOL, remote terminal (access to Command Prompt), remote file launcher, text chat, remote registry access, system information manager, and remote webcam viewing
Apart from these features, Remote Utilities also supports remote printing and viewing of multiple monitors.
Unfortunately, configuring Remote Utilities is much confusing on the host computer, as there are many different options.
Remote Utilities can be installed on Windows Server 2012, 2008, and Windows XP, 10, 8, 7, and Vista.
#3: Ammyy Admin
Ammyy Admin is a remote desktop application that is completely portable and very simple to set up.
Ammyy Admin works by connecting one computer to another through the ID provided by the application.
Host Side:
You only need to run the Ammyy Admin remote desktop application on the computer you want to access. No installation is required so you can get started quickly.
From the menu called Ammyy, you can select Service and then install Ammyy Admin Service so you can access your PC without having to run the program manually.
Client-Side:
To connect to the Ammyy Admin host computer, you only need to run this portable application and enter the ID of the host computer.
Once connected you can do things like use the clipboard on the host PC, voice chat, and transfer files to and from the computer.
#4: UltraVNC
Another remote desktop application on this list is UltraVNC. UltraVNC is similar to Remote Utilities in that the server and viewer are installed on both PCs, and the viewer itself is used to control the server.
Host Side:
When you install UltraVNC there will be a choice whether you want to install Server, Viewer, or both. You have to install the Server on the PC you want to control.
You can install UltraVNC Server as a service on the system so that it is always running. This is the ideal choice so that you can always make a connection to the host PC at any time using the client application (Viewer).
Client-Side:
To establish a connection with the UltraVNC Server, you must install the Viewer during setup.
After configuring port forwarding on the router, you can access the UltraVNC server from anywhere with an internet connection, either via a mobile device that supports VNC connections, a PC with a Viewer installed, or an internet browser. All you need is the Server (Host) IP address to make it connect.
UltraVNC supports file transfer, chat, clipboard shares, and can even boot and connect to servers in Safe Mode.
Read Also:
#5: AeroAdmin
AeroAdmin is probably the easiest remote desktop application out there. There are hardly any setups, and everything is quick and straight to the point for use as impromptu support.
Host Side:
AeroAdmin looks like TeamViewer. You just need to run a portable program and share your IP address or share ID with other people. This allows the client computer to know how to connect to the host.
Client-Side:
The client PC just needs to run the same AeroAdmin program and enter the ID or IP address.
You can select View only or Remote Control before you connect your PC with the host computer, and then just select Connect to initiate remote control.
When the host computer accepts the connection, you can start controlling the computer, share clipboard text, and transfer files.
It's nice that AeroAdmin is completely free for personal and commercial use, but no chat feature is included. AeroAdmin can be installed on Windows 10, 8, 7, XP 32-bit and 64-bit.
#6: Windows Remote Desktop
Windows Remote Desktop is a remote desktop application that integrates with the Windows operating system. You don't need to download Windows Remote Desktop to use this application.
Host Side:
There are no applications that must be installed to use Windows Remote Desktop.
To enable connection to a computer with Windows Remote Desktop, you must open the System Properties settings and activate the allow remote connections settings.
You must set up port forwarding on the router so that other PCs from outside the network can connect.
Client-Side:
Other computers that want to connect to the host computer only need to open the Remote Desktop Connection software that is already installed and just enter the IP address of the host.
Most of the applications on this list have no Windows Remote Desktop feature, but this remote access method seems to be the most natural and easiest way to control the mouse and keyboard from a remote PC.
Once you've configured everything, you can transfer files, print to a local printer, listen to audio from a remote PC, and transfer clipboard content.
Download Windows Remote Desktop
#7: RemotePC
RemotePC is a simple free remote desktop application. You are only allowed one remote connection.
Host Side:
Download and install RemotePC on a PC that will be accessed remotely. This application supports Windows and Mac.
Share Access ID and Key with other people so they can access the computer.
Alternatively, you can create an account with RemotePC and then log in on the host computer to add computers to your account for easy access later.
Client-Side:
There are two ways to access a RemotePC host from different computers. The first is using the RemotePC application that you install on your computer. Enter the host computer's Access ID and Key to connect and control the host, or just to transfer files.
Another way you can use RemotePC from a client perspective is via the iOS or Android apps.
You can receive sound from a remote PC, record what you did to video files, access multiple monitors, transfer files, and text chat.
Some features are not available if the host and client computers have different operating systems.
RemotePC allows you to have only one computer set up in your account, which means you can't have a PC list for remote like most of the other remote desktop applications on this list.
#8: Chrome Remote Desktop
Chrome Remote Desktop is an extension for the Google Chrome browser that allows for remote access from other Chrome browsers.
Host Side:
The first time you run this extension, you will be prompted to provide authentication for remote PC access using a PIN that you created yourself. This process requires you to log into your Google account.
Client-Side:
To connect to the host browser, sign in to the Chrome browser with the same Google credentials and install the same extension.
After you log in, you can see the names of other PCs that you can choose and start to remotely.
Chrome Remote Desktop supports simple file sharing copy/paste but there are no advanced settings.
Because Chrome Remote Desktop works completely from within the Google Chrome browser, it means it can be used on any operating system that uses Chrome, including Windows, Mac, Linux, and of course Chromebooks.
Download Chrome Remote Desktop
#9: AnyDesk
AnyDesk is a remote desktop application that you can run portable or install like a normal application.
Host Side:
Run AnyDesk on the host PC and record AnyDesk-Address or set the password manually.
When a client connects, the host will be asked to allow or disallow sound, controls, clipboard usage, and controls for keyboard/mouse.
Client-Side:
On another computer, run AnyDesk and then enter AnyDesk-Address host in the Remote Desk section.
If unattended access is specified in the host computer's settings, the client does not need to wait for the host to accept the connection.
AnyDesk supports full-screen mode, file and sound transfer, clipboard synchronization, keyboard shortcuts, as well as taking screenshots from remote computers.
#10: LiteManager
LiteManager is another remote desktop application in this list, and it is very similar to Remote Utilities, which I described earlier.
However, unlike Remote Utilities which can only control 10 PCs, LiteManager supports up to 30 slots for storing and connecting to remote computers. AnyDesk LiteManager also has many useful features.
Host Side:
The computer that needs to be accessed must install LiteManagerFree which is included in the downloaded ZIP file.
There are many ways to connect to the host computer using the IP address, computer name, or ID.
The easiest way to set this up is to right-click on the server application in the notification area of ​​the taskbar, select Connect by ID, delete existing content, and click Connected to generate a new ID.
Client-Side:
Another application called Viewer must be installed in order for clients to connect to the host. After the host computer creates the ID, the client must enter it in the "Connect by ID" option in the Connection menu to establish a remote connection to the host computer.
After a successful connection, the client can do many things that can be done in Remote Utilities, such as working with multiple monitors, transfer files, take full control or read-only access from another PC, run a task manager, run files and applications remotely, record sound, edit the registry, create demons, lock the screen and keyboard, and text chat.
The LiteManager Server and Viewer can also be run in portable mode, but it requires several manual copy files to run.
#11: ShowMyPC
ShowMyPC is a free portable remote desktop access application that is almost identical to UltraVNC, but slightly different from UltraVNC, ShowMyPC uses a password to establish a connection instead of an IP address.
Host Side:
Run ShowMyPC on any computer and then select Show My PC to get a unique ID number called Share Password. This ID is the number you have to share so that other people can connect to the host.
Client-Side:
Open the ShowMyPC application on another computer and enter the ID of the host application to establish a connection.
There are additional options on ShowMyPC that are not available on UltraVNC, such as webcam share via a web browser, as well as scheduled appointments that allow someone to connect to your PC via a private web link.
#12: DesktopNow
DesktopNow is a remote desktop application from NCH Software. After configuring optional port forwarding on the router, you must register for a free account to be able to access your PC from anywhere via a web browser.
Host Side:
Computers that will be accessed remotely need the DesktopNow application installed. When the application is first run, you will have to enter your email and password so that you can use the same credentials as the client to establish a connection.
The host computer can be configured to use port forwarding on the router for or choose cloud access to establish a direct connection to the client which is great if you find port forwarding configuration complicated.
Client-Side:
Clients only need to access the host via a web browser. If the router is configured using port forwarding, the client can use the Host PC's IP address to connect.
If cloud access is selected, a link will be given to the host which you will use to connect to.
DesktopNow has a great file sharing feature that lets you download files remotely using a browser.
There is no specific application to connect to DesktopNow from a mobile device. Don't worry though, the site is optimized for mobile users.
#13: BeamYourScreen
And lastly is BeamYourScreen. This application works like some of the other applications on this list, where the host will be assigned an ID number that must be shared with the user in order to connect to the host PC.
Host Side:
BeamYourScreen hosts are called organizers, so these applications are called BeamYourScreen for Organizers (Portable) which is a method the host computer uses to accept remote connections. BeamYourScreen is very fast and easy to use without installing anything.
There is also an installable version called BeamYourScreen for Organizers (Installation).
Just click the Start Session button to open a connection on the host computer. After that you will be given a session number which you will share with someone who wants to connect to the host.
Client-Side:
The client application also BeamYourScreen has a portable version or application installed, but there is a special application called BeamYourScreen for Participants which are small executable files that can be launched similar to portable applications for organizers (hosts).
Enter the host session number in the Session ID to join a connection session. Once connected, you can control the screen, share clipboard text and files, and chat.
There is something unique about BeamYourScreen, where you can share ID with multiple people so that many people can join and see the presenter screen.
There is even an online viewer so that clients can view other screens without having to run any software.
#14: Seecreen
Seecreen is a remote desktop application with a very small file size (600 KB). Even so Seecreen is a stable remote desktop application that is absolutely perfect for remote on-demand needs such as instant / impromptu support.
Host Side:
Run the application on the computer you want to control. After creating an account and logging in, you can add other users via the menu using their email address or username.
Client-Side:
To connect to the host computer using Seecreen another user needs to be added to the contact.
Once the two computers are connected, you can initiate voice calls or share the screen with other users. Once screen sharing has started, you can record sessions, transfer files, and run remote commands.
Firnass uses Java to run. Firnass supports all versions of Windows, Mac and Linux operating systems
#15: Comodo Unite
Next up is Comodo Unite, a remote desktop application that will create a secure VPN connection between multiple computers. Once the VPN connection is established, you can have access to applications and files via the Comodo Unite client application.
Host Side:
You simply install the Comodo Unite application on the computer you want to control and then create an account on Comodo Unite.
Client-Side:
To connect to the Comodo Unite host computer, you only need to install the same application device as the host, then log in with the same username and password.
Then you can select the computers you want to control and start the session immediately via the VPN.
Files can be shared if you start chatting, so it's not as easy to share files with Comodo Unite compared to other remote desktop apps on this list.
However, you might not find safe chat using a VPN in other similar applications.
How to Remote PC [2023]
Of the 15 best remote PC applications above, we will give an example of how to remote PC with TeamViewer.
Why did we choose TeamViewer? Because this application has a number of users more than others and is most familiar.
Here are the steps:
Please download the TeamViewer application first, please select the " Download for free " one, if you have already installed TeamViewer.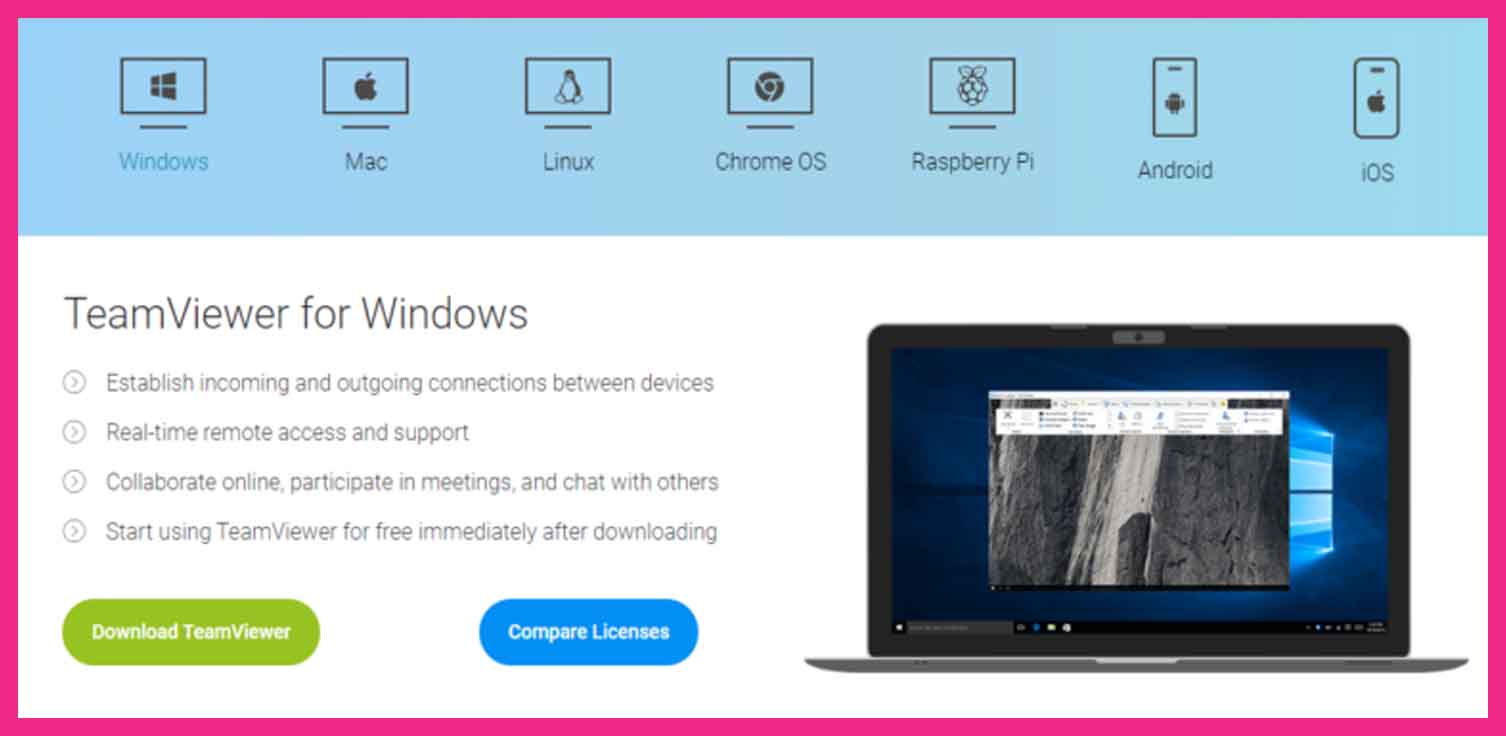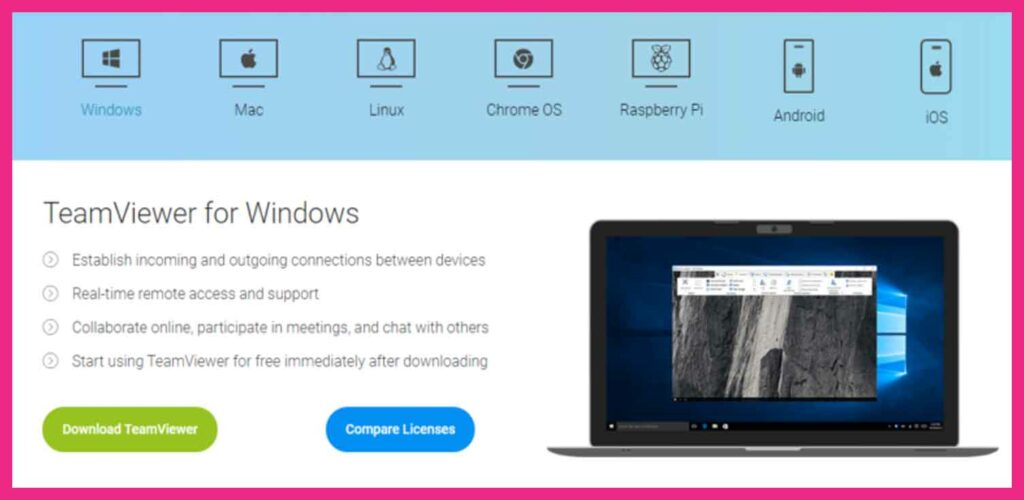 Please open the TeamViewer application, please open the Remote Control > then see " Your ID " and " Password ".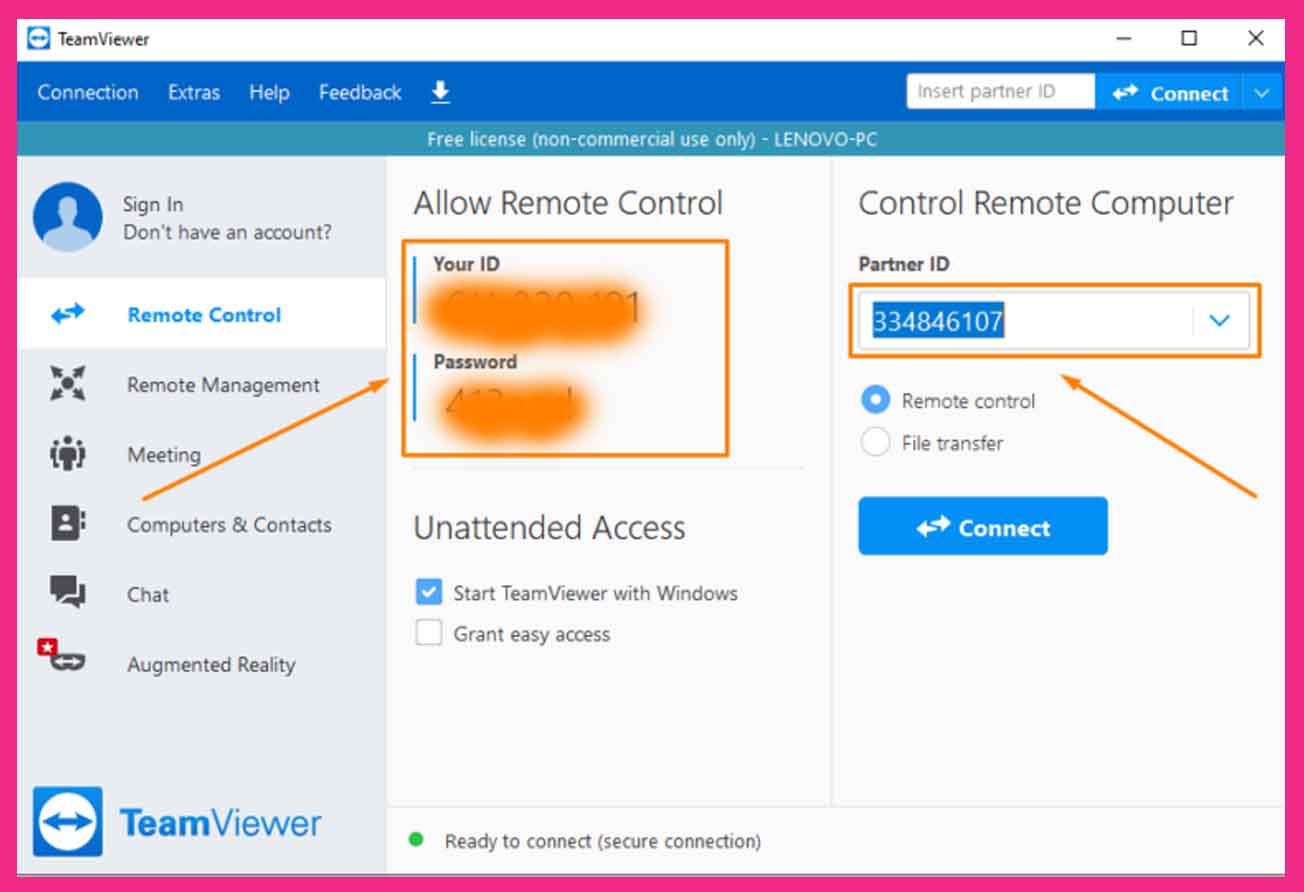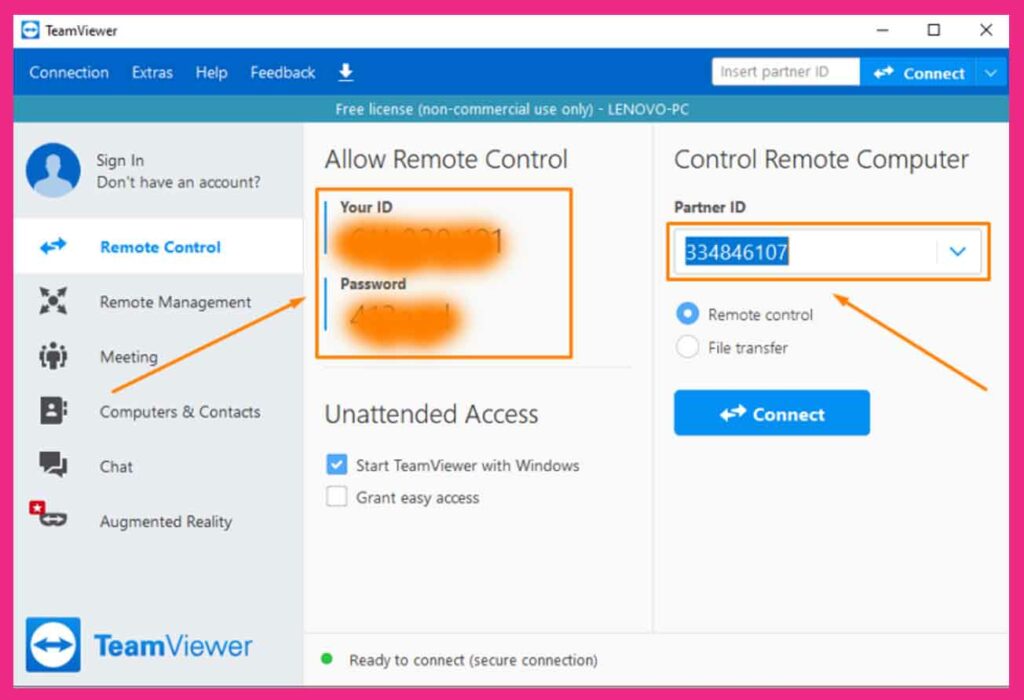 To start doing remotely, please enter the " Partner ID " then select " Remote Control ", or you can do " File Transfer ", then please press " Connect ", you will be asked to enter a password, please enter and wait for the process.
Congratulations on your successful remote computer.
Conclusion
So that's the discussion about 10 remote PC applications and how to use them, if you have problems, please write them in the comments column below.