Are you a Grand Piece Online player on Roblox? You must know this! The following is the latest code for the Grand Piece Online Roblox game in 2023.
Below we will discuss thoroughly the latest Grand Piece Online codes. Starting from the code, how to redeem, to the prizes that can be obtained.
Surely you are very curious right? Instead of being more curious, let's just take a look at the following discussion article!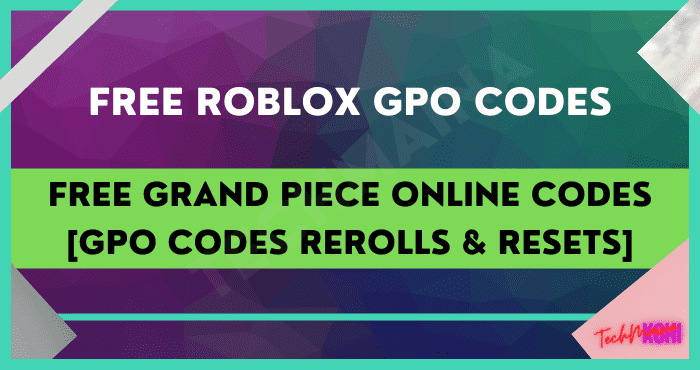 What is the Grand Piece Online Game?
Grand Piece Online is a game inspired by the popular anime, One Piece. Here you have to challenge yourself to explore the ocean, find secret areas, and face tough bosses.
You can find and eat devil fruits that give you unique powers to defeat bosses or other players.
Well, below, there are several codes that you can redeem to get various prizes.
How to Redeem Grand Piece Online Codes on Roblox?
Go to the official page of Grand Piece Online and click on the big green button to start the game.
Once in the game, you will need to select ' Set Sail '.
Next, press ' M ' on your keyboard to open the main menu.
Once the menu appears, you will need to click on the gear icon to open Settings.
Copy and paste the codes into the box that says ' ENTER CODE '.
Press ' Enter ' and if you are successful, your code will be redeemed automatically.
GPO Online codes are essential for players as they provide free race resets and stat resets, and allow you to find the most important devil fruits a little easier.
Get Also:
Where to find Grand Piece Online Codes?
The best place to look for Grand Piece Online codes is the game's official social media accounts on Trello, Reddit, Twitter, and Facebook. When the developers create new codes, they will make sure that all players can see and use them by posting them on social media accounts.
Sometimes it can be difficult to spot new codes for Grand Piece Online on social media if the developers are active because every time they create a new post, it will push the post with the code further down.
That's why we created this list so that you have all the codes in one place and you don't have to waste time looking for them.
If a site asks for your login information for codes, they are trying to gain access to your account. So be careful.
When will the new Grand Piece Online be Available?
You can expect new Grand Piece Online Codes to be created when there is a special event within a game or when the game reaches a certain goal, such as the number of likes, prayers, visits, etc.
But you should check for new ones once every few. days because developers can create them without a special occasion just to reward players for their support and loyalty.
Latest Free Grand Piece Online Codes [2023]
DAHNOOBDFRESET
325KLIKES2XRACEREROLLS
335KLIKES2XRACEREROLLS
130KSUBSSPRESET
315KLIKESSSPRESET
320KLIKES2XRACEREROLLS
315KLIKES2XRACEREROLLS
125KSUBSDFRESET
120KSUBS2XRACEREROLLS
115KSUBSPRESET
305KLIKES2XRACEREROLLS
100KSUB2XRACEREROLLS
So those were some codes that you can redeem to get prizes. Don't let the codes above expire!
How do You Get more Codes for Grand Piece Online?
For more codes for Grand Piece Online, you can follow its official Trello board for updates. New codes are also posted on the GPO's social media channels.
The easiest way to stay up to date on new codes is to bookmark our code list and check it daily for new updates.
Conclusion
Those are some codes that you can redeem at Grand Piece Online Roblox in 2023. For those of you who have just played this game, you can also redeem the code above! That's the discussion about the code for this one game.