Have you ever received a message that WhatsApp has been unavailable for a while?
WhatsApp is temporarily unavailable. Please try again in 5 minutes.
As a WhatsApp user, it is certainly very annoying if WhatsApp suddenly cannot be accessed. Especially if this happens when we are in a state of having to do something important.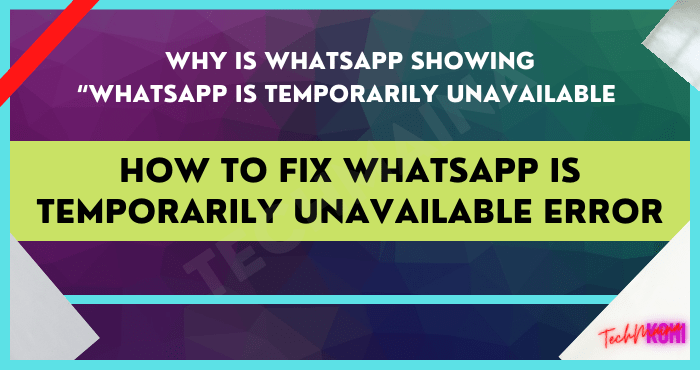 Sending documents to superiors, for example, or serving customers if you are an online seller, and so on.
What's more, WhatsApp is one of the chat applications with the largest number of users. So there will be a lot of parties who suffer losses because of it.
The message that WhatsApp is not available usually occurs when someone wants to log into their account. More precisely, when entering the verification number.
As a result of this message, we have to delay the login process to our own WhatsApp account.
What Causes WhatsApp Messages To Be Temporarily Unavailable?
Apparently, the cause of this problem is only caused by two things, namely, the problem of internet connection or WhatsApp is experiencing interference.
So, you don't need to be confused anymore when you encounter obstacles like this. I think you are most likely experiencing one of these two things.
Are you want to use WhatsApp without a phone number, if yes, then well, because previously we have already shared this trick on How to Use WhatsApp Without Phone Number?
How to Solve WhatsApp Not Available Error
Well, to deal with WhatsApp being unavailable, there are several solutions that you can try. Come on, see the following discussion:
1. Check If WhatsApp Has Crashes?
WhatsApp is down, or what is also known as down, is actually something that doesn't happen every day, in fact, it is relatively rare.
However, that does not mean never at all. For example, in May 2019, when WhatsApp was not fully accessible for several hours.
Usually, WhatsApp crashes together with Facebook and Instagram. These three applications are indeed in one shade. And when there is a down, then the three applications were directly affected.
Well, back again about WhatsApp, here we have to check first, whether WhatsApp is experiencing interference or not.
Here's how:
Try opening a browser, to find the latest news about WhatsApp.
Then search about this problem. Type " WhatsApp Crash " in a search engine, like Google for example. Then Enter.
After that, tap on the News column.
You can also use the time filter on Google, to get the latest news. Select the tool, then change  Any Time to  Last 24 Hours.
If there is news that states that WhatsApp is experiencing problems, it is likely that the problem is here.
Apart from causing WhatsApp to become unavailable, downsizing also has an impact on other problems.
For example, the message keeps popping up an error occurred when you want to play a video, so you can't display the status of our contacts on WhatsApp.
If it is true that WhatsApp is experiencing interference from the WhatsApp itself, of course, there is nothing else we can do.
The only way is to wait until WhatsApp is back to normal.
Read Also:
2. Check Your Internet Connection
Without us knowing it, sometimes a problematic internet connection can also be the cause, you know.
Maybe internet access does look connected but is actually experiencing problems. Either it's just slow, or there really is no connection at all.
Try checking first in the following way:
Open the browser on your cellphone.
Then try searching or opening any site.
If it just keeps loading, and the destination website doesn't open either, it means that the problem is with your internet network.
If so, then how to solve it?
It's actually easy, really. You can try changing providers for example. If using packet data from SIM 1, try changing to SIM 2. Also, you can also try using a WiFi network if you have one.
Also Read:
3. Clear Cache WhatsApp
Internal problems with WhatsApp can occur. Maybe the WhatsApp application on your cellphone has an error, which makes it difficult to access.
Well, for this one, I usually do Clear Cache. The goal is to delete error data on WhatsApp so that it is normal again.
How? More or less like this:
Go to Android settings.
Then go to Applications.
Please search for WhatsApp there.
After that go to the Storage menu.
Then hit the Clear Cache button.
After that, just close the menu, then test WhatsApp. Sometimes, the issue of not being available on WhatsApp can go away this way. Especially when you want to log in.
4. Update WhatsApp
Have you ever logged out of your WhatsApp account, but when you tried to log back in, it just always appeared that the message was not available?
This could also be because the WhatsApp version is too out of date, which makes it very difficult to access.
Not without reason, on the official website itself, WhatsApp always recommends that you use the latest version of WhatsApp.
Open Playstore.
Search for WhatsApp, then tap the Update button.
Wait for it to finish.
It's not difficult, right? After WhatsApp is updated, you can try to test again and open the application.
By using this method, it should be able to help.
Read Also:
5. Make sure the Phone Date is Correct
The date of the cellphone, if the time is wrong, can affect the internet connection which does not run smoothly. Usually, it often happens when the phone SIM card is removed.
You can do the following steps to set it up:
Open Settings on your android phone.
Then go to Date and Time.
Set the Time Zone, then set it to Automatic.
If so, then just try again.
If the automatic setting doesn't work, just try setting the date manually. You can also set the hour and minute.
Closing
That's how to solve the WhatsApp Unavailable message. At the very least, it is hoped that this way your WhatsApp can return to normal. Especially when you want to login + verify the number.
There's not much to do, so how to deal with it isn't too complicated either.
If there are other errors about WhatsApp, you can also write them in the comments column below.
Hope it is useful.