Your Connection Is Not Secure, this message sometimes/occasionally appears when we are browsing on PCs, Laptops, and even Android. Usually not all websites, but only certain websites that have this problem.
This Your connection Is Not Secure message if in Chrome usually appears with the message " your connection is not private"
For me, this problem is quite disturbing. Especially if there is important content that I want to read on the website.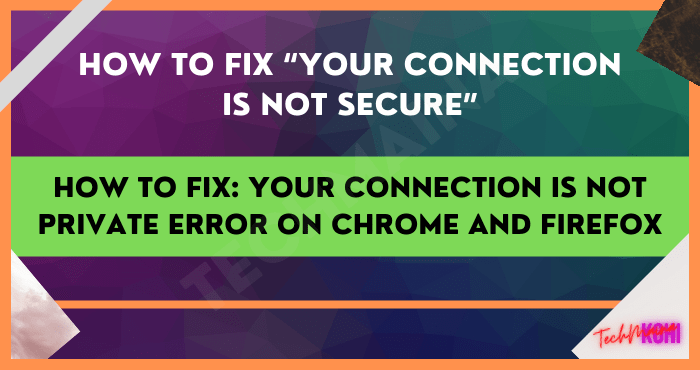 So, what actually causes this Error Your Connection Is Not Secure / your connection is not private message? And how to solve it?
The message not secure / not private on the connection can actually be caused by several things.
Among them, you use a public connection (WIFI) that is less secure, so there is the potential for data leakage or the like.
(Even with notes, not all ..)
Well, "Your connection is not secure" / " your connection is not private" in this Windows browser can also be caused by a web error itself.
For those who don't understand, here's how:
In a website, there is actually a collection of files and codes that can later be accessed into 1 visual page. Well, the problem is if there is a script error ..
Error script (code) on the web, can bring up the message not secure earlier. In addition, to not being secure, there are also other problems such as invalid security certificates until sites that are considered dangerous.
Well, but it could be you know, the website is infiltrated by malware, so the browser takes precautions, to keep you safe.
How to Fix "Your Connection Is Not Secure" On Firefox / Chrome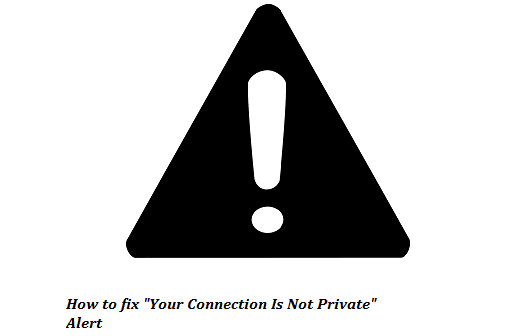 This not secure / not private message can be said to be "easy and difficult" (although on average it is easy)?
Well, like the title of this article, I want to discuss how to overcome the Not Secure error on the connection while browsing on a PC / Laptop.
I have tested this method, and Alhamdulillah it works until now.
Here's the solution:
#1. Change Connection
First, try changing the connection you are using, especially if you are using a public WIFI type.
Please change the connection first using a modem or tethering for example.. This type of connection will be connected directly to the computer/laptop and is usually detected as ' private '.
#2. Change Date Settings
When the date and time settings on the PC / Laptop do not match the provider's default time, usually certain errors often occur, especially when we want to surf the internet.
And of course one of them is this insecure problem.
This incorrect date/time problem can occur for many reasons. For example, forgetting to change the reset settings, incorrect settings after reinstalling Windows, until the CMOS battery on the motherboard runs out.
Here's how to set the time:
Enter Control panel >> Go back to Clock, Language, and region >> Open Date and time
Make sure the date and time are set correctly. If it's wrong, you can change it via Change date and time (See picture). And also make sure the time region is set at (UTC+ 07:00) Bangkok. You can set it via Change time zone (See picture).
Click OK and Done.
With the settings above, the computer's date and time will automatically follow the Kolkata time region (East India Time).
You can also do the settings manually if the method above still doesn't work.
#3. Clear Browser Cache
I had said that the default problem on the website could be one of the causes of the not secure message.
If it's an innate problem like this, we as normal users definitely can't do anything. Most of the time, we can only complain to the web owner so that it can be fixed quickly.
Well, but don't rush to complain. You can try to fix it by clearing the browser cache. Pretty effective, you know.
The method :
How to clear firefox browser cache
Open firefox
Click History (At the top) >> Click Clear Recent History
Check the Cache option, select Time range to clear to everything then click clear now ..
Restart firefox
How to clear Google Chrome browser cache
Open Chrome
Press Ctrl + H on the keyboard
Click Clear Browsing Data
Select the time range to be all time .. Check all the clear options >> then click Clear data.
Restart Chrome
#4. Update browser
Finally, if it still doesn't work, you can try updating the browser you're using.
Why?
Newly released browsers usually get improvements in terms of performance, browsing speed, and security which is a shame if you don't use them.
Well, in this security update, the browser will also be smarter in 'sorting', which websites are dangerous and which are not.
Who knows the website that you couldn't access earlier will return to normal after updating the browser.
Closing
That's it, a short tutorial on how to solve Your connection is not private / Not secure. I made this tutorial when I was brainstorming on a blog, then accidentally this error message appeared.
As a result, the blog becomes inaccessible.
Well, I made this tutorial, maybe someone here has the same problem, and maybe I can help solve the problem.
Hope it is useful.