In this article, we are going to share with you the best free plagiarism checker. so, let's check out one by one.
Google does not tolerate automatically generated content or content with large indications of plagiarism.
When encountering content that contains elements of plagiarism, Google will deindex the content. That's why you should know how to check content plagiarism.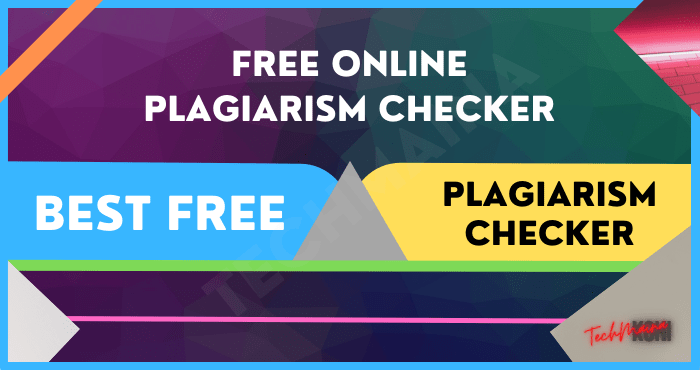 Because, by ensuring that your content is not plagiarized, you don't have to worry about being penalized by Google.
In addition, users will be more confident and interested if the content you create is your own work, not taken from websites or other sources.
Then, how to check content plagiarism? Don't worry, because, in this article, you will see 9+ powerful websites to check whether your content is indicated as plagiarism or not.
Let's listen to the end!
How to Maintain Good Content Quality and No Plagiarism?
Over the last few years, there has been a very significant increase in the amount of content on the internet.
Unfortunately, the quality of the content is very poor. This is because the content is often not created by yourself but is the result of copying from other websites.
In line with this, in order not to add bad content on the internet, content creators or content marketers currently face at least two big challenges:
Create unique content on all frequently discussed topics
Checking content from freelance writers regarding the authenticity of the writing.
These two things need to be considered so that visitors trust your website and make your website a reference for looking for references.
9+ Best Websites to Check Plagiarism
For those of you who are not sure whether the content you want to display on the website is plagiarism or not, there is no need to worry. There are several websites that you can use to check for plagiarism:
Want to know the detailed explanation? Let's see one by one!
1. Copyscape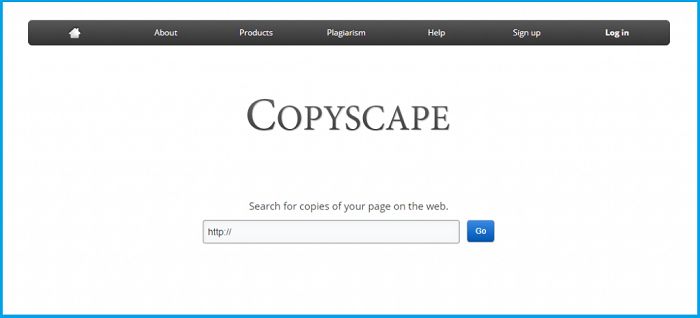 Copyscape provides free plagiarism checking applications to find copies of your web pages online, as well as solutions to prevent content theft and fraud.
You just enter the website URL address and Copyspace will automatically check the level of similarity of your content.
The content you purchased or created may have been copied or stolen from other websites. Articles that have been published and copied on other websites can destroy your reputation and affect the ranking of your content in search results.
Checking using Copyscape is done so that the content you create is not recognized as plagiarism.
Unfortunately, there is a limit to the number of uses for the free version. In order to get wider access, you must use a premium service.
In addition to checking plagiarism, Copyscape also provides other services such as Copyscape Premium, Premium API, Copysentry, Free Comparison Tool, and Free Plagiarism Banner.
Of these services, it seems that the most interesting is the Plagiarism Banner. You can use this feature to embed plagiarism banners on your website pages.
Visit: https://www.copyscape.com/
2. DupliChecker

You can directly check text or files directly using DupliChecker. This website provides a special page to check plagiarism content.
You just need to enter content with a maximum of 1000 words into an available form.
When using DupliChecker to check the plagiarism level of content, you will be presented with information on how much your content is similar to other content in percent form.
If there is no indication of similarity in content, the website will display the information "No Plagiarism Detected!".
Interestingly, in addition to checking the plagiarism level of content, this website also provides other checking systems, such as grammar, paraphrasing, keyword position checker, domain authority, backlink checker, and many others.
Visit: https://www.duplichecker.com/
Read Also:
3. Dustball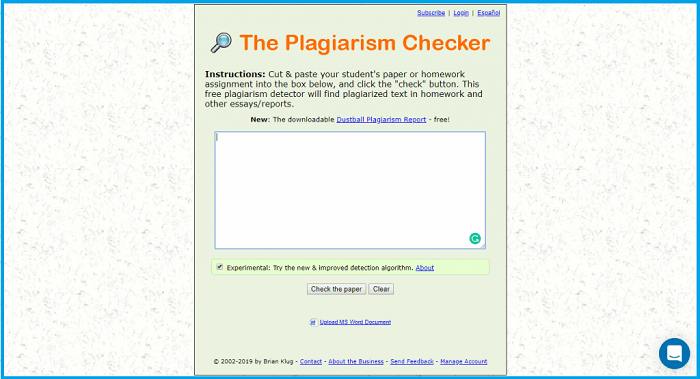 If you are looking for a very simple content plagiarism check website, you can use Dustball.
When you open this website, you will be immediately presented with a column to fill in the text you want to check.
In addition to checking the text directly, the website can check Microsoft Word documents.
How to use it is quite easy. Copy then Paste any text (homework, assignment, or article) into the box provided.
Then click the "Check the paper" button and the website will automatically check your documents.
Unfortunately, there are limitations to the use of checking. When it exceeds the specified, the website will display a "Free Limit Reached" warning. The specified usage limit is 1000 per day worldwide.
In order to continue to use it, users are asked to subscribe by paying $8 (lifetime) for maintenance fees. In addition, this premium feature of checking plagiarism offers more accurate results.
Dustball checking results are marked with the information "OK" and "Plagiarism?". If there is an indication of plagiarism, Dustball will give a "Plagiarism?" warning.
Visit: http://www.dustball.com/cs/plagiarism.checker/
4. PlagTracker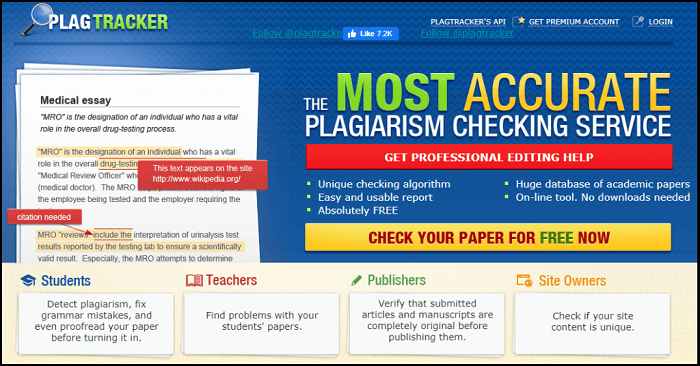 PlagTracker is a website that provides a fairly complete tool for checking plagiarism content.
However, the full features offered are not free, aka you have to use premium services from PlagTracker.
Available services such as quick reports, grammar checking, PDF reports, database checking, being able to check multiple files (.doc, Docx, .txt), checking with unlimited volume, and many others.
This website is a professional plagiarism checking service provider. There is a professional team that will check your content.
The offered team will check for syntax, grammatical, and flow errors as appropriate.
Although this service is paid, you don't need to worry because PlagTracker also has a free service that you can take advantage of.
In fact, if other plagiarism checking services are limited to 1000 words, in PlagTracker, you can check up to 5000 words.
Visit: https://www.plagtracker.com/
5. PlagScan

PlagScan is a website that provides online plagiarism that has many advantages. You only need to do a few clicks to check the authenticity of the text.
The checking report can be customized to what you need. If you want a PDF file to make it easy to print or want to collaborate with others through a report in your browser, you can get all that through PlagScan.
Although the target users are people in academia, you can also use it to check website content before publishing.
You can use this service for free for a few days by registering as a member first. After that payment is required to use it longer.
There are four user options to choose from; single user, school ( school ), higher education ( higher education ), and business ( business ).
For single-user users, this service is needed to be more secure and confident that they have succeeded in quoting third-party content without any indication of plagiarism.
Users schools ( school ) can use the service to provide students checked independently.
Visit: https://www.plagscan.com/en/
6. PlagiarismChecker.com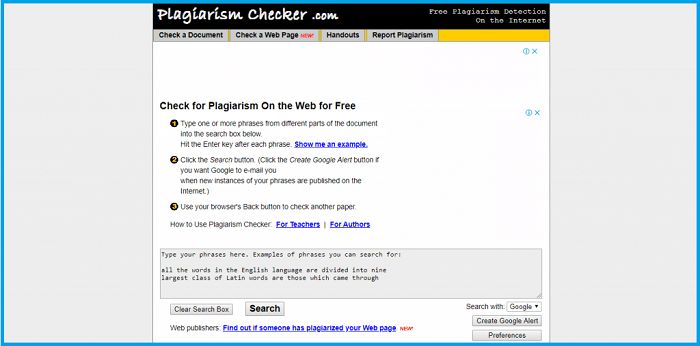 PlagiarismChecker.com only provides phrase checking of certain parts of the document which is integrated with Google and Yahoo.
So when you fill in the box fields on the home page of this website and click the "Search" button, the website will direct you to Google search results.
Although it has been developed since 2006 as a website to check plagiarism content, unfortunately, this website has not been updated so that some of its features are problematic and irrelevant to current conditions.
Visit: http://www.plagiarismchecker.com/
7. Check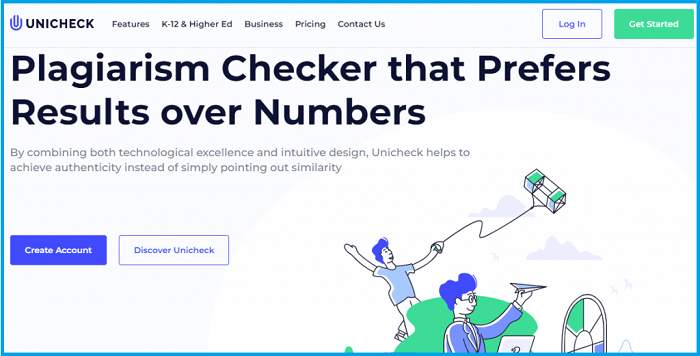 Unicheck is one of the most popular websites for checking plagiarism. Naturally, because this website is used in the world of education, writers, researchers, and also editors.
To date, no less than 1 million users worldwide and 124 million files have been checked using Unicheck.
This website is perfect enough to be used as a weapon to check the plagiarism level of content or documents.
Offers include accurate searches by accessing more than 40 billion web pages, educational databases, and institutional library files.
The display offered is also quite interactive using various color combinations with additional information that can be obtained easily.
Interestingly, Unicheck allows for embedding into eLearning systems. For those of you who work in educational institutions, of course, this feature is quite useful, especially if you have an eLearning system.
In eLearning, Unicheck automatically scans each paper and provides easy-to-read reports.
Vist: https://unicheck.com/
8. Writecheck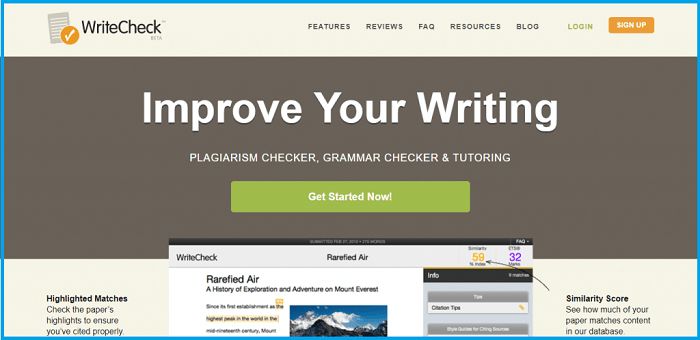 Improve the quality of your writing using WriteCheck. This website provides a quick check of content, citations and sources used.
In addition to providing a plagiarism check feature, this website also provides a feature for checking grammar.
You can get instant feedback on grammar, spelling, and word usage in your content. This feature is accompanied by a manual for authors that are automatically integrated.
Not just checking with the machine. WriterCheck also provides manual checks by several professional mentors who will provide critical feedback on the content you provide.
If you want to use this service, you have to pay at least $7.95 per content that is submitted with several variations of features and other payments.
Even though it is paid, more than 1 million users around the world are using this service.
Visit: https://www.turnitin.com/products/writecheck/
9. Viper Anti-plagiarism Scanner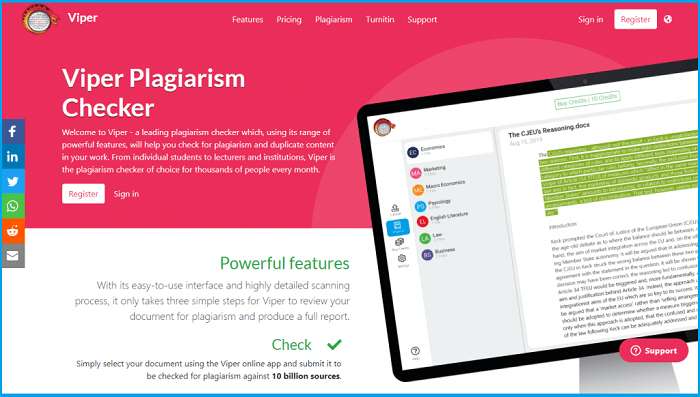 Viper Anti-plagiarism Scanner is an online plagiarism check service provider website that is different from the others.
If other websites can directly carry out the online plagiarism check process, Viper Anti-plagiarism Scanner does not do it through the website.
So to use the services of Viper Anti-plagiarism Scanner, you have to download the app first and then install it on your desktop device.
Viper has many features. Viper has a fairly simple system. This will help you check for plagiarism and duplicate content in your work.
The interface is easy to use and produces very clear and concise information. Checks were carried out with more than 10 million sources.
The interesting thing about Viper is that the payment is based on the word count of the document you want to check for plagiarism.
Unfortunately, Viper if you want to use the entire service you have to pay a fee.
If you use the free version, you can still upload some file types such as,
But the cost you spend using Viper is worth the features you can take advantage of. You can upload files from a variety of sources, including Google Drive.
The checking process is very fast, which is 30 seconds and there is no delay. It supports more than 50 languages ​​and can also be used with various file types.
Based on the features it offers, Viper is one of the best applications to check the plagiarism of your content using a desktop device.
10. Plagiarism Checker Small SEO Tools (Best)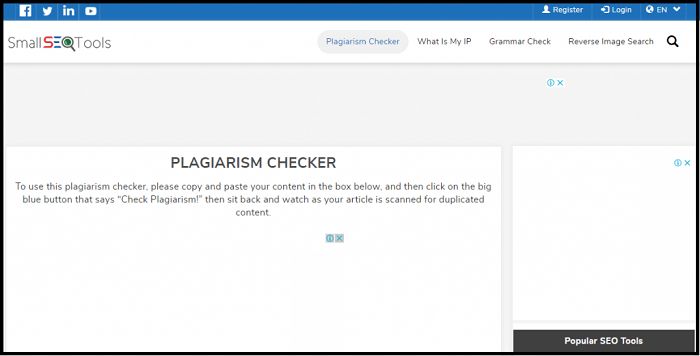 Of the many websites and online plagiarism check applications, Plagiarism Checker Small SEO Tools is the most popular compared to the others.
Besides being easy to use, you can use this service for free, without having to register.
Small SEO Tools are also very informative, which means they provide detailed and easy-to-understand information. When you check text, documents, or website URLs, the resulting information is quite helpful.
Not only plagiarism checks but there are also many features that Plagiarism Checker Small SEO Tools offers.
Examples include Plagiarism Checker, Grammar Check, Reverse Image Search, Word Counter, What is My IP, PDF To Word Converter, Internet Speed ​​Test, and SEO checker.
In addition to checking for plagiarism, of course, another advantage of this service is the availability of an SEO Checker.
So Webmasters or professional SEO practitioners can also take advantage of the advantages of using it.
Small SEO Tools also ensures content published with SEO interests to be more unique and free from plagiarism elements.
Fresh and unique content can help them to get high rankings in search engines.
Finally, the best and most interesting part of Plagiarism Checker Small SEO Tools is the plugin offered. You can install this checking application in WordPress using a plugin.
This plugin makes you no need to copy & paste content from articles or posts.
Just click the "Check Plagiarism" button and the plugin will automatically run a complete check sentence by sentence. You can even compare plagiarized content by clicking on a sentence.
Which Plagiarism Check Website Do You Think is the Best?
There are many websites that provide plagiarism check services. You can use it according to your individual needs and comfort.
Although some checking apps have to pay a fee to use, there are other apps that you can use without spending a penny – even though the features are not very complete.
By using these various applications, how to check for plagiarism becomes easier and simpler. You also don't have to bother manually comparing one content to another.
You may have some references to other applications that are not on this list. Don't hesitate to share the information with us by leaving a comment in the column below.
Or if you like our articles and want to get the latest information, please fill out the subscribe form which is also listed on this page.
Hopefully, this article can be useful for you and make it easier to check for plagiarism online.