Hello Bloggers, Today we are going to discuss on Best Free Keyword Research Tools for higher ranking in google and other search engines.
So without wasting time let's get started…
"SEO is easy! Just enter keywords in the content. Later Google will index your content. It's just a matter of time for your content to rank in a certain way. Anyway, it's done! "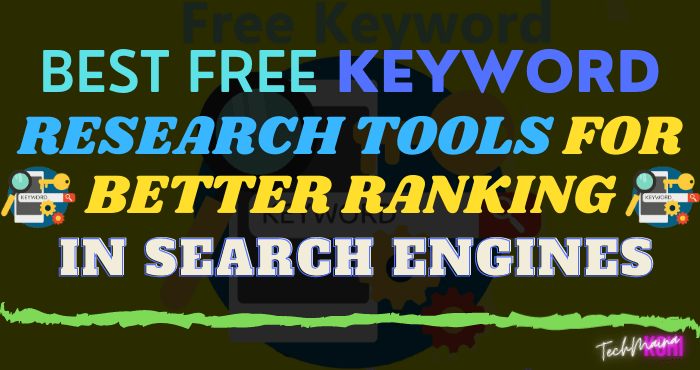 I agree that learning SEO is actually very easy. In principle, you only need to shoot the right search keywords to be able to occupy the top position on Google.
It's just that, that doesn't mean SEO practice itself is easy. There is a lot of research and analysis is done.
Moreover, related to keywords. Like a house, keywords are the foundation. If the keywords are wrong, it is likely that the house will fall apart and collapse.
So don't be surprised if many companies invest handsomely in SEO tools. Take Ahrefs for example. This SEO and web analysis platform charges quite a bit.
or the cheapest features alone, you need to spend $ 99 per month. For the most expensive features, just multiply by ten or nearly Rp. 15 million a month.
Luckily, you don't have to spend that much money yet. Because there are many free SEO tools available on the internet.
Through these free SEO tools, you also have the opportunity to compete and dominate Google search results.
9 Best Free Keyword Research Tools You Must Try
Good news for thrifty misqueen friends, below you can find reviews of SEO tools that can be used for free. You can select one or use several of them at once.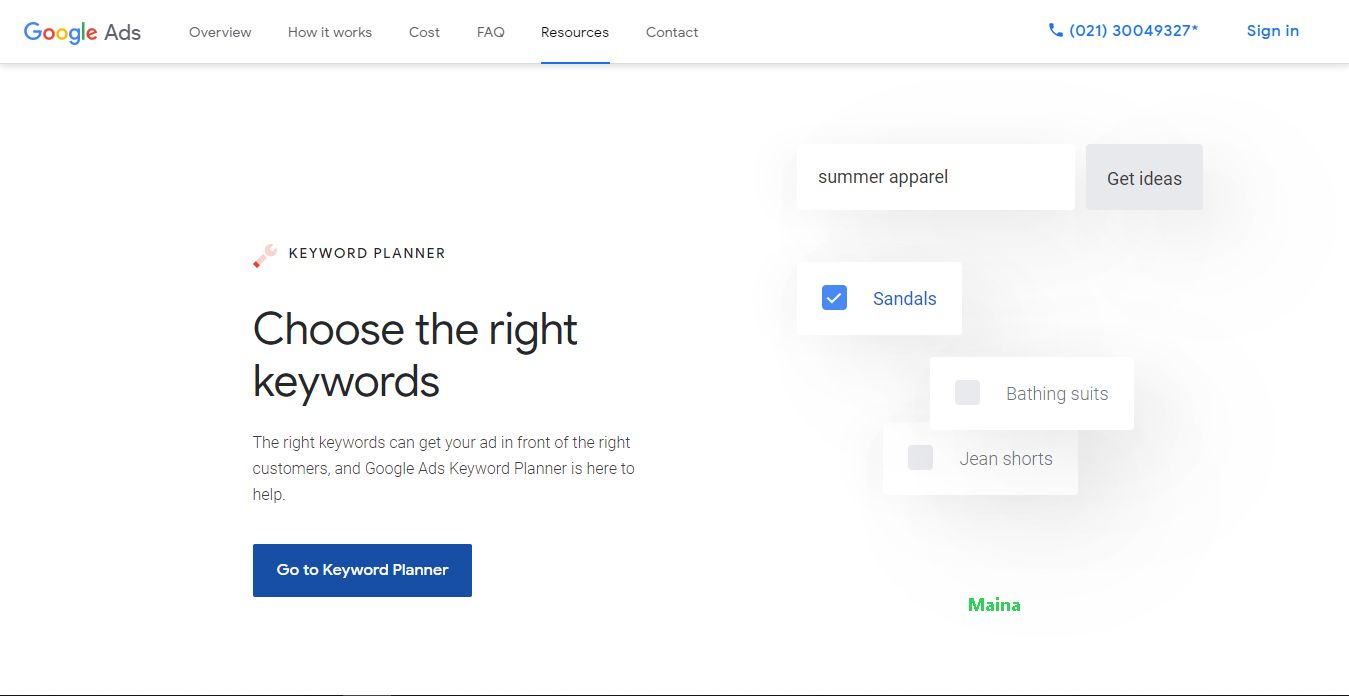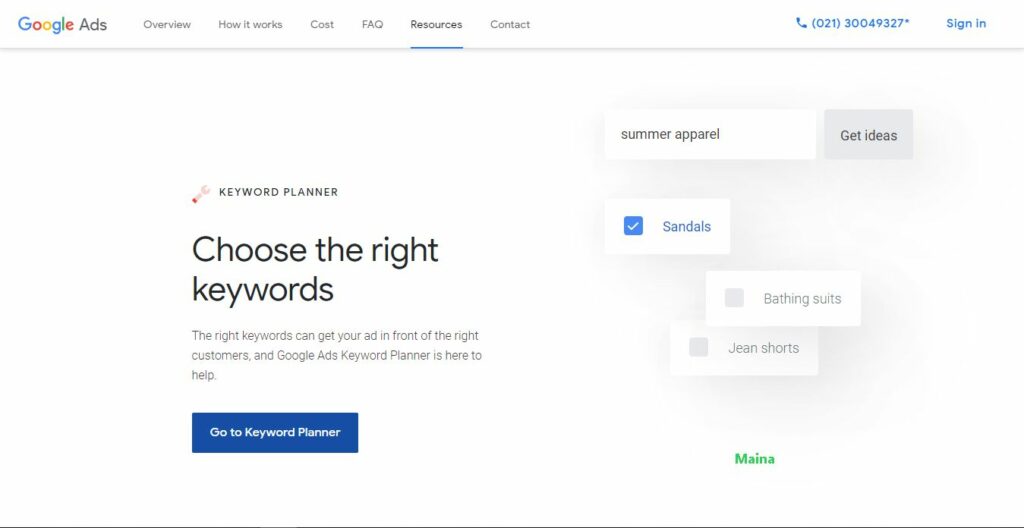 Google Keyword Planner is part of Google's advertising platform. This service is actually used to find and analyze the right keywords for ads. However, in practice, Keyword Planner can also be used as an SEO tool.
There are two reasons why this platform is the favorite free keyword tool for many people. First, because it is owned by Google.
As a Google platform, Keyword Planner has access to complete search keyword data. This point alone adds to the accuracy of keyword research.
Second, Google Keyword Planner is specially designed for businesses. With a specific designation, you can get insights that support the conversion rate to go up.
This kind of insight will be invaluable if you are willing to implement a content marketing strategy for your business.
So, what exactly can you get from Google Keyword Planner? At least you can access these four things:
Keyword ideas from a combination of words, website URL, or product category;
Total volume of keywords and keyword trends in search engines;
List of keyword ideas from a combination of several keywords;
Estimated keyword performance, number of clicks, and cost of advertising on Google Ads.
Quite complete, right? You can get all the data above without paying a penny. Now, it's your turn to experiment with keyword research according to industry, language, and business location.
Read Also:
However, there is one thing to remember. The data that Google Keyword Planner displays includes only paid searches.
When used to predict the level of keyword competition, the data that appears only contains the competition between Keyword Planner users itself.
In other words, Google Keyword Planner won't really be able to show how competitive keywords are. Therefore, it's a good idea not to make Keyword Planner the only SEO tool.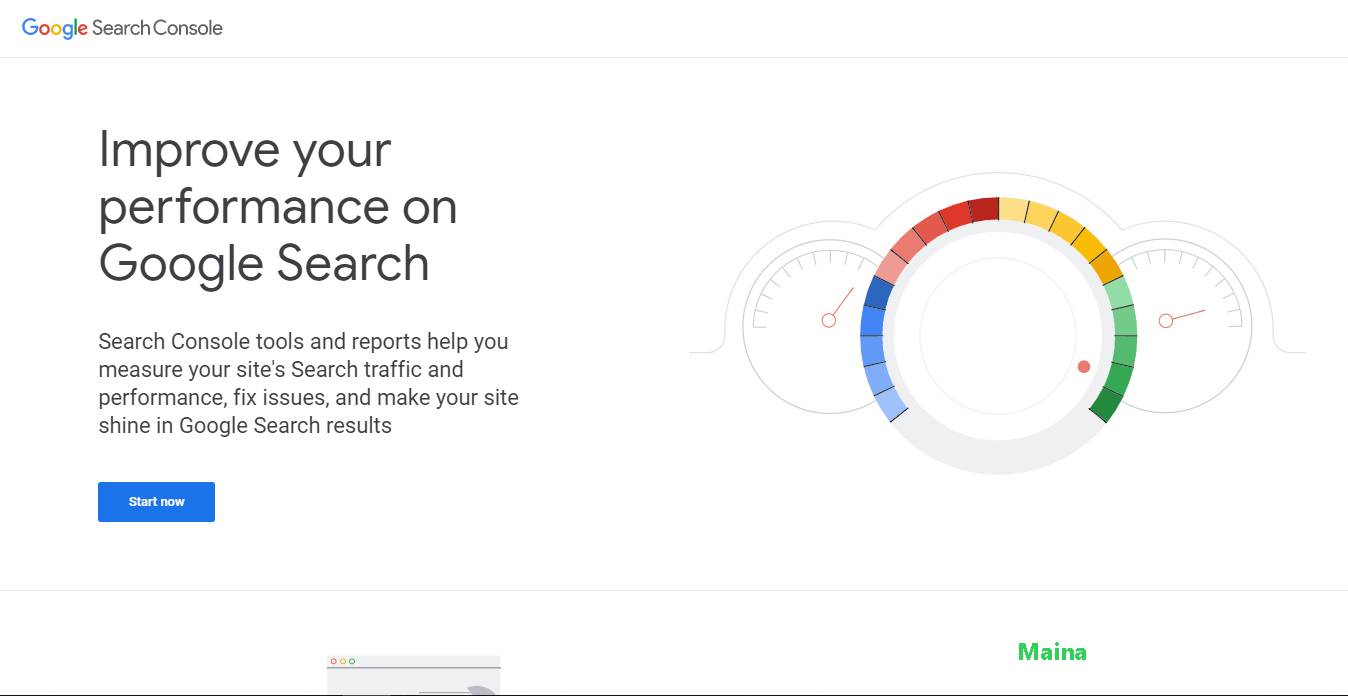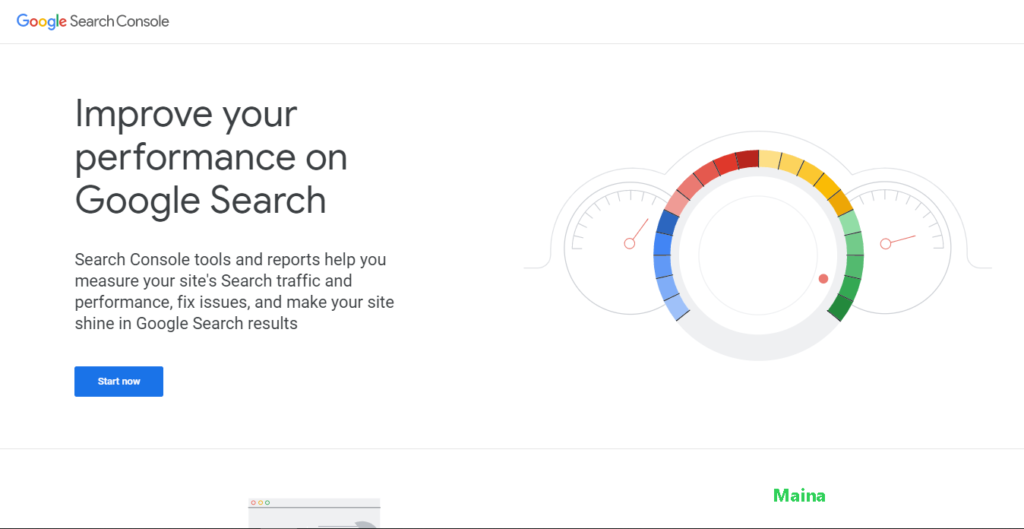 This one free keyword tool is still from Google. By using Google Search Console, you can monitor the web, maintain its performance, and solve website problems related to Google search results.
In more detail, there are several services that can be accessed with this platform. The following include:
Monitor Google's bot crawling process on the website;
Fix indexation problems and become a medium for requesting re-indexation of the web;
View keyword search traffic on Google. This includes looking at effective keywords on the website;
Receive alerts when there is unusual activity on the website;
Shows which websites contain links to your website (backlinks);
Shows AMP issues, website versions on phones, and other search features.
From the list above, you will have guessed: keyword research is only a small part of what Google Search Console is for.
Even so, that doesn't mean this keyword search feature is meaningless. In fact, this part is very, very unique.
Through Google Search Console, you can find out how the keywords you use on the web are performing.
This data is an important provision for you to perform on-page SEO optimization.
Then how do you do keyword research?
Easy. If you have added a website to Google Search Console, all you have to do is open the platform in question. Then, click the Performance menu on the left of the page.
Later, you will be shown a graph of the website's performance in Google search results. More specifically, this graph contains the number of clicks to the website, impressions, CTR, and the average ranking in search results.
As you scroll down, click the Queries tab and watch for keywords that appear. These keywords need to be used as ammunition for content optimization.
Please update the content created by entering keywords into strategic elements such as headings, image file names, alt text, and the content itself.
Read Also: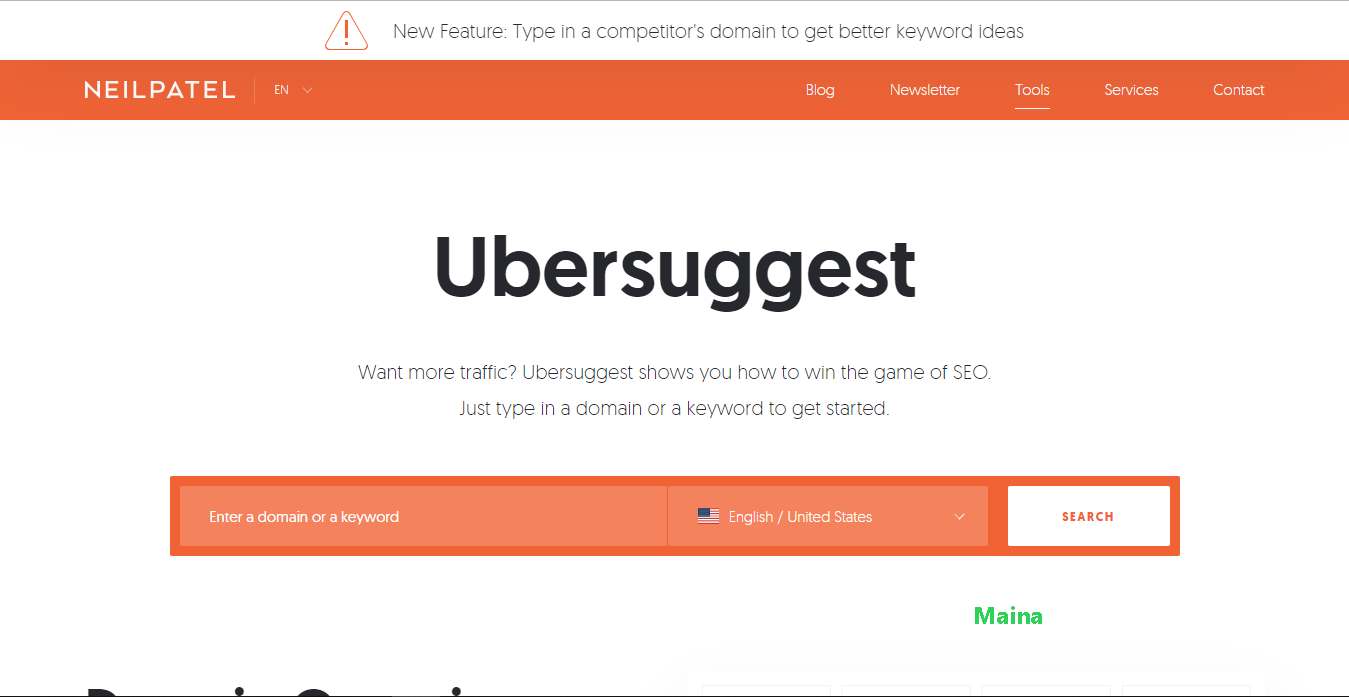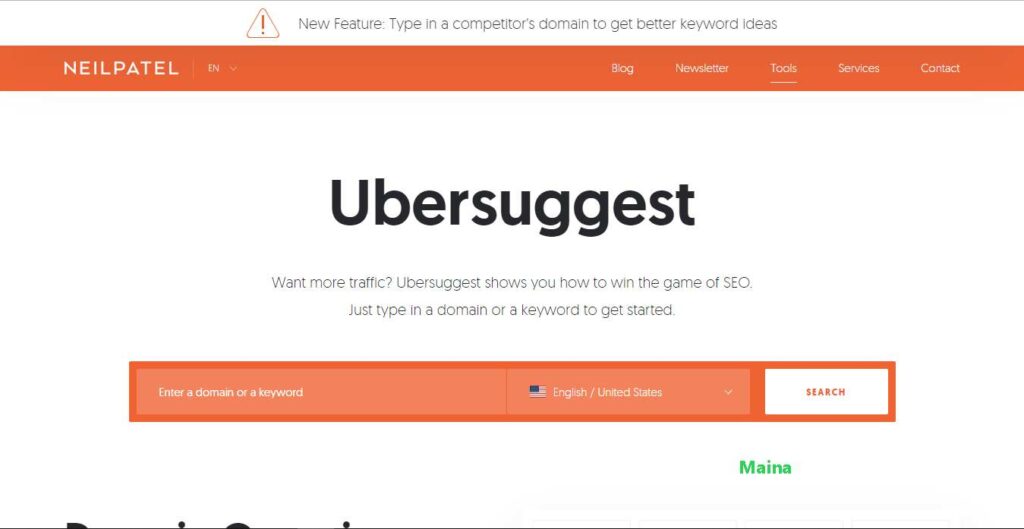 Ubersuggest is included in the ranks of the best free SEO tools that you shouldn't miss.
For the size of the free keyword tool, Ubersuggest offers a very complete feature. Starting from an overview of domain performance, per page SEO effectiveness reports, keyword recommendations, content ideas, and backlink data.
Besides all the features it offers, Ubersuggest also has a very friendly and intuitive user interface.
It won't take long for you to understand how this platform works. So, you don't need to be intimidated by the many menu buttons.
In order to answer the purpose of the article at the beginning, this section will discuss Ubersuggest features related to keyword research.
There are at least three features that you can use. The three of them are keyword ideas, content ideas, and keywords.
Keyword ideas
Just as the title suggests, this is where you can get strategic keyword ideas for the web. The method is very easy.
You just have to enter the targeted keywords into the fields provided. Then, don't forget to change the settings to the desired target language.
Instantly Ubersuggest will provide a list of recommended keywords. Each keyword recommendation provided is equipped with data in the form of volume, cost per click (CPC) for advertisements, keyword competition in the paid search category, and keyword competition in SEO.
If you click on a given keyword recommendation, Ubersuggest will immediately display a keyword overview list. The list contains the top hundred websites that contain the keywords in question.
Not only that, but the list is also equipped with the estimated number of web visitors per month, backlinks, domain score, and the number of shares on social media.
All data that is displayed can still be customized again. You can see data for the exact keywords entered on the Suggestions tab.
Then, you can also see recommended keywords (not always exactly the ones you enter) in the Related tab.
The last option usually includes popular keyword recommendations and a high level of competition.
Content ideas
The way Content Ideas works is very similar to Keyword Ideas. You enter the keywords you are looking for, then Ubersuggest will find all the content that contains the keywords in the title and the URL (slug) component.
In addition to all the content lists, there is data about the estimated number of visitors, backlinks, and social shares on Pinterest and Facebook that can be peeked at.
You can also open any content on the list. That way, you can compare what kind of content your competitors are making.
At this point, all you have to do is create content that is better than your competitors'.
Keywords
Through the keyword options, you can find out what keywords are used by competitor websites.
Each keyword used by competitors will be accompanied by data about volume, ranking on search engines, estimated visits, and SEO difficulty numbers.
You will also be presented with a keyword overview for each keyword. Ubersuggest will load top websites that use similar keywords.
Then you can compare how the effectiveness and performance of keywords when used by other websites.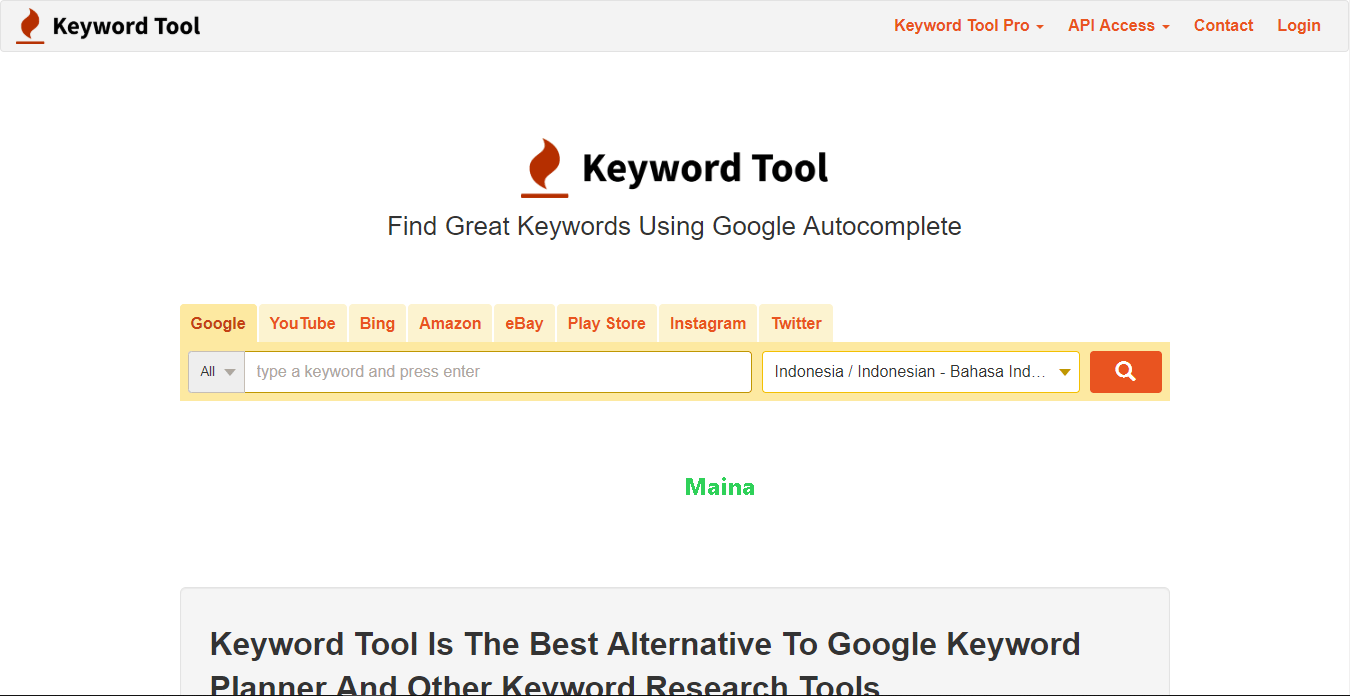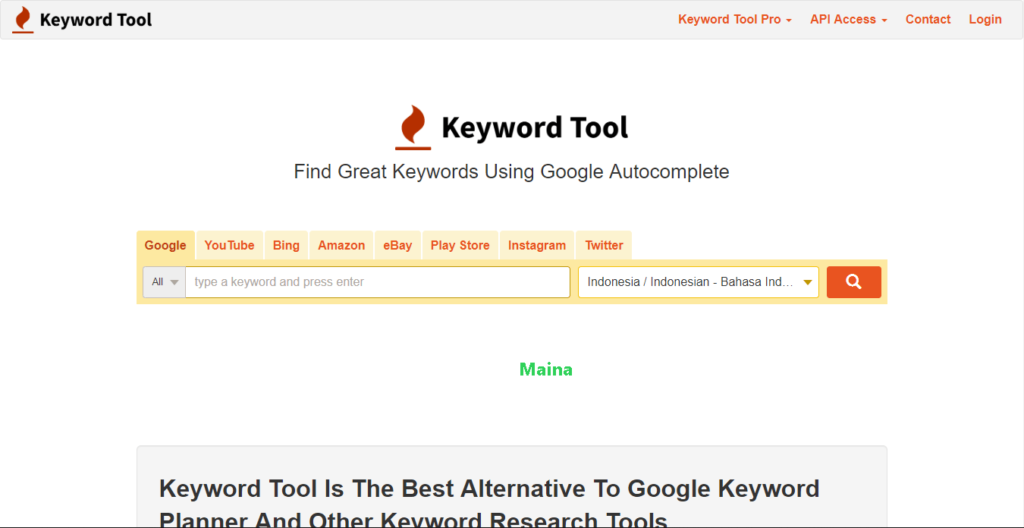 If you are eyeing long-tail keywords for SEO, Keywordtool.io is a very good choice.
This platform may provide a way to search for fairly long keyword recommendations. It is common knowledge that to increase traffic from SEO, you need to target long-tail keywords.
These kinds of keywords have a lower level of competition and will allow you to rank highly on search engines.
The good thing is, Keyword Tool does not only provide a keyword search platform for Google only.
It even has keyword research options for seven other mediums. Starting from YouTube, Blog, Amazon, eBay, PlayStore, Instagram, and Twitter.
In addition to a fairly complete selection of mediums, this free keyword tool also provides location and language options. The choice of language for a country is not limited to one.
Take for example India where the language options also include Hindi, English, Bengali, Gujrati, Assamese, etc.
All the options and features above are not just a gimmick. All of the options and features above are also accompanied by qualified keyword search results.
For every single keyword entry, the Keyword Tool will recommend 750+ long-tail keywords.
Compared to other free SEO tools, Keyword Tool is also reliable. This is because 99.99% of the service can always be used.
It's no wonder, too, because this one platform is so light and fast to use.
Unfortunately, to see the complete data, you still need to subscribe to Keyword Tool Pro. However, if your needs are still simple, the free features offered are more than enough.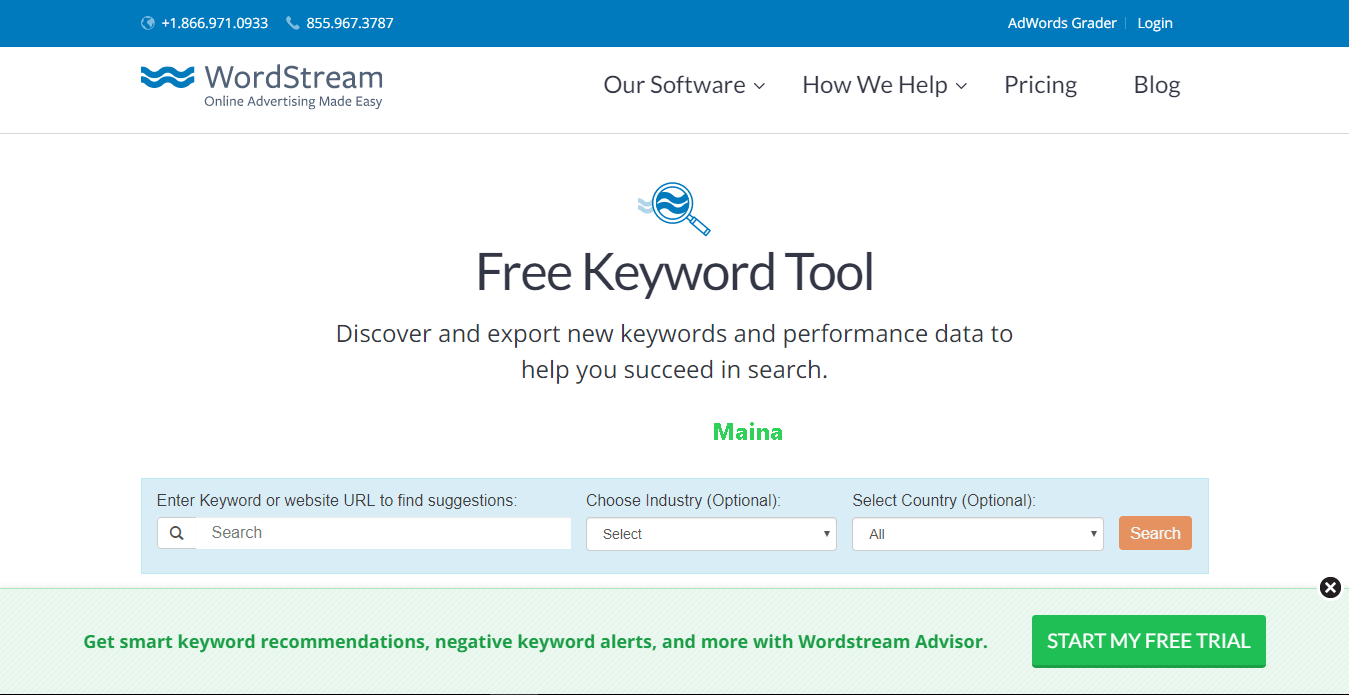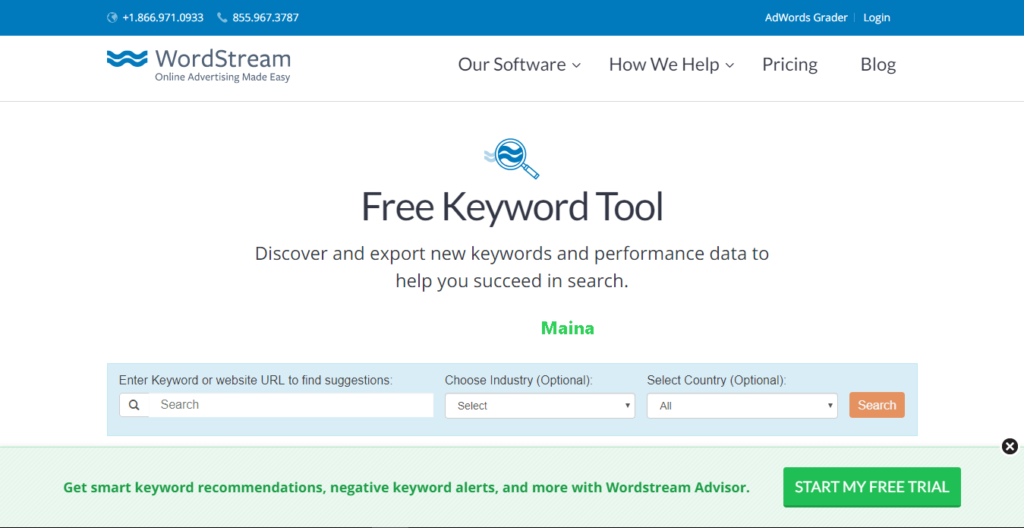 WordStream helps marketers around the world to do online marketing. It provides specialized software for marketers on various mediums.
This includes software for small and medium-scale businesses, agencies, and e-commerce.
Special software for SME businesses, for example, has several features such as monitoring the progress of creating ad campaigns, optimizations, and ad performance reports.
It's different from software intended for agencies. Where is the optimization of advertising campaigns and budget management for each campaign?
Apart from all those advanced services, WordStream also provides free services for you. There are at least six types of free services that can be used for online marketers like you:
Google Ads Performance Grader;
Facebook Ads Performance Grader;
AdWords Landing Page Grader;
Free Keyword Tool;
Facebook Opportunity Calculator;
Smart Ads Creator.
Here we will discuss the Free Keyword Tool that WordStream offers. In general, the working principle of this feature is the same as other SEO tools.
You are only required to enter keywords or URLs in the fields provided. You can also add the intended industry and country coverage (optional) in the right-hand column.
It doesn't take long, WordStream will display a list of recommended keywords along with the search volume.
But unfortunately, the data contains the level of keyword competition, the cost per click (CPC) ad price, and the opportunity score is only shown when you open a free trial account.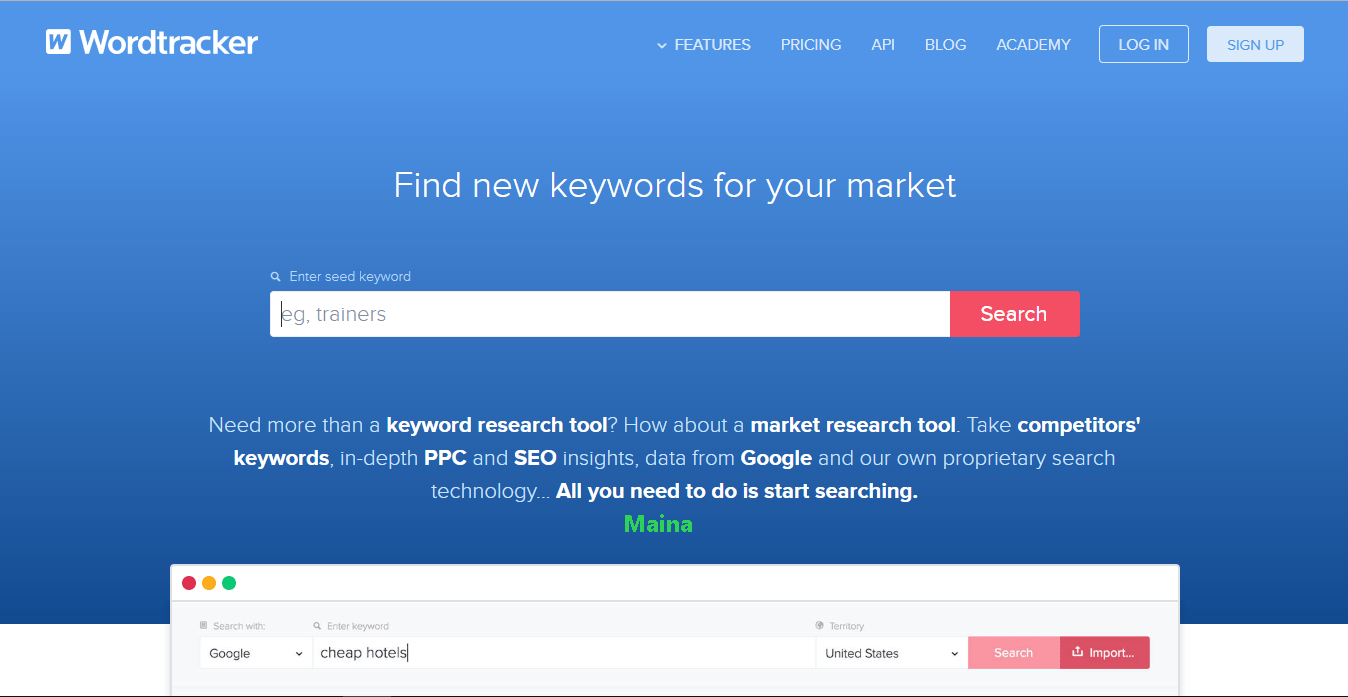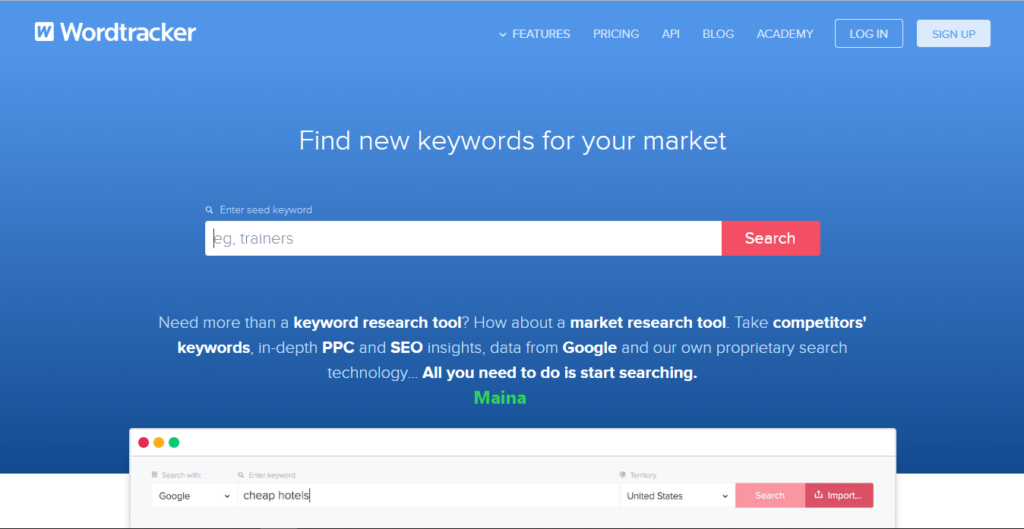 Wordtracker is an SEO tool that doubles as a market research tool. On the same page, you can get keywords for SEO as well as pay-per-click or PPC-based ad keywords.
If you don't think the above features are interesting enough, you will be surprised to try Wordtracker right away.
Not only are the display designs and user interfaces clean and easy to understand, but the data display options are also very diverse.
In fact, this Wordtracker can be juxtaposed ━ in fact more than ━ Google's Keyword Planner.
If it may be mentioned, here are the Wordtracker features that Google Keyword Planner doesn't have:
Access original keywords (not grouped or simplified by Google);
SEO competition metrics;
Search result comparison (SERP);
Live chat customer service;
Search for secondary keywords / related keywords;
Keyword search options for Google, Amazon, YouTube, and eBay;
Keyword search has negative connotations.
As if that weren't enough, Wordtracker provides 10,000 recommended keywords for each entry entered.
You can also manually set what words to include or not include in keyword research.
One more thing, there is a special column where you can save the keywords that have been researched. Amazing, right?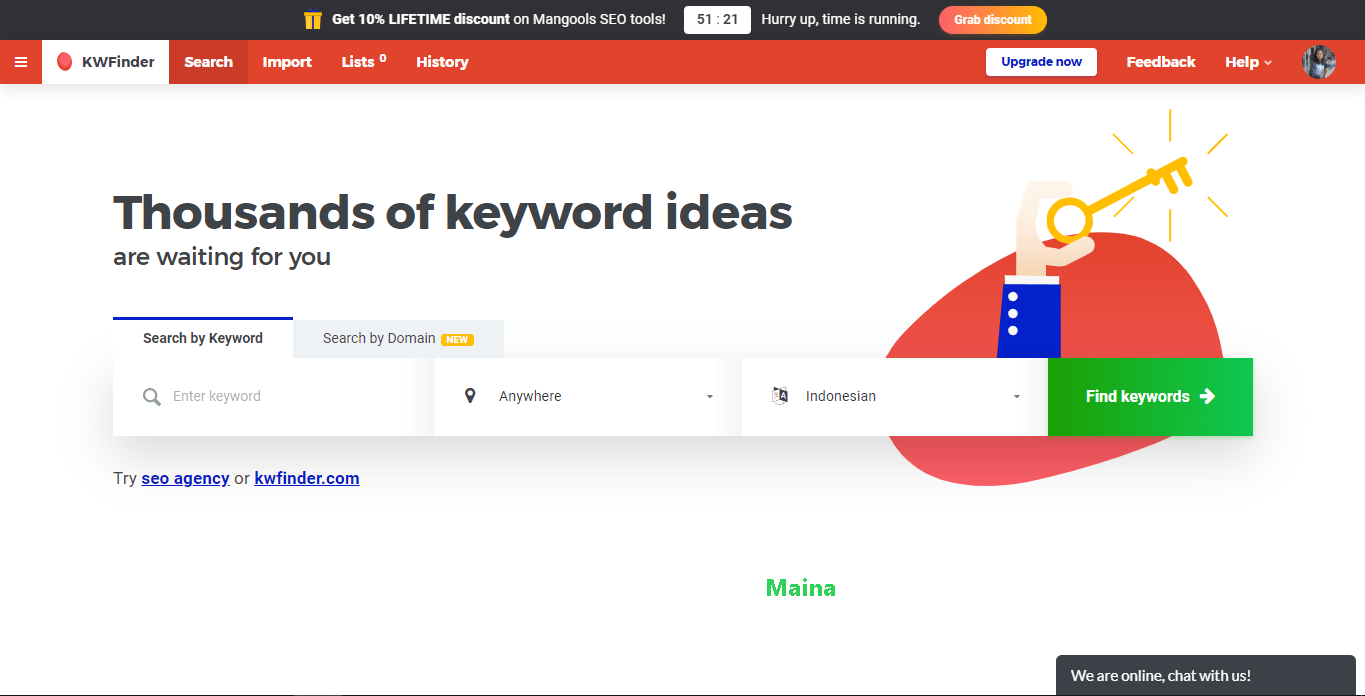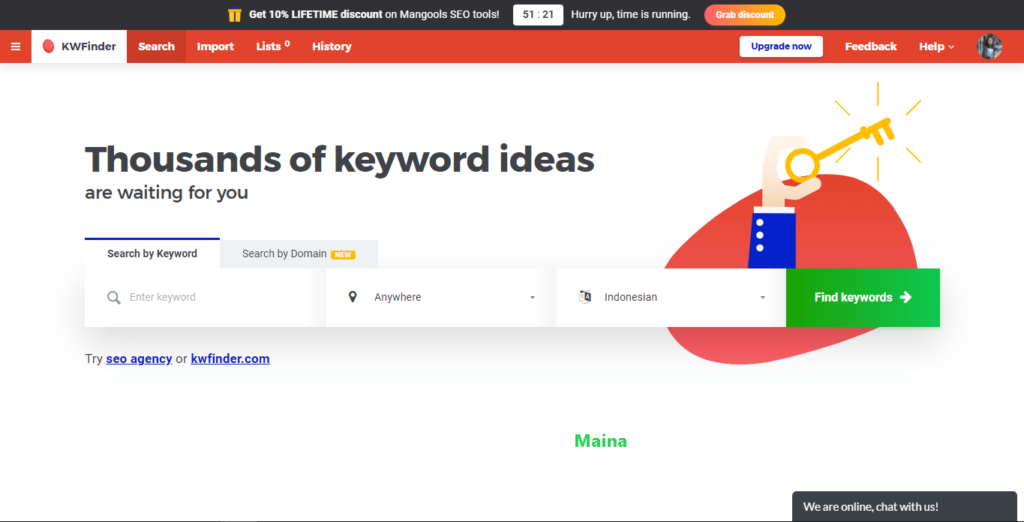 For KWFinder, SEO is not rocket science. We also agree on that. You don't have to be an expert to know how SEO works. Likewise with how a website can occupy a position on the search engines.
Still according to KWFinder, to rank well in search engines, you only need to shoot the right keywords. Precisely keywords with low competition and high search volume.
Armed with these principles alone, we are sure that a beginner in the world of SEO can immediately understand what needs to be done in keyword research.
Talking about beginners, it seems that KWFinder is indeed intended for this market segment.
Because, compared to other free keyword tools, KWFinder has a very flexible and adorable page display. The stiff impression completely escapes the view.
Because of the display design, all data attached to the page feel more friendly and easy to understand.
If you have a "phobia" of numbers, trust me that KWFinder will actually improve your relationship with numbers.
When it comes to features and how it works, KWFinder is actually very similar to other SEO tools. You only need to enter the target keyword or domain, target location, and language.
Automatically, KWFinder will process these keywords. As a result, you will be taken to a page with two main column divisions.
In the left-hand column, there is a list of recommended keywords. For each recommendation, you can take a peek at the trends in keyword usage in the last 12 months, search volume, CPC and PPC rates, and the difficulty level of keywords in SEO.
Also in this column, you can specify one of three types of keywords: related keywords, autocomplete, and questions.
Just on the right, you can see the SERP performance of the keywords in question. Websites that are in the top rank will be analyzed by the number of domain authority, page authority, citation flow, trust-flows, backlinks, social shares on Facebook, link strength profiles, and estimated monthly visitors.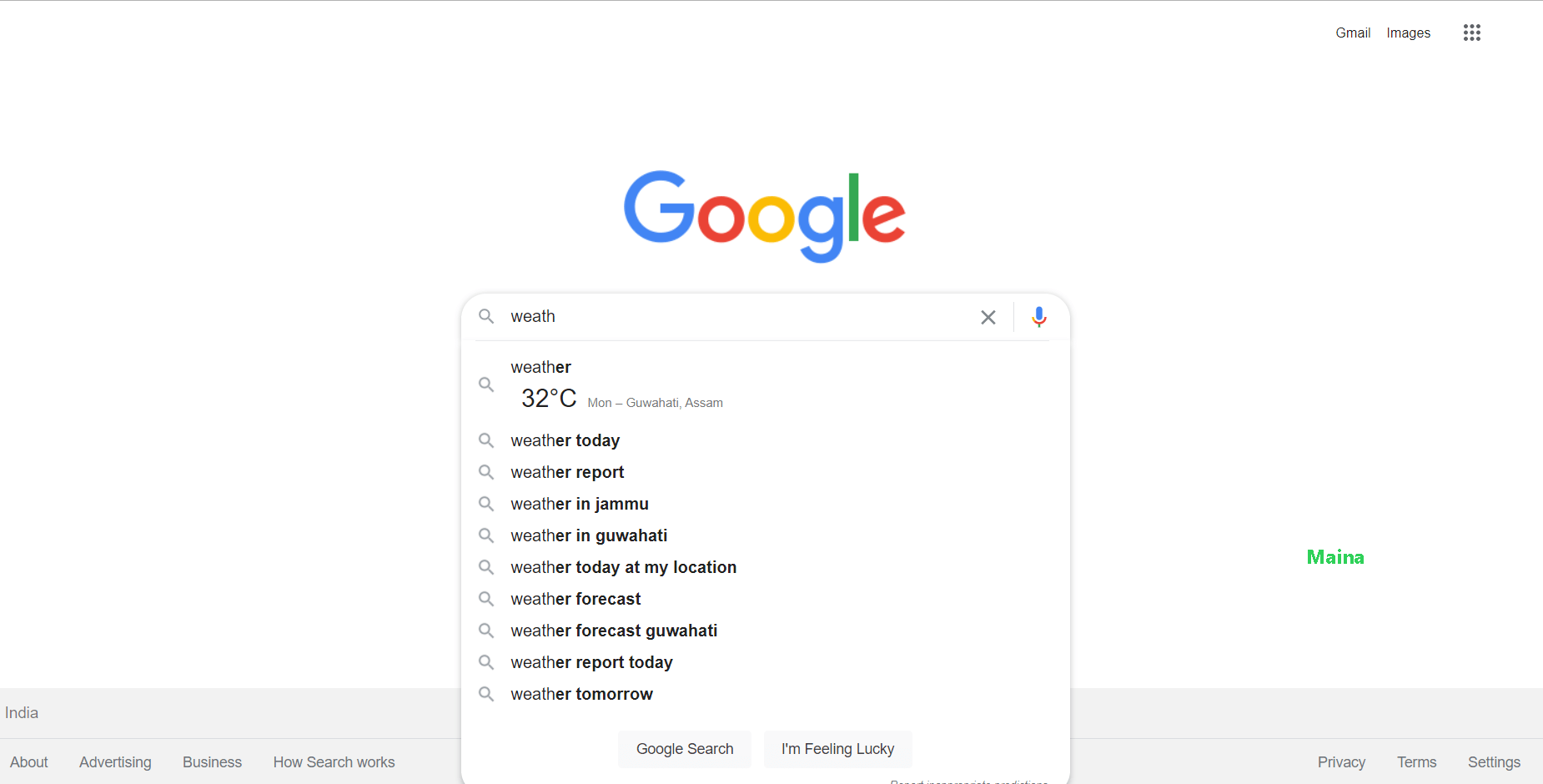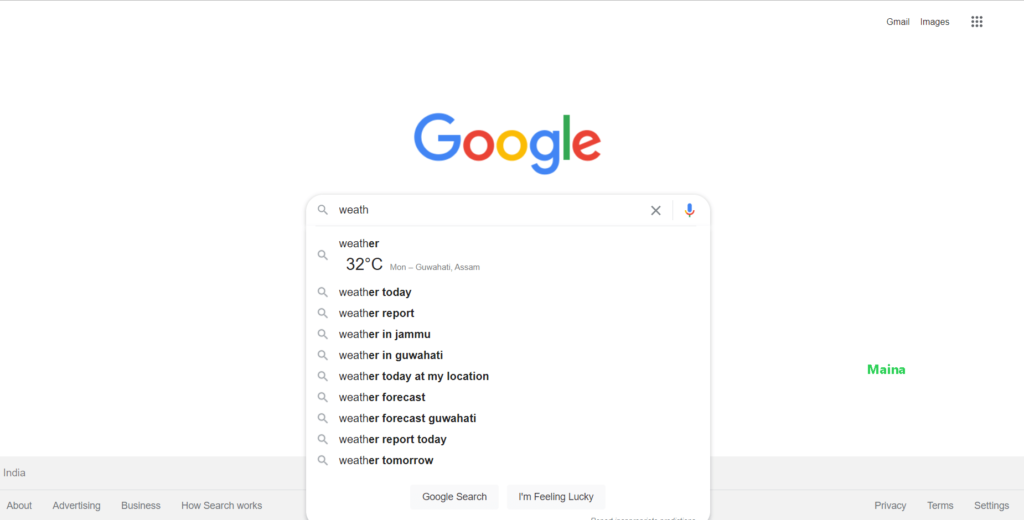 Google. Yes, you read that right. The Google search engine can also be used as the best free keyword tool.
No need to pay, no need to create an account, no need to bother knowing this and that data. Origin….
You use it in incognito or guest window mode. Only through these two modes, Google is able to help you find long-tail keywords accurately.
If you use normal mode, the displayed keywords will be affected by the search history. In other words, the resulting keywords will not be as accurate as one might expect.
Then how does it work?
You just need to enter the targeted keywords and wait for Google to recommend derivative keywords. Exactly as shown in the image above.
You can also enter keywords and view search results. Then, scroll down to find recommendations for other search keywords.
So practical and easy, right?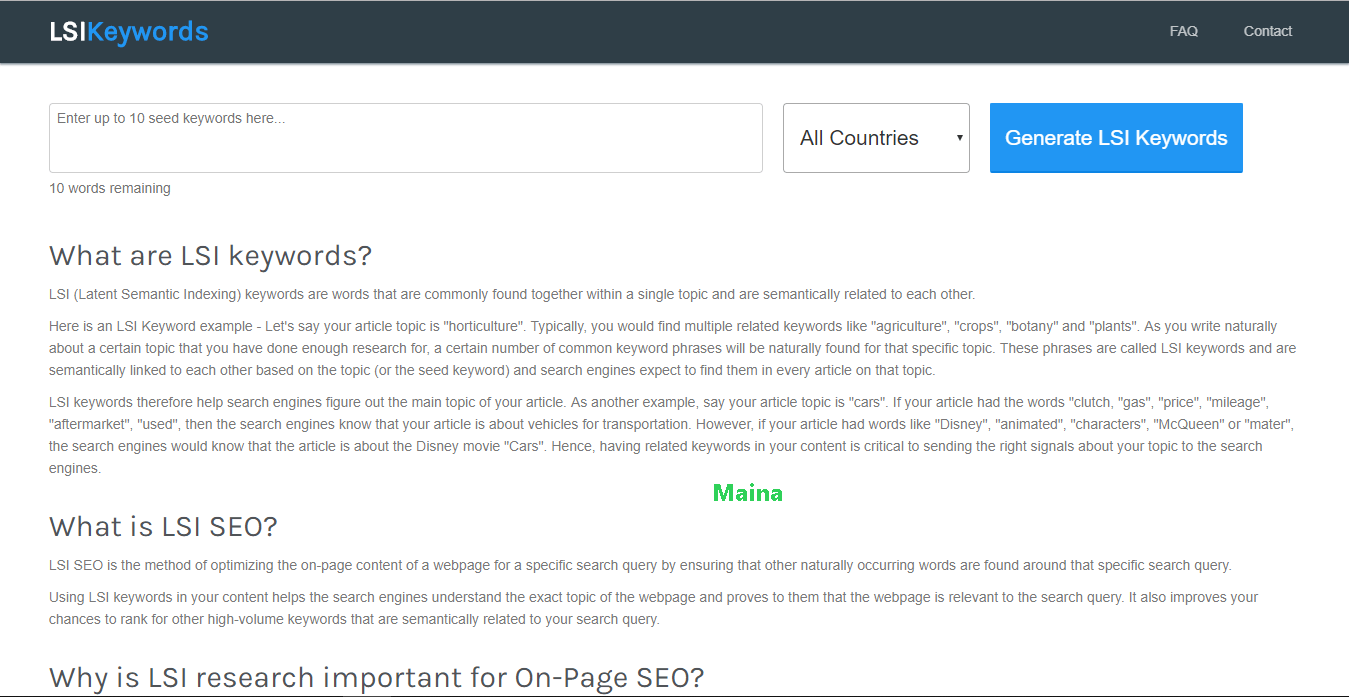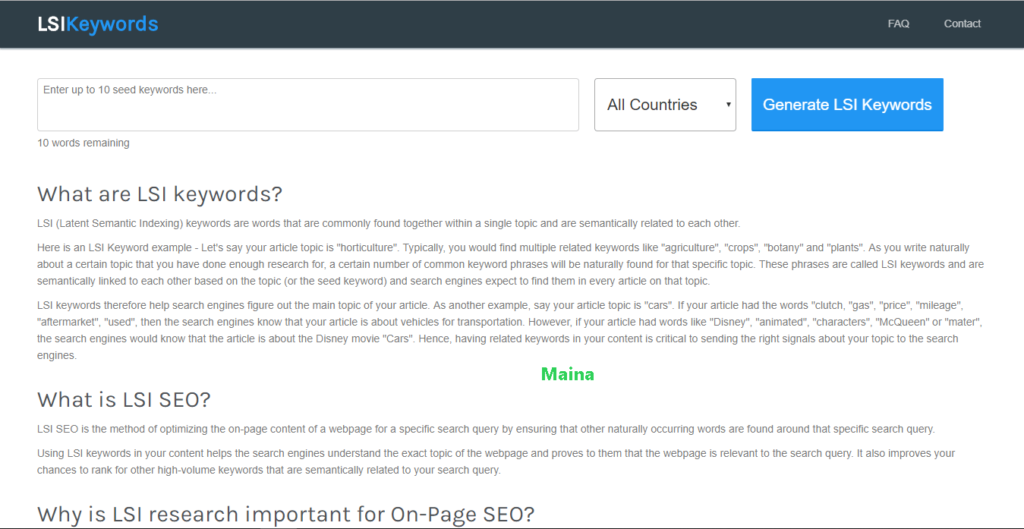 Keywords are not only about primary keywords or secondary keywords. Google also considers words related to the topic being written.
In this way, Google knows that the content you create is relevant to users.
Although the impression can be guessed at and at first glance like a synonym, determining the words in question also requires data. That's why you need an SEO tool in the form of LSI Keywords.
This platform allows you to search for LSI keywords based on main keywords and content-related topics.
To make the recommendations more accurate, you can enter up to 10 keywords that you want at once.
Only then will you get a list of recommended keywords. Complete with the number of searches per month, the CPC rate, and the level of SEO competition.
Unlike the main keyword concept that is used for ranking purposes, LSI keyword recommendations are used to strengthen the relationship between the content you create and the search intent more flexibly.
Here it is Google Trends is a tool that can be used for free and provided by Google to find keywords that are often searched by many people, what people are looking for on the Google search engine or topics that are currently being discussed.
For example, topics such as technology, culinary, politics, and others. With Google Trends you will be helped to choose which keywords are right to use.
Read Also:
Ahrefs Keyword Generator is a free keyword tool that provides a very complete keyword research result compared to other tools on this list.
You will get some important information related to the keywords you are browsing, such as:
Search volume
Competition level
Search result update date
List of questions related to these keywords
This keyword tool is very useful for finding long-tail keywords or derived keywords and finding keywords with a low level of competition.
You can find up to 150 keyword ideas for each basic idea you have.
In addition, you can also filter ideas in the form of questions with similar information. You can use these questions to structure headers in your articles.
SEMrush Keyword Magic Tool is one of the few SEO tools this company offers. To access this free tool, you need to create a SEMrush account first.
With the Keyword Magic Tool, you can find out some important data about the keywords you are searching for, such as:
Monthly search volume
Competition density (for advertising)
Level of keyword competition (for organic search)
Keyword Magic Tool also has several results sorting features that are very useful in filtering keyword recommendations based on specific metrics.
You can also see search results on the first page of Google by clicking on each keyword variation. This feature will show a deeper analysis of a keyword.
Given that SEMrush provides this tool for free, the data you can get is very complete and in-depth.
From volume to search trends, you can use all this data to improve the performance of your content.
Moz Keyword Explorer is a keyword research tool that has an attractive interface and is easy to understand, even for beginners. This tool will display some information related to keywords, such as:
Monthly search volume
Organic competition difficulty
Click-through rate for  organic content
Priority score for each search keyword
The CTR metric offered by Moz Keyword Explorer is unique which cannot be found in other keyword tools.
This CTR number shows how many searchers with that keyword click on a link that they find.
Priority Score is a metric to measure difficulty, opportunity, and search volume. This means that you can use Priority Score to find which keywords have the greatest chance of success.
Moz offers a variety of interesting features from their Keyword Explorer with a fairly large usage limit (10x searches).
But unfortunately, Moz's database for search results in India is arguably limited.
Most of the keyword ideas in Indian provided by Moz do not have relevant data regarding search volume per month. So, you cannot estimate the traffic you will get based on search volume.
Keyword Sheeter is a tool that will search for thousands of derived ideas for each keyword you search for. If you want to collect keyword ideas in a short time, this tool is a great choice.
This tool can collect up to 1,000 keywords in one minute. You can download all these keyword ideas for free with just one click.
You can also use filters to exclude or add ideas that contain certain words to your keyword list.
Unfortunately, Keyword Sheeter doesn't show search volume or group keywords like Keyword Planner or other tools.
If you want data like search volume, level of competition, and so on, you need to 'buy' the report.
Looks a bit unique and simple, this one keyword tool you can also use for free. Although there is no search volume, KD, and CPC, Soovle can find information related to the keywords you are looking for from various search engines at once.
So, unlike other tools, in Soovle you no longer need to click on search engine pages one by one to find related keyword information.
Which is the Best Free Keyword Tool for You?
Above, we have reviewed what free SEO tools can be used as an alternative to keyword research. As usual, each tool has its own excellent features and drawbacks.
So, to answer your needs, here we summarize all the important information about the free keyword tool.
So how? Have you found your version of the best SEO tool?