Best Free Image Hosting Sites: Want to save images on WordPress but the remaining disk space is tight?
Before you get annoyed because your website is slowing down due to running low on storage space, let's switch to an image hosting service!
With image hosting services, images can still look perfect without draining the capacity of the website. As a result, your server performance is also lighter and the website can still work fast.
Without delay, let's find the best image hosting for you!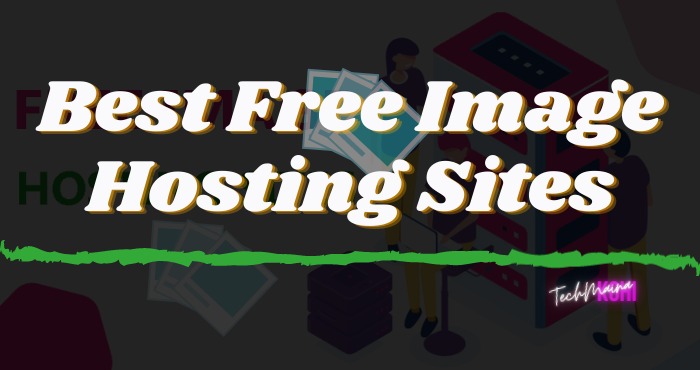 10+ Best Free Image Hosting Websites [2023]
We have selected 7+ of the best image hosting websites that you can use for free. Starting from the simplest ones to those that offer a multitude of interesting functions. Here's the list.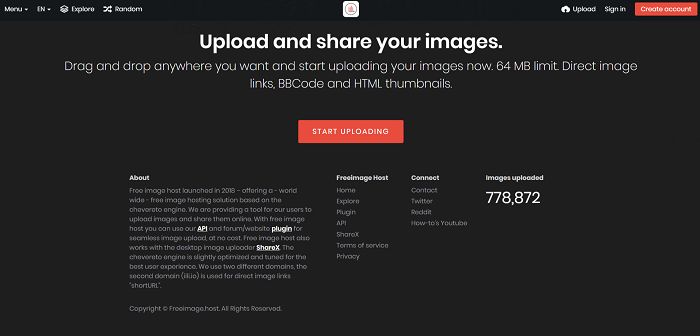 Reading the name alone, you will immediately know that this image hosting service is free.
Yep, that's right, Free Image Hosting does not charge a penny to its users. In fact, you are free to save as many photos as you want without fear of expiration, you know!
However, this image hosting service is only able to accept files with a maximum size of 3MB.
So, due to its fairly small size limit, Free Image Hosting is suitable only if you are looking for the fastest place to store and share simple images.
Advantages:
Hosting images without creating an account;
Save pictures indefinitely;
Provide a link that can be directly shared (hotlinking);
Quick access to various social media;
Provides free HTML code;
Has an extension version for Chrome.
Capacity: maximum 3MB per image.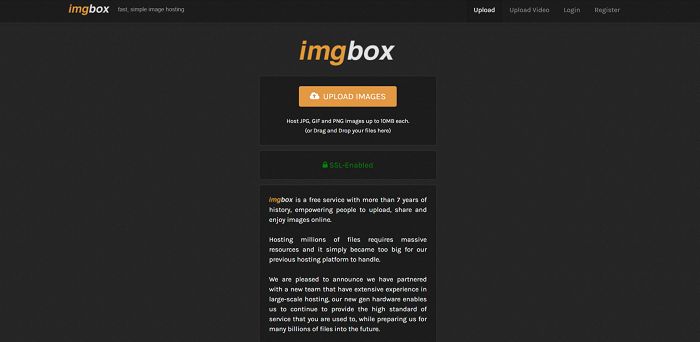 Compared to Free Image Hosting, Imgbox's appearance is indeed much simpler. But when it comes to benefits, don't doubt the power of this platform.
For those of you who are not willing to lose a lot of time-saving images, use this image hosting service.
When you open the Imgbox website, you can immediately upload and capture images permanently.
However, this image hosting website still has weaknesses, namely the sharing features that are not as complete as Free Image Hosting.
You will only get a few URLs without being able to share them directly on social media.
Advantages:
Hosting images without the need to be a member;
Get hotlinks that can be shared immediately;
Upload any image;
Image is saved permanently;
Can adjust the image size.
Capacity: maximum 10MB per image.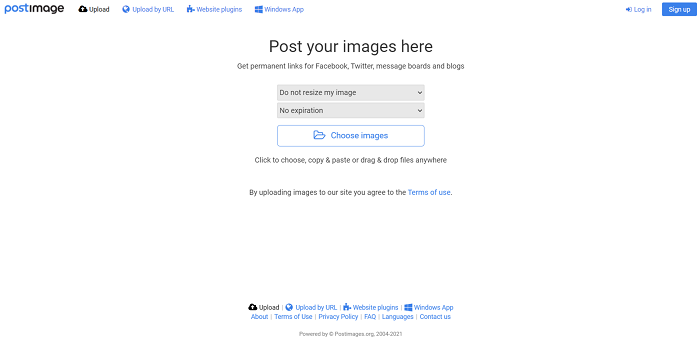 The next free image hosting is Postimage. As the title suggests, you can immediately post the image when opening the website.
From the looks of it, you really can't save an image in one click. However, this is precisely what makes Postimage special.
Postimage gives users more power to organize images. Having a variety of image customization options proves just that. Such as setting image dimensions, until its validity period.
Advantages:
Bulk uploading of images;
Can upload from URL;
Provides a resizing tool;
Set the image expiration date;
Available in a plugin version.
Capacity: Free accounts are limited to 24Mb and 10k x 10k pixels. Upload a maximum of 1000 images once.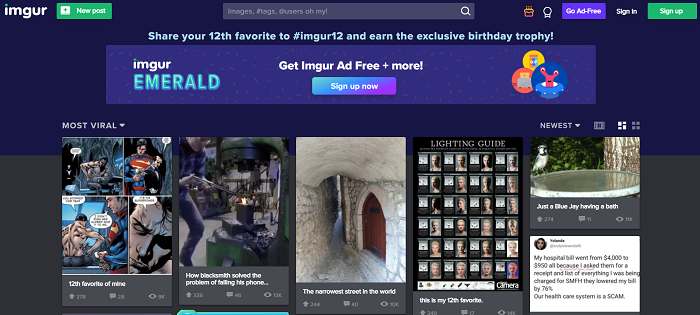 Looking for the best image hosting for storing your meme sets? If so, try Imgur!
Somewhat different from previous image hosting websites, Imgur appears more humorous.
Most of the images stored here are memes, either in the form of photos or animated GIFs.
But not only can you save, you can also easily find the memes you need. So when you get into a conversation that needs a spark of comedy, you can quickly get your best memes out.
Advantages:
The best place to save and share memes;
Uploading images without having an account;
Get the album feature for free;
Provide hotlinks;
Provides an image link with HTML code.
Capacity: 20MB for non-animated images and 200MB for animated. Videos cannot be longer than 60 seconds. Maximum upload 50 images per IP address per hour.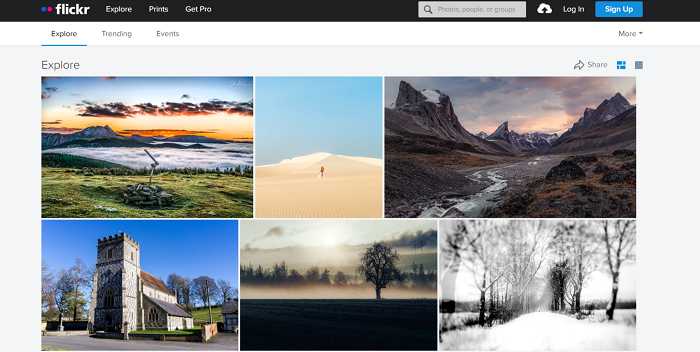 If you need free image hosting that can generate income, Flickr is the answer.
Flickr is like a spring where people from all over the world are looking for the best photography talent.
They are even willing to pour money to get cool photos. It could be your work that they are looking for, you know.
License issues, don't worry. You can secure image hosting by registering your photos under a Creative Commons license.
Advantages:
Provides editing features;
Share photos on various social media channels, RSS feeds, email, and others;
The opportunity to connect with a variety of professional photographers;
Create an album and provide a suitable description.
Capacity: Maximum 1000 files, without size limitation.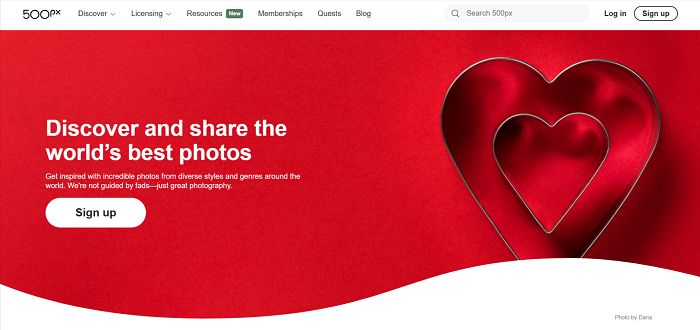 If Flickr doesn't quite satisfy you, consider 500px. Similar to Flickr, 500px is like an ocean that houses photography communities from amateurs to professionals.
Apart from acting as an image hosting service, 500px can also be a social network. Your acquaintance with a great photographer can start here.
With over 15 million users, you will have the opportunity to build an incredible network of connections.
Advantages:
Build connections with millions of photographers;
Have a license and sell images;
Provides image performance statistics;
Has various categories of images.
Capacity: Up to 7 images per week with a total of 2000 images, unlimited size.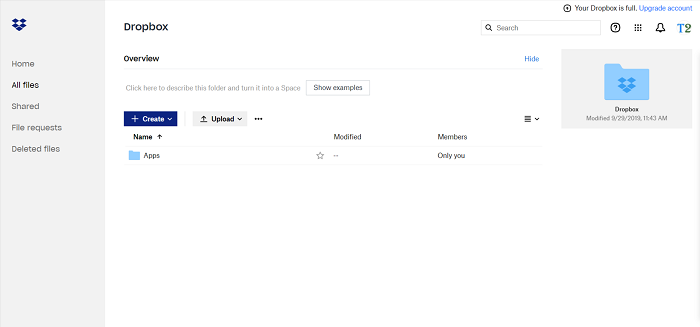 The next best free image hosting is Dropbox. Maybe, this name is familiar to you. Understandably, Dropbox's popularity is undeniable.
More than 500 million people have used this file hosting service.
Yep, Dropbox does offer a tempting feature. With photo roll sync mode, you can upload images without a single click!
Plus, sharing has never been easier. You can immediately get a link and invite your friends or coworkers to collaborate.
Advantages:
Easily share photos and even folders;
Use and change shared folders for others;
Save all types of files;
Synchronization with a photo roll on a smartphone;
The mobile version can still be accessed offline.
Capacity: free version maximum 2GB.
Google Photos image hosting is perhaps the most generous service we'll cover. With the free version alone, you have unlimited storage space for high-quality photos.
It doesn't stop there, Google Photos also provides cool editing tools. If you are lazy to edit, Google Photos will still offer an auto-edit feature.
Interestingly, your pictures will be backed up automatically. Regardless of the amount, this image hosting service can back up the files for you.
In fact, you can access Google Photos from any gadget without needing to install the application, you know!
Advantages:
Photo roll synchronization and automatic backup;
Bulk uploading of images;
Provides editing tools;
Offers editing recommendations;
Share albums with others;
Makes visual search easy.
Capacity: unlimited for high-quality pictures, 15GB for the original version.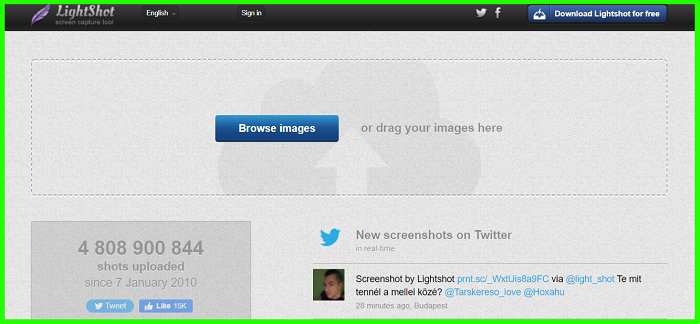 This is my favorite image hosting. Because the image URL that can be obtained is quite short plus its use is very human friendly.
For those of you who like to share captures with chat friends, then you can use this site to upload the captured images.
10. Img42.com
It's also one of my favorite image hosting sites. You just need to play "drag and drop image" to upload images to him.
Then he will resign to accept the image you uploaded. The appearance of this site is flat, not much style, and different from the others.
11. Imageshack.us
If you want to know which file hosting is quite popular, then ImageShack is the answer.
Although this site is not as handsome as mine, you can use it to upload any image format to it. You can try it one second from now.
2 Alternative Image Hosting on WordPress
Apart from using external resources, you can also optimize your WordPress as free image hosting.
Here are some alternative image hosting options for WordPress.
1. Using Image Hosting Plugin
Plugins are tools for creating additional features in WordPress. With certain plugins, you are able to create your own gallery space on your website.
Interested in trying it? Please select a plugin below:
NextGEN Gallery
Jetpack
Envira Gallery
FooGallery
Unite Gallery Lite
Huge-IT Gallery
Justified Gallery
2. Using Cloud VPS
Cloud VPS is a web server service that has high resources and gives full freedom to its users.
VPS allows you to store personal files so that they can be accessed using the internet network anywhere. The difference with other types of hosting, Cloud VPS has more powerful resources.
With a VPS, it is possible for you to build your own image hosting website.
Well, if you want to get the best VPS at the cheapest price, don't hesitate to learn about Cloud VPS.
Get More Website Disk Space!
By now, you know the limited disk space-saving solution for websites that accommodate lots of images. From the solutions above, which free image hosting will best suit your needs?
To continue to help you get more optimal website storage space, we recommend performing SEO image optimization. This is a strategy for maximizing the performance of your images.