In this article, we are going to share with you the best Tactics to Boost Your Website Ranking on Google.
In order to be able to successfully market products, both goods, and services online, you can do many ways, such as using content and websites and Google search pages.
Not without reason, most potential consumers will look for information through the Google search engine to get solutions to problems they are experiencing or to answer their needs.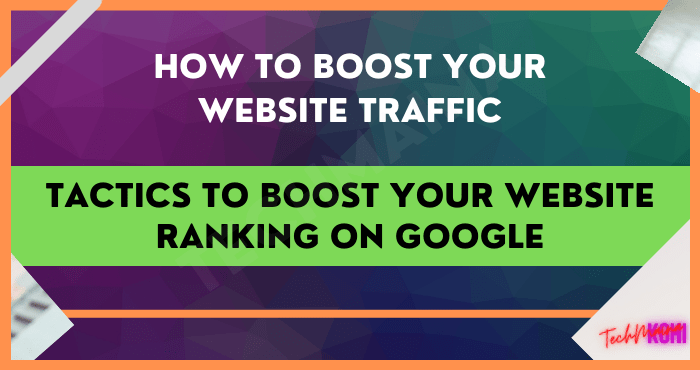 Then, how do you get these users to find your website on the Google search engine page? Of course, your website must have a top-ranking alias be on the first page of Google.
It is no secret that internet users will choose to click on a website that is in the first to third place on Google.
The reason is, for users, websites with the top three rankings on the Google page are definitely able to answer and provide solutions to their problems and needs.
Very few users are willing to give more time to search to the bottom of the order, even to the second and third pages.
Easy Ways to Boost Your Website Ranking
Unfortunately, not a few business owners still don't understand website rankings, so they always fail to rank first on Google.
In fact, there are many ways you can do to boost your website's ranking on Google so that it is easier for users to find your website and the products and services you offer.
Well, here are 10 easy ways to increase website ranking on Google that you can try to do:
1. Create Content Using SEO Optimization
Creating quality content to attract potential customers is the obligation of website owners. Even so, don't forget the role of SEO is creating content.
Implementing SEO will make it easier for your content to be found by users because of the appropriate keywords when they type them in search engines.
You need to know that one of the most effective ways to increase website rankings is to use On-Page SEO.
Even so, its application also cannot be arbitrary. Besides needing to find the right keywords, you are also advised not to do keyword stuffing, include relevant internal links, and don't forget to make sure that your website is mobile-friendly.
The last point is equally important given the high mobility of society and dependence on gadgets.
Read Also:
2. Maximize User Experience-Based Website Design
User Experience or better known as UX is the experience users get when they enter your website.
Based on research conducted by SEMrush, UX on a website is determined by four factors, namely:
Website visit: whether users often visit your website.
Time on-site: how long users spend on your website.
Pages per session: how many pages a user visits while on your website.
Bounce rate: whether the user immediately returns to the search page shortly after clicking on your website.
Simply put, User Experience is how to make users comfortable when visiting and looking for information on your website.
This can be achieved by making the website look attractive, adding menus or navigation that is easily accessible, to providing complete information.
3. Increase Loading Speed
Access speed or website loading speed also affects website rankings on Google search engines.
If your website has a slow access speed, users will be lazy to wait because they need information immediately.
As a result, your website will be immediately abandoned and this will actually increase the bounce rate.
4. Get Quality Backlinks
A backlink is a link that comes from another website and goes to your website. The more backlinks that are directed to your website, the greater the chance to get a higher website ranking. Especially if the backlink comes from a website that has high traffic.
You can get backlinks from quality websites by creating content that provides complete, accurate, reliable information, and can certainly attract traffic from visitors. You can also offer your content on the website.
5. Create Relevant Anchor Text
Although it seems trivial, anchor text has a big influence on SEO. Simply put, having relevant anchor text is important in building a link.
When the anchor text you enter matches the intended link, the Google search engine will get a positive signal regarding your website.
6. Use Headings and Subheadings
Using headings or subheadings on content will make it easier for users to understand the contents of the content.
Both are also influential in determining the ranking of your website in the Google search engine.
The reason is that the header is very helpful in showing the structure of the content as well as emphasizing the main points you want to convey.
7. Optimize Image Usage
Optimizing the use of images is very important to help increase the speed of your website and make it easier for Google to identify the images on those website pages.
Make sure all of your website's images are compressed, have descriptive names, and include alternative text.
8. Fix Broken Links
Having quality links on your website is one of the best ways to increase traffic and build website authority.
However, make sure there are no broken links as this will create a negative user experience and affect your search rankings on the Google search engine.
9. Create a "Position Zero" Goal
When a user asks a question on Google, the search engine sometimes pulls content from relevant websites and displays it in a special feature snippet or answer box above the first search result.
Incorporating content into featured snippets is a great way to increase website traffic because snippets usually include a link to the content site page.
Not only that, it also helps increase the credibility and visibility of your brand. To increase the chances of your content being selected as a featured snippet by Google, think about possible searches related to your business and add a website with clear and informative answers.
10. Optimize Local Search
More and more people are using cell phones to find interesting things around them.
To increase the chances of your business showing up in relevant local searches, make sure you claim existing listings on Google My Business, provide relevant content, list your business in local directories, and enhance your online reputation with great reviews.
Conclusion
Google will always make the latest algorithm changes and this includes how the search engine determines the ranking of a website.
So, make sure you apply the tactics above and are always updated with the latest information so you can always get the first rank.
If you are not yet proficient at applying these tactics on your website, ask for help from experts, such as SEO Experts and SEO Masters.
Together with the experts, you will be assisted in optimizing SEO as well as determining the best strategy to increase your website traffic and ranking.