After knowing about SEO in the previous article, then we understand about Onpage SEO optimization.
On page SEO optimization is important for you to understand, because Onpage SEO affects whether the website is optimized or not for search engines.
The purpose of setting the SEO On page itself is to find out whether the website is relevant or not to what the user is looking for. Also, that really does have the best quality.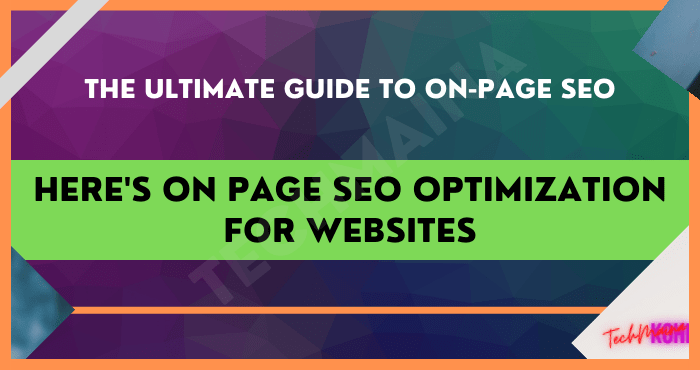 Therefore, in this ONPage SEO optimization, there are only 2 keys, namely relevance and quality. If a website does not meet these keys, it will be impossible to rank first in search engines.
Now in this second article, we will discuss which parts of your website must implement on-page optimization, as well as how to optimize it properly.
On-Page SEO Concept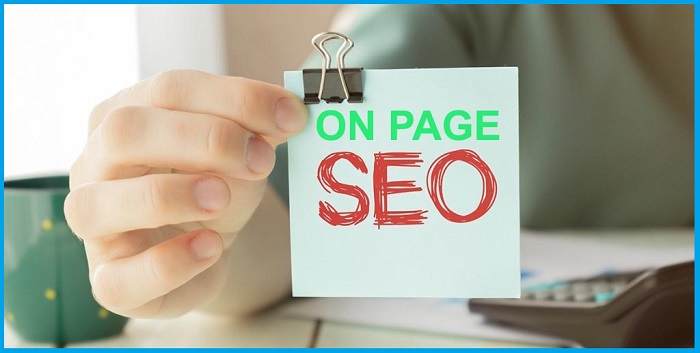 Before discussing how to properly optimize Onpage SEO techniques, we will start by knowing the concept of Onpage SEO.
This is the main thing that you must understand. The concept of on page SEO is simple, namely:
Has benefits for visitors.
Make it easy for visitors to explore.
Visitors can feel at home in it.
Search engines can understand the structure of your website.
Seeing from the 4 points above, you might ask this question "I want the website to be entered with keywords, and optimization is done for search engines, why do you focus on visitors?"
If you ask this question, here is the answer:
"A search engine certainly knows whether visitors are satisfied or not when visiting a website"
Now just imagine, if you type something in to google, then you find a website whose content does not match your needs. What are you doing?
Most likely, you will click the " BACK " button and then look for another website, right?
This is because Google certainly wants to display a website that satisfies users so that your website should satisfy visitors.
How to?
Factors Affecting Website Visitor Satisfaction
To be able to provide satisfaction to visitors, we can optimize the existing page components on the website.
But keep in mind, there are many factors that influence website user satisfaction. These factors are important to understand, so you can optimize them and maximize your website.
Several factors that influence visitor satisfaction are:
Content
Keywords
Title
URL
Meta description
Image media
External Link
Internal links
social sharing
Website speed
We will discuss the above factors one by one so that you understand better.
#1. Best Quality Website Content
If you pay attention, website content is the main component that must be there.
The existence of content has a big influence on website development and plays an important role in on-page SEO optimization.
It is impossible for a website to rank 1 in a search, without supporting quality content. What does quality content look like? Like this :
Provide maximum benefits for visitors.
Quality is more prominent than similar content.
Answering questions needed by visitors.
Listened for quite a long time.
Cause feelings of awe, amused, happy, happy, and others.
Provide solutions to visitor problems
Those are the 6 characteristics of quality content, for those of you who want to get first ranking in search engines, you should fulfill them.
Remember !!! Without exception!
Also, keep in mind, Google is against content that:
Skinny (thin) or weightless.
Does not provide value to the reader.
Not original aka copy-paste
Frustrate readers because of the low quality.
If the content you create falls into the above categories, don't expect to get high rankings in search engines. Instead, the content you post is at risk of a penalty.
You also need to know, Google and various other search engines are always active in updating their algorithms.
In the future, they will also understand how the quality of content is. For that, be careful in publishing content for your website.
#2. Popular and Targeted Keywords
You need to remember when you last used Google, what keywords did you type into Google?
From the words you type, later Google will bring up results related to these keywords. The more relevant the keyword, the higher the ranking.
So, we can know that optimizing the page means optimizing keywords.
We can make the page optimized for at least 1 keyword. One way is to include keywords in your page. Precisely on the content, title and URL.
That way, search engines, and visitors will easily understand what the contents of your website pages are.
For example :
Someone types in google the keyword "buy clothes". What do these keywords mean? Maybe he will buy clothes or want to read an article about the process of buying clothes online?
Judging from the keywords, it seems the first intention will make more sense.
Therefore, for those of you who write articles about the process of buying clothes online, it is impossible to get a high ranking on Google.
Because Google will present articles or content according to the keywords searched by visitors.
#3. Create Content Titles That Attract Visitors
On page optimization in SEO to be able to optimize the title by including the main keywords you are aiming for.
For example, the keyword selling clothes, you can create articles or content with titles that contain these keywords.
Eittt.. Is this enough?
Not yet… You need to remember that this optimization is not only to increase keywords but how to get visitors to be interested in the articles that you have.
Titles that are made without attracting visitors the results will certainly be in vain. So it would be better, make a title that attracts human attention.
With an attractive title, besides inviting visitors, it will also be able to increase its ranking on Google.
For example like this..
There are 2 websites competing with the 1st and 2nd rank positions. However, the website in the 2nd rank turns out to have more visitors than the website in the 1st rank.
Because the title that is made is attractive, it makes a lot of clicks. Of course, this makes Google feel that the 2nd rank website is more attractive, so it is raised to the first rank.
Does this make sense?
Of course, Google will present the best information to visitors.
#4. Short And Descriptive URL
Often people ignore this after making the article title. Although this has a small effect, it turns out that URLs containing keywords can also affect website rankings.
Avoid obscure content URLs like this:
techmaina.com/?p=96
A good URL of course adjusts based on the content of the page. For example :
Content about " Grammarly Premium Account" then the URL is "https://techmaina.com/free-grammarly-premium-account/"
Content about " Cheap SEO Services " then the URL is "domain.com/seo-cheap"
Make sure to create a URL that characterizes the content of the website, and contains the keywords being targeted.
#5. Meta Description That Invites Clicks
Example meta descriptions:

What is a meta description?
Meta descriptions are 1-2 sentences that usually appear in search results.
Basically, this meta description does not really affect your page ranking, nor does it always appear in search results.
Because now Google more often uses sentences contained in the content as page descriptions.
Even so, it never hurts for you website owners to optimize this section. The process also doesn't take long.
If the meta description is interesting, invites many visitors, the website will be visited more and more and its ranking will increase.
Remember !!! Increased number of clicks = increased website ranking
#6. Choose the Best Quality Image
If you read a website that is 100% text without any images, are you bored? Of course, that's how you feel. Because pictures and videos are a plus for the website.
Surprisingly, many people think that the presence of images can be detrimental to website owners. This is considered to be able to slow down the loading of the website.
clear…. That is not true.
It won't hurt you to use media in addition to the text unless there are too many of them and they're too large. To overcome this, consider the following tips:
Select an image that relates to the content of the content.
Use images of the appropriate size, not too large to avoid using too much hosting.
Make sure the image resolution matches what is displayed.
Compress images for optimal size.
Add the ALT attribute at the time of placing the image.
#7. Use Reference Links To Other Websites

This point is quite important, especially for new websites. Google as an information center, of course, prepares trusted content whose contents are not misleading.
This is why many large websites are ranked first because of a good reputation that has been built for a long time.
Because your website is new, Google considers its content untrustworthy. Because it is not trusted, then getting a high rank is more difficult. This is where the role of reference links will help you.
Links to other websites that have a good enough reputation and are relevant to make their reputation better. The analogy is like this:
In a book, you must have seen a bibliography containing book references. The existence of references will help to give confidence to the reader.
#8. Do Internal Links To Make Navigation Easier
There are many cases when someone visits a website and then immediately leaves without doing anything or the term is called a bounce. If a website has a high bounce rate it could be because:
Disappointing quality
Navigation is difficult
Remember again, websites that disappoint visitors can lower website rankings. So this bounce rate can be a factor that can show visitor satisfaction.
Efforts that can be made to reduce the bounce rate are to use internal links or links between pages. This is done so that visitors can easily visit other pages on your website.
#9. Website Can Be Shared To Social Media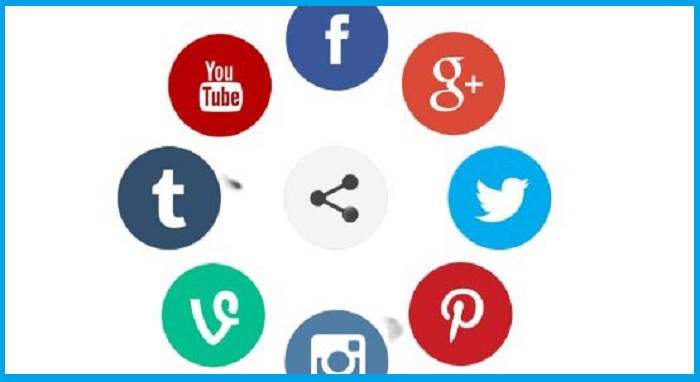 Although currently, Google does not consider the number of shares as a factor that determines ranking on Google, it does not mean that shares on social media are not important.
Quite the opposite…
The existence of this social share has an indirect impact on website rankings. The benefits of sharing on social media are also many. Here are the benefits:
Provide additional visitors
Make the website more recognizable
The satisfaction factor increases.
Some visitors will provide backlinks.
Yes indeed. When compared to SEO, social media plays an important role in building a brand even faster. This is what has an effect on SEO.
If your website is already known by the public, then they will look for it via Google. With many searches on Google, it means that your website's reputation will also be considered better.
#10. Good Website Speed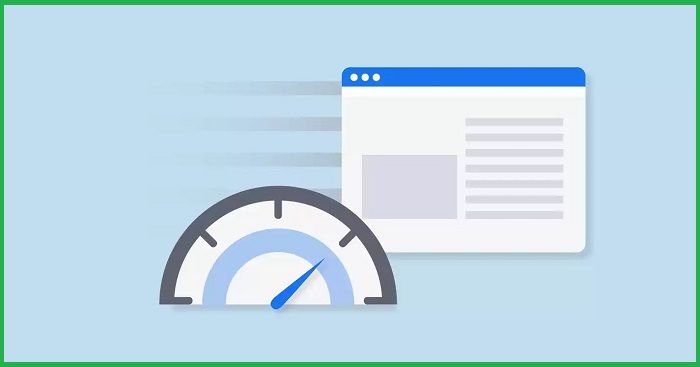 A website that has good speed, will get a better ranking on google.
When visitors visit a website with a slow response, of course, it will make visitors leave again. This of course affects the satisfaction of visitors and their comfort.
There are several things that affect speed:
Quality hosting.
Number of .js and .css files in <head>
Website page size
Note: Images and videos have no effect on website speed as long as the number that is installed is not too much.
Those are 10 things that affect visitor satisfaction.
Besides 10 things that can affect visitor satisfaction, we also have to understand 1 more thing that is currently widely applied to the Onpage SEO process.
This is about Heading. Headings consist of H1, H2, H3, H4, H5, and H6. How can the process be carried out optimally?
H1 is usually called the Headline Tag. The use of H1 on 1 page must only be 1 piece. Use H1 in the title of the article and make sure that the title contains the targeted keyword.
H2 to H6 are called subheadings or subtitles. Each subtitle usually describes a certain aspect. Use relevant words in each title.
What are the Benefits of Using Headings?
The benefits of using headings will help shape the structure of the article or page.
Articles with a neat structure will make it easier for readers to know the intent of the website content. In terms of usability or SEO, the use of this structure is also useful. Because they find it easier to find the topic they are looking for.
Beware of Google Algorithm in On Page SEO Optimization
Every time Google uses the latest types of algorithms to increase website rankings.
Those of you who are doing SEO On page optimization should understand what algorithm is being developed by Google so that the results are maximized.
If you miss even one algorithm, it will definitely affect the ranking of the website, so make sure you always follow these developments so that the website is on the first page!