We're taking a look at all currently available NBA 2k Mobile Codes! If you're looking to get some free stuff like free players, keys, cosmetics, refills, and more, then you'll want to keep an eye out for these codes that appear periodically.
There is practically only one code available at a time for NBA 2k Mobile. So be sure to keep an eye out for the codes that appear every two months.
These codes are best if you are just getting started in the game because the cards/players that are given away are usually in the Sapphire rarity range.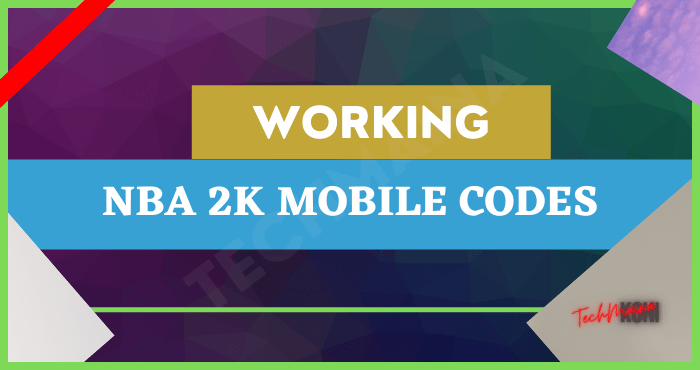 This will be a huge boost for some, but if you've been playing a lot these won't be as helpful.
What is NBA 2k Mobile Game?
NBA 2k Mobile is the leading basketball simulator for Android and iOS, continuing the successful sports game series.
As in the previous parts, here the user will be able to enjoy dynamic matches within the framework of the National Basketball Association competition.
By choosing one of the teams featured, the player will be able to demonstrate the class and teamwork of basketball players on the court, resulting in positive results.
In addition to the single-player modes, which also include street games, there is also a multiplayer mode where you can compete with real opponents.
What are NBA 2K Mobile Codes?
NBA 2K Mobile Codes are developer rewards and typically bring you a new player for your team. Recent examples have been Jimmy Butler, Anthony Davis, and Kobe Bryant.
How to Use NBA 2k Mobile Codes?
Remember that gift codes are legitimate codes, not cheat codes, issued by game publishers or developers on social media fan pages at various events or occasions.
Also, keep in mind that you can only use them once per account and that you should use them as soon as possible because many of them are active for a limited time.
Enter them verbatim as provided here, since sometimes they may not work in the case of capital letters or other characters.
The way to use the code is very simple by following these steps:
Open the game and find the main menu located on the right side of the screen.
Find and click the 'REDEEM' button.
A new window will appear, enter the codes we provided previously in the 'ENTER CODE' section.
Click the claim button and it will start processing, then you will be rewarded immediately.
That's it, enjoy your rewards.
Read Also:
Where Can I Find NBA 2K Mobile Codes?
The game developer has already published various codes that we can use in the game. These codes can usually be obtained from one of the following sources:
The official page of the game: You can consult the official page of NBA 2k Mobile to see all the news, and hopefully where they will post promotional codes when they are available.
Facebook: We advise you to subscribe to their page to receive all the news including new game codes. When they take out a code, you will have to take a screenshot showing that you have subscribed, and they will send you a code in return.
Instagram: We advise you to follow them in case they post promotional codes for NBA 2k Mobile on this page.
Discord: It is very possible that other players' share codes is the official Discord of the game, so sign up if you can. Of course, it is possible that many people speak in English, but the codes are usually the same regardless of the country you are in.
Youtube: Normally if they post a code on their channel, you will have to take an image capture and link it to comment on the video in question, and they will reply with a promotional code.
Twitch: Streamers often receive codes from developers that they give out during the broadcast to promote the game, so it's interesting to keep an eye on the game's broadcasts just in case.
Pre-registration: If you registered for the game before its launch, it is possible that you will receive the code in your email if you registered with your email address, or in the case that you did it in Google Play directly you should look in the email from the game to see if you have a message with the promo code.
Special Events: From time to time the developer may share gift codes during special events in the game, so we recommend being very vigilant to try to get them.
Comments: If you have found a code in the game that does not appear in the list in this article, we recommend that you share it with other readers, and visit this section from time to time to see if another user has added a new code.
Technical Service: Finally, from time to time you can get free gift codes if you have had a problem with the game or an object has disappeared, so if this happens, contact the technical service and they may provide you with a free gift code, plus some extra code to compensate for the inconvenience.
Read Also:
How to Redeem NBA 2K Mobile Codes?
To redeem a code in NBA 2K Mobile, you must go to the main menu of the game. You should see a "Redeem" button on the side.
If you don't see it, it means there are no current codes available for the game. If you see it, tap it to open the code redemption window.
Copy a code from our list, paste it into the text box, and hit return to enter it. If correct, you should receive your reward instantly!
Open NBA 2K Mobile Tap the Redeem button on the main menu sidebar Copy one of the active codes from our list Paste the code into the code redemption box Press the Return button to receive your reward.
What does the code do in NBA 2k Mobile?
In NBA 2k Mobile, codes increase the chances of getting a very rare basketball card.
Cashback codes or offers also increase the chance to use cards faster to create your dream team.
With free codes, everyone has equal access to these codes, so this is not considered cheating by Riot Games (the developers), but keeps the game fun for all players.
NBA Mobile Codes (Working)
JRUESUMMER- Get the Jrue Summer Card.
SHOWTIME- Get the Magic Johnson card.
THEBIGCACTUS- Get a Shaq card.
KPPLAYOFFS- Get a Porzingis themed card and two Event Energy Chargers.
ELGINBAYLOR- Get the Elgin Baylor card.
CP3PHOENIX- Get a Chris Paul card.
EMERALDKLAY- Exchange for Clay Thompson cards.
JIMMYBUCKETS- Get Jimmy Butler code.
ADFIRSTCHIP- Get Onyx Anthony Davis.
MAMBAFOREVER- Get Kobe Bryant's Onyx.
If you play NBA2K21, be sure to check out our NBA2K21 locker code post!
NBA 2k Mobile Codes List
We have listed all the gift codes available for NBA 2k Mobile below. Players can redeem these codes for free rare players, energy refills, hooded sweaters, standard gear keys, and other rewards.
Get Also:
NBA Mobile Codes (Expired)
These are the codes available above and are basically listed as a file of things you might have won in the past. You CANNOT redeem any more, usually, only one code will be available at a time.
GYROSTEP
THEADMIRAL—Redeem code for David Robinson card!
TAINKLAY – Redeem code for Klay Thomspon card!
WHATITDOBABY—Redeem code for Kawhi Leonard card!
DAMETIME – Redeem code for Damon Lillard's card!
JRUESUMMER – Redeem code for Jrue's Summer card!
SHOWTIME – Redeem code for Magic Johnson's card!
THEBIGCACTUS – Redeem code for a Shaq's card!
Jimmy Butler Cod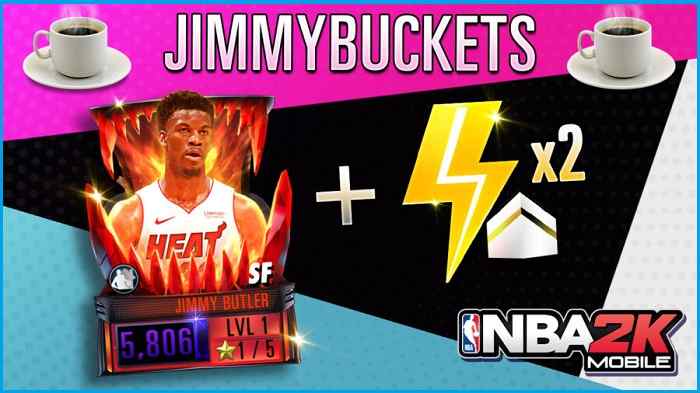 Get the new Jimmy Butler cards for free by redeeming this code!
Code: JIMMYBUCKETS
Reward: Jimmy Butler Card
Availability: Expired on November 29, 2023
Anthony Davis Code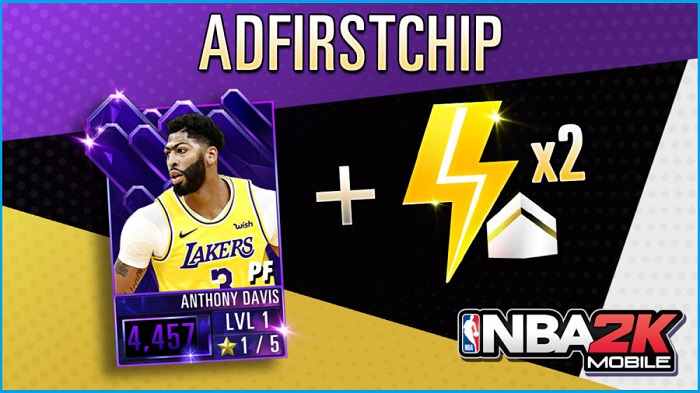 Get an Onyx Anthony Davis to celebrate his championship win and that of the Lakers!
Code: ADFIRSTCHIP
Reward: Onyx Anthony Davis
Availability: Expired on January 25, 2023
Kobe Bryant Code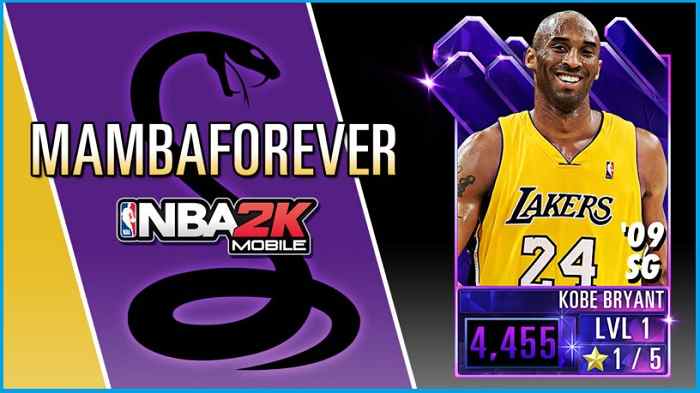 Get an Onyx Kobe Bryant card celebrating Mamba's birthday!
Code: MAMBAFOREVER
Reward: Onyx Kobe Bryant
Availability: Expired on January 26, 2023
Vince Carter Code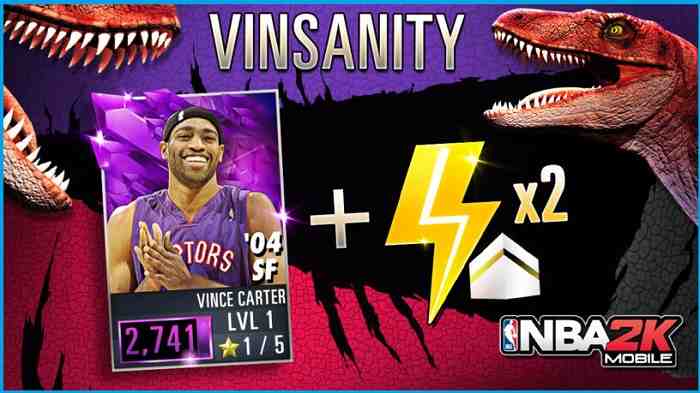 Celebrate Vince Carter's retirement by getting a sweet new Vince Carter card with stats that reflect you as your main self!
Code: VINSANIDAD
Reward: Amethyst Vince Carter and 2x Energy Refill
Availability: Expired on November 26, 2023
Curry Family Code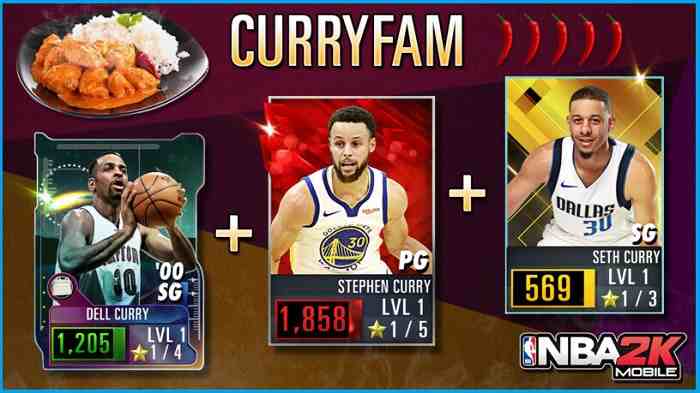 Code: CURRYFAM
Reward: Emerald Dell Curry, Ruby Stephen Curry, and Gold Seth Curry
Availability: Expired on November 24, 2023
Ruby Nikola Jokic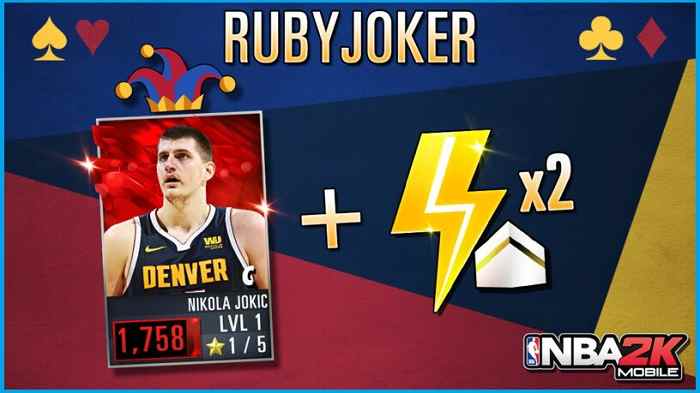 Code: RUBYJOKER
Reward: Ruby Nikola Jokic and 2x Energy Refill
Availability: Expired on November 28, 2023
Melo Pullover Hoodie
Code: HOODIEMELO
Reward: Sapphire Carmelo Anthony and MyPlayer Hooded Sweater
Availability: Expired November 23, 2023
The legend of Hoodie Melo continues! If you didn't know, there is a legendary dominant basketball player known as Hoodie Melo.
Carmelo Anthony would be seen in videos during the offseason dominating the court while wearing a hooded sweater.
This would get fans excited about the return of classic Melo, but when the regular season rolls around, he will end up not playing up to his perceived potential.
That mythological gamer is now being celebrated in NBA2k Mobile!
Zion Williamson
Code: SION DEBUT
Reward: Sapphire Zion Williamson and 2 small generic chargers
Availability: Expired on November 4, 2023
Zion Williamson was the overdone rookie entering this year, but unfortunately, he had some injury issues to deal with that kept him out of the game early in the season.
He ended up debuting in the middle of the season and doing quite well in the limited amount of play he had before the season was suspended.
Damian Lillard
Code: DAMEDOLLA
Reward: Emerald Damian Lillard and 10 Standard Change Keys
Availability: Expired on December 31, 2023
Damian Lillard is a talented point guard, but some may not realize that he's also a pretty good rapper performing under the name DAME DOLLA.
Giannis Antetokounmpo
Code: GREEKFREAKMVP
Reward: Emerald Giannis Antetokounmpo and 1x Generic Small Magazine
Availability: Expired on November 6, 2023
Giannis has been a force to be reckoned with and won the league MVP for the 2018-2019 season.
James harden
Code: BEARDISBACK
Reward: Gold James Harden
Availability: Expired on November 26, 2023
To celebrate the start of the Rocket's preseason-opening, you were eligible to receive a gold James Harden!
Conclusion
These are all the NBA 2k Mobile coupons available right now to get lots of free prizes.
If you have any questions about how to activate them or where to find them, don't forget to ask them in the comments, and remember that if you liked the guide you can share them with your friends on your social networks on Twitter or Facebook.