In this article, we are going to share with you the best method on How to Disable WhatsApp Calls. So, let's get started…
Besides being used for chatting, WhatsApp is also commonly used to make phone calls or video calls.
Currently, both are increasingly used, because we only need an internet connection, so that card credit can be more efficient.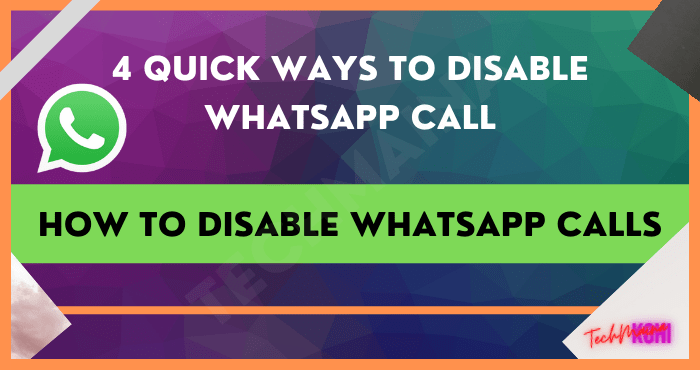 Speaking of these two types of calls, have you ever wanted to turn off WhatsApp calls once in a while so that no calls came in?
Well, if the answer is yes, it just so happens that this time I want to discuss how to do it.
How to Disable WhatsApp Calls
On the internet, there are already several websites that provide alternative ways, so that no calls can enter our WhatsApp account.
However, unfortunately, this method still requires special applications, which may have other side effects.
Well, here I want to discuss ways that you can use to get rid of this calling feature.
1. Force Stop WhatsApp
WhatsApp is a type of application that runs in the background. So even if we close, WhatsApp won't really stop.
This also makes WhatsApp still able to receive messages and phone calls, even though the application is not open.
To eliminate all incoming WA calls, we can Force Stop WhatsApp.
Go to Settings > Then go to the Applications menu.
Look for the WhatsApp application.
Then press Force Stop.
That way, WhatsApp will be inactive until the application is opened again. If you have opened it again, then WhatsApp will be active again as usual.
But it should also be noted, that in addition to calls that can't come in, all chats that usually appear on notifications will also be lost.
The reason was because with force stop, the application no longer runs in the background.
Read Also:
2. Temporarily Block Contacts
You can avoid phone calls by blocking contacts who call you frequently. At least for a while, when you really need it.
Because when we block a number, messages, profile photos, statuses, and calls will never reach our account.
To block a contact, do this:
Please open WhatsApp.
Select the desired contact.
In the chat window, select the top-right menu.
Select More.
Then select the Block option.
For how to reopen contacts that have been blocked, please search for how to unblock WhatsApp which I have also discussed on this site.
3. Disable Ringtone
In this way, all calls will actually still go to your WhatsApp account.
However, later there will be no incoming ringtone sound at all, so it is suitable for use in certain circumstances. For example, a meeting.
For now, there are at least two methods that we can use.
First step:
Open WhatsApp first.
Select Menu > Settings .
Tap the Notifications menu, then swipe down, later you will find the Calls column.
In the Ringtones option, set it to Silent.
Second way:
If WhatsApp still makes a sound, try setting your cellphone to silent mode as well.
How open the mobile phone menu (top)
Then select the Do Not Disturb option.
If so, then all calls, both voice and video calls, and whoever the caller is, their voice will not be heard.
4. Turn off WhatsApp Notifications
This is how it works, more or less similar to the first and third points, namely by turning off incoming notifications on WhatsApp.
In the WA settings, this setting does not exist. Therefore, we have to set it directly through Android settings. Here's how:
Open phone Settings.
Go to the Applications menu.
Sign in again to WhatsApp.
Select the Notifications menu.
Then disable notification permission.
Not done yet, here we also need to disable phone usage permission. The method:
In the same window (WhatsApp Menu) > Select Access Permission > Disable Phone .
But, with a little note, for some versions of WhatsApp and some types of cellphones, this method doesn't work. So, please try it first, ok? If it doesn't work, please try another method.
Notes From WhatsApp Official Site
Muting this WA call is sometimes needed.
For example, if we are busy, in a meeting, want to spend time with family without a cellphone, play games, and so on.
Under these conditions, of course, WA should be deactivated as much as possible, so as not to become a "disruptor" of our needs.
Unfortunately, according to WhatsApp, this calling feature cannot actually be turned off. It's exactly as it says on the following page :
But the method I discussed earlier is different. WA calls are disabled indirectly. Calls, in general, will still come in, just not reach us.
The Final Word
Thus, your WhatsApp calls have now been successfully deactivated.
The methods above, the implementation is only indirect, but everything can be done in the official WhatsApp application, without the help of additional applications.
In this way, the aim is to keep the phone from coming in when you are busy, or on certain occasions.
You also don't need to worry, because all the tips I give here can all be done through the official WhatsApp application, really.
Until now, I myself am still looking for other ways that might be used. So, maybe this article will be updated again in the future.
May be useful.