In this article, we are going to share with you on Best SEO Plugins for WordPress. So, let's get started…
WordPress is the largest blogging platform in the world. In addition to the hosted version of WordPress, there is also a self-hosted-based wordpress.org.
The difference is that the self-hosted feature is 100% free, it can be customized, but the condition is that we have to have our own hosting.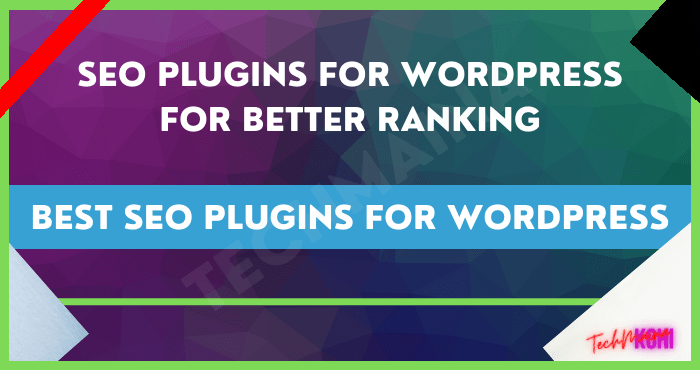 The advantage of self-hosted WordPress is that it is free, we can tinker and optimize as much as possible.
Well, for bloggers who use WordPress, you may already be familiar with the plugin.
Plugins are used to add certain features with just one click. One of the mandatory plugins that must be installed on WordPress is the SEO Plugin.
This plugin serves to optimize our WordPress to make it more SEO-friendly. So, every article that we publish, will be more SEO Friendly so that the chances of entering the first page of Google will be even greater.
So what are the best SEO plugins today? see the following article…
7 Best SEO Plugins You Can Install for Free on WordPress
There are several plugins that I have tried and reviewed for myself. The goal is that this article is valid and more reliable, what are the preferred plugins for techmaina blog? we start from the 7th position…
1. Yoast SEO
If you are wondering what plugin I use on this blog. The answer is Yoast SEO. In my own opinion, this plugin is the best plugin.
It's been around since 2008 so the experience is on par with the previous plugin, namely All in One SEO Pack.
Yoast is the most popular SEO plugin in the world today, almost installed on 5+ million WordPress.
In addition, Yoast has a special division that regularly updates and follows the latest algorithm developments.
I have proven it myself, even though the Google algorithm changes, the traffic continues to be stable and even increases.
I highly recommend this plugin for those of you who are just starting blogging using WordPress.
Its advantages are:
Light, Fast, and Easy to Use
Clean and easy to understand interface
Always update the latest algorithm
The most complete and useful features
Competitor analysis features
Automatically configure the website to be more SEO Friendly
Free version available
2. All in One SEO Pack 
Maybe many bloggers are arguing, All in One vs Yoast SEO, which is the best? yes, this is not surprising because AIO SEO Pack is one of the legendary plugins in WordPress.
This plugin has been around since 2007, so it has mature experience in dealing with all SEO algorithm changes. Apart from that, this plugin is also free and easy to use for beginners.
For those who like tinkering and ngulik, I think this plugin is suitable for you. The advantages are:
Experienced since 2007
Full features
Available API features for developers
Light enough
Free features available
3. Rank Math
Rank math is one of the best plugins out there. This plugin offers complete features and can be directly integrated with third parties such as Google Analytics, Webmasters, and so on.
So that we can optimize our website from internal and external sides. Lots of world bloggers use this plugin because…
Easy to use
Modern look
Always update with the latest algorithm
Full features
But unfortunately, this plugin is not free. The features are paid but worth the quality.
4. The SEO Framework
If you want a completely free SEO plugin, then The SEO Framework is the answer. This plugin offers complete features, without ads, tracking, bloatware, or so on. In addition, this plugin is very light like Slim SEO.
The advantages are:
Auto-generate SEO
Simple, clean, and fast interface
Full features
100% Free
5. SEO Press
SEO Press is one of the most complete SEO plugins on WordPress. The features are very many, complete and the coolest thing is that there are no ads!
The developer claims that this plugin is very powerful and can boost web traffic in one click.
In addition to SEO, this plugin is also able to optimize the number of social media shares, and repair damaged pages automatically with a redirect system.
The advantages are:
Have an analyst content page
Complete SEO Tools
Clean appearance and easy to use
Support multilingual
Support migration from other plugins
6. Slim SEO
There are so many SEO plugins in WordPress, but most of the features are too many and complicated for some people.
Well, for those of you who like the convenience and a simple look, maybe Slim SEO is right for you.
This plugin offers convenience but with complete SEO features. Automatically make all your website content SEO Friendly in one click.
Excellent features such as:
Meta Tags
XML Sitemaps
Breadcrumbs
Schema
Auto Redirection
7. Premium SEO Pack
This plugin is actually still new, but the features are quite complete. Provides maximum optimization packages, such as
Changing the pattern of articles to be more SEO Friendly
Adding Title, Description, Keyword, and Canonical Meta
Open Graph
Noindex and Nofollow Option
Preview
And other supporting features
The advantage of this plugin is that in addition to the free version available, it also offers complete and lightweight features.
So that's some of the most popular plugins on WordPress that I've ever tried. Each of these plugins has its advantages and disadvantages.
The experience I write about here may be different. So make sure you try it right away to get the best plugin suitable for your blog.
In addition, it turns out that if we install an SEO plugin on WordPress, it also has benefits.
Benefits of Installing SEO Plugins
Simplify our task in optimizing websites and blogs
Make it easier for us in keyword research, see article structure and readability.
Automatically apply the latest SEO algorithms and trends
Increase the chances of our website or article appearing on the first page of search engines
Help us find out what SEO factors are used today
Conclusion
That's a short article about the best SEO plugins for WordPress. With this article, I hope it can help you develop your blog and website for the better.
So that visitors increase. SEO plugins can also help overcome decreased blog visitors.
In addition to installing SEO plugins, you are also required to know Modern SEO about Important SEO Factors so that your blog and website can survive and appear at the top of Google.
Hopefully, this article is useful for you. If you have anything to add or ask, you can leave a comment below, ok?