Howdy Friends, In this post we will share the latest free Hotstar premium cookies and premium Hotstar accounts.
And Also share the best method of how to use Hotstar cookies. Are you excited to get Hotstar cookies for free and to know how to use Hotstar cookies?
So, why late, let's start…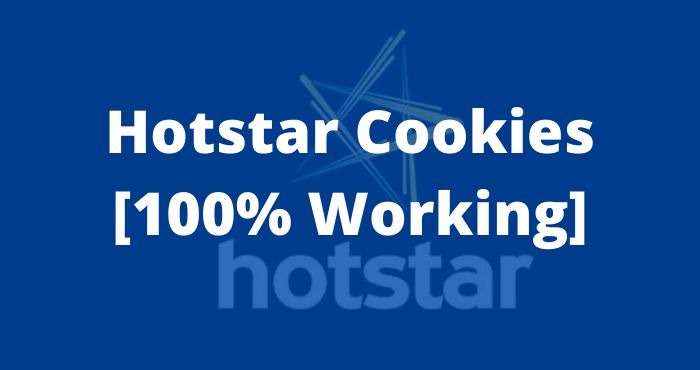 What is Hotstar?
Hotstar is an online video streaming application that allows its users to live stream Cricket matches, TV shows, series, and movies.
Owned by Novi Digital Entertainment Private Limited. Hotstar is available in multiple languages ​​and most sports are covered live. It provides you HD quality streaming video.
Hotstar is available for download on Android as well as iOS. You can use the free Hotstar service which has some limitations or you can subscribe to the Premium service which has many features included compared to downloading the app for free.
Although everyone loves to live stream cricket, hockey, football, and all other matches, not everyone can pay a subscription fee for the Premium Services offered by the Hotstar app.
Because of this, people are trying different ways to find options to enjoy the Premium service for free.
You can do this using the free accounts available online on various websites and also using the Cookie method.
Read More:
What is Hotstar Cookies?
Cookies, as we all know, are now stored on your computer system browser or on your mobile device through the use of the website.
To get free access to your Premium account via these cookies, you must copy the Cookies from your Hotstar Premium account and simply import them on your mobile device or on your computer system.
This will give you free access to your Hotstar Premium account without paying any fees for the services you enjoy.
Are you looking for free Grammarly premium accounts? If yes, then well, in the previous article we have shared on the
Grammarly premium accounts
. you can check out.
How to Use Hotstar Cookies
Now, to use Cookies on your system, you have to follow the steps below to enjoy Hotstar Premium services for free:
"Edit this cookie", in your Chrome browser, you must first install this extension via the link provided online.
The second step is to go to the official Hotstar website.
At the top right of the browser, you will see an extension, click on it.
On the far left, you will see the Delete icon appear, tap it.
You must now click on the import option.
Now you need to paste the cookie you copied to access Hotstar Premium.
Now you need to update the page and this is how you will log into the Premium account for free with the help of Cookies.
Follow the steps below to enjoy Hotstar Premium services for free on your mobile device:
To use Cookies on your phone, you must first install the Yandex browser on your smartphone.
Now, on your Yandex browser, install the extension "Edit this cookie" from the link provided online.
In this browser, now go to the official Hotstar website.
Now you will see 3 dots in the left corner, click on them and then click on extensions.
Now click "Edit this cookie".
Delete and import the above cookies and refresh the page. You will now be logged in via Cookies on your phone.
Note:
On your PC or mobile, remember not to log out of the account you are using via this Cookie because once you log out, this Cookie will be of no use to you and others.
Free Latest Premium Hotstar Cookies 2021
Here are the 100% working latest Hotstar premium cookies you can use in 2021.
Attention: TechMaina does not support any kind of hijacking or illegal use of cookies. The cookies mentioned on TechMaina are submitted by users or collected from other open-access portals.
List of Free Hotstar Premium Accounts 
Don't Forget To Let Me know in the Comment Section Below If Hotstar Premium Cookies And Accounts Is Working Or Not?