In this article, we are going to share with you How to Fix: Free Fire Can't Login Error.
Not being able to log in when you want to play Free Fire is actually a common problem. Especially for those who have been playing the Free Fire game for a long time.
This problem usually only happens occasionally. But sometimes it can also be several times because there are unresolved problems.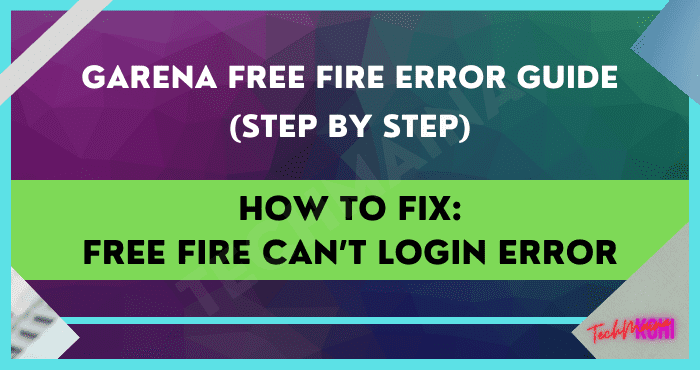 So, what are the problems that cause Free Fire to not be able to login? Here I will discuss the causes and all the solutions.
Causes of Free Fire Can't Login Error
When you cannot login to your Free Fire account, it indicates that there is a certain problem. Whether it's the internet to the server from Free Fire itself.
Complete like:
The internet connection being used is having problems
The Free Fire game cache on your cellphone is full
You haven't updated Free Fire to the latest version
There is a server problem or is under maintenance
Get Also:
How to Overcome Free Fire Can't Login
For those of you who are experiencing the problem, below I will discuss ways to solve it. Please follow the solution one by one.
1. Check Internet Connection
The first solution you can try is to check the internet connection. Whether the internet connection you are using is being interrupted or not.
Because if the internet connection you are using is interrupted, it will generally make Free Fire stuck on the initial loading page.
If it turns out that you are really having trouble, you can try changing to another provider. Or you can also wait until your internet connection is stable again.
2. Clear Free Fire Cache
If it wasn't for internet interference, it could also be the problem because the Free Fire cache is full. So that the Free Fire game has a bug that causes you to not be able to log in .
For this, you can clear the Free Fire cache so that the problem can be resolved. For steps to clear the Free Fire cache yourself, you can see below:
Please open Phone Settings first.
Next, open the Application settings.
Find and select the Free Fire game.
Then open the Storage menu.
Finally, tap on Clear Memory to reset the cache.
Done.
If clearing the cache still doesn't work, an optional additional tip from me is to clear the data. This method is to solve when there is a corrupt resource file.
After deleting the data successfully, you can open Free Fire again and re-download all game resources from the beginning.
3. Make sure Free Fire has been updated
The version of Free Fire that you haven't updated can also cause you to not be able to log in. Under certain conditions, it can also prevent you from opening the Free Fire game.
Therefore, when there is an update to the Free Fire version on the Google Playstore or App Store, you should try updating it. So the game is normal again.
4. Use WiFi
To minimize the problem of not being able to log in, you can try using WiFi. Because the network from WiFi is generally much more stable than a regular internet connection.
By using a connection from a stable WiFi, not only allows you to overcome the problem of not being able to log in, but also you can get a lower ping.
This will affect the gameplay better.
5. Wait If Server Crashes
When you can't log in to the Free Fire game, there is a possibility that the server is having problems. I don't know if it's a problem or maybe it's under maintenance.
When you are experiencing this disruption you can wait for some time until the server is back to normal.
After that, you should be able to log in to the game as usual.
The Final Word
Now. those are the ways to solve Free Fire can't log in. You just follow the tips one by one to succeed.
If you have any questions, please just post them in the comments column.
May be useful.