Howdy Facebookers, in this article we are going to share with you How to Unlock Facebook Account Without ID Proof or without a phone number.
A locked FB account is a common problem, this is an account security measure taken by the Facebook admin.
If you experience this, there are several ways to open a temporarily and permanently locked Facebook account that you can try.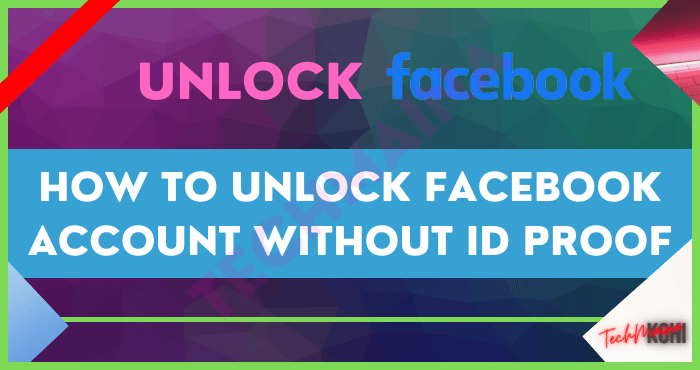 You can open a locked FB account quickly and easily as long as you successfully pass the security check process on your Facebook account.
To bypass the security process, you will be asked to confirm your identity on Facebook such as uploading a photo ID.
In addition, you can also overcome a temporarily locked FB account through the stages of guessing photos, comments, Facebook birthdays, and via email/phone number.
Causes of Locked Facebook Account
Before moving on to how to open a locked Facebook account, you must first know what causes your Facebook account to be locked.
So that in the future you can anticipate so that your FB account is always safe. As the wise man said, "prevention is better than cure".
Here are some reasons why your Facebook account is locked, including:
1. Violating Facebook Community Standards
Facebook policies always change every year for the convenience of its users. So don't be surprised if the current Facebook system is very sensitive to content that contains elements of violence, pornography, and content that contains threats to others.
The content in question is in the form of photos, videos, hentai images, or just plain text containing harassment or hate speech.
2. Login on Unknown Device
If you currently login/login to your Facebook account using a friend's cell phone at work using the Chrome browser.
Then later on at a different time you log in on FB lite using your own cellphone, then usually your FB account will be locked.
Usually, this action is taken by Facebook to protect your account from being stolen or hijacked.
3. Post Spam
Sending messages and comments in a row / many times with the same words can make your FB account locked.
Asking and receiving friend requests in large numbers at once is also one of the causes your FB account is locked.
We recommend that you do not ask for or accept friends from FB users of no more than 100 people a day.
4. Using Auto-Like Sites
Don't use auto-like sites to increase the number of likes on posts, if you don't want your FB account to be locked. Because this is also indicated as spam by Facebook.
How to Unlock Permanently Locked Facebook Account

If your Facebook account is permanently locked, you can only recover it through an appeal, which is to send an ID card or photo ID.
Here's how to re-open a permanently locked Facebook account:
Prepare your identity card (ID) in the form of a Passport, Driving License (SIM), Student Card, or Identity Card (KTP. You can use a fake ID as long as the ID is not blurry and the name on the ID is clearly visible.
Open your Facebook account by entering your Phone Number or Email and Password, then you will find that your account is temporarily locked. To continue, click YES.
Select the Upload Photo ID option and then click Continue.
Enter your email address/mobile number and Facebook profile name if prompted. For the File field, enter your ID. If so, click Submit.
Note: The name listed on the identity card must match the name used for the Facebook profile name.
Wait a few moments until you get a message in your email inbox. Maximum waiting 24 hours.
Go back into your account if you get a reply in the email containing the FB Password link and code.
Use that account recovery link and code to unlock a locked Facebook account.
However, if the account can't be unlocked not because it's locked by FB, but because it's BLOCKED, learn more about how to activate a deactivated FB account.
Another way to restore a locked FB account is as follows:
How to Open a Temporarily Locked FB Account

There are several easy ways when FB is temporarily locked, namely by identifying yourself to Facebook through friends, comments, birthdays, and others.
Although it is easy, it cannot be taken lightly because this process requires time and precision.
#1. Facebook Friends Photo Identification
The first way to open a locked Facebook account is through FB friend photo identification or guess a friend's photo. If you choose this option, you will be asked to guess 5 photos of Facebook friends.
The process of checking account security using a friend's photo guess is easy if the number of FB friends is only tens or hundreds.
But if the number of friends exceeds 1000 will experience a little difficulty. The problem is it is impossible to memorize all the photos posted by friends.
Here's how to bypass the Facebook security process on a locked FB account:
Prepare a backup Facebook account, you can create a new one or ask a friend for help.
Open a locked FB account via Google, Chrome, or other browsers.
After that, open a second account on FB lite or blue (Android).
Select option/menu guess photo.
Do the FB friend identification process. Note: if you don't recognize the photo, all you have to do is go back to the backup account and then open the friend's list from the locked Facebook account.
Type profile names one by one in the name search field, then check all your friends' photos, including profile photos, covers, mobile uploads, and timeline photos.
Next, if you find the same photo on the backup account with the locked account, then select the profile name on the temporarily locked account and click Continue.
Repeat the steps to guess the profile name according to the photo that appears up to 5 times. If successful then facebook locked successfully opened.
But remember, these steps are only given 3 times the chance to guess the photo.
If you fail to apply the FB photo guess, you will get a report that the friend photo identification process (hourly limit has been passed).
If you can't go through the process, wait a few moments before trying the photo guessing step again.
Meanwhile, if the hourly limit is exceeded, you have to wait for some time, usually waiting for 1 hour to 24 hours before re-processing your Facebook friend's photo identification.
If you want to track a Facebook account but don't know how to track it, well in the previous article we shared on how to track a Facebook account.
#2. Guess the Comments
Not much different from the photo guessing option, guessing the comments according to the previous comment activity can recover Facebook from being hit by a session. Guessing comments is considered easier when compared to guessing a friend's photo.
Don't you know, why guessing comments are said to be easier?
Guessing Facebook comments is easier because we definitely recognize our own writing style.
When selecting the guess comment menu, you will be asked to choose 5 comments based on chat activities with Facebook friends.
Guessing comment activity on FB is one of the best reliable ways to re-open a Facebook account that has been temporarily locked.
Here are the steps:
First open an account in a web browser, FB lite, or any other version.
After that you will be presented with several options, select the option guess comments.
Mark at least 5 old comments according to personal activity then click Continue. The five-guessed comments can't all be wrong. (If you manage to guess five comments correctly, then Facebook is locked and can be opened again)
If that doesn't work, you'll get a missed hourly limit warning in the guess comment option. When this happens, you have to start over from scratch.
But keep in mind, at this stage you only have 3 chances to vote for comments.
Read Also:
#3. Confirm Date of Birth
Confirming fb date of birth is the easiest way to troubleshoot Facebook security checks like account lockout or FB exposed session.
If you choose the option to confirm your birth date on Facebook, you only need to enter the date, month, and year of birth according to your account data.
The date of birth entered is the birthday when you first registered for Facebook or after changing your last birth date.
Although it is easy, there are also obstacles that are often faced, namely the date of birth option does not appear.
To solve this problem, we need a VPN to bring up the FB birth date confirmation menu.
The type of VPN used is not a VPN for the country of Upin Ipin or a VPN for the country of the windmill, but a VPN server from Maria Ozawa's country.
Do you know where the VPN is from? I don't need to tell you, I'm sure everyone already knows the answer.
Note:
I didn't say "the date of birth confirmation option always appears" yes, but this often appears. This means that it may not appear, but sometimes it appears more than does not appear.
The following confirms the date of birth on a locked Facebook account:
First, download VPN on the Google Play Store.
After that, enable the VPN. Make sure to choose the fastest connection.
Next, open a locked FB account via a browser via a cellphone or PC.
Enter the correct phone number or email and password.
When several options appear, select the menu to confirm the date of birth.
Enter the date of birth according to the account information and click Continue.
If the date entered is correct, then the locked FB case has been successfully opened.
The trick above has proven to be effective in solving this problem because many FB users who are members of unique Facebook groups have proven it.
#4. Recover Via Phone Number
If your Facebook account has an active phone number, you can select this option to get a FB account recovery code. The recovery numeric code is sent by via SMS message.
Here's how to open a locked FB account:
First, open the locked FB by entering your email or phone number and password via your cellphone or laptop. After that click Start.
Click Next to secure login details.
The next step is to click the "Get code on your phone" description.
Select the mobile number associated with the Facebook account then click Get Code.
Check the SMS from the Facebook admin containing the numeric code. After getting the recovery code, click Confirm.
Enter a new password to secure the account.
Finished.
#5. Via Email Address
In addition to using a phone number to recover a temporarily locked FB account, using an email address is also a surefire way to unlock Facebook if it's locked.
Open an account on FB lite or a browser via a cellphone, it can also be via a PC.
Enter your email and password then click "Login".
If you find your account is temporarily locked, restore it with Email to get an activation code.
Open email on your device then look for messages from the Facebook team.
Use the numeric code to solve the locked FB because of the password problem that someone else changed.
Before trying the steps above, make sure the email address is still active or accessible.
Get Also:
#6. Approve Login From Another Phone Or Computer
In order to pass confirmation of identity, approve your login from another phone or computer in the case of an account affected by a Facebook lock session, which requires 2 devices at once.
The device used is the old device and the new device that you want to use to open Facebook.
The way this workaround works is to ask the old device for approval if you want to log in to Facebook on the new device.
In addition, you can also change another computer's approve login session to the date of birth (TTL) option.
To change the approve login option, upload a photo ID, guess a friend's photo, or comment, namely logging in to a FB account via a VPN.
The steps can follow the method above on how to confirm Facebook's date of birth.
But if you want to pass approval from your phone or from another computer, you can follow the steps below.
How to solve FB login session from another computer:
The initial stage is logging into FB from an old device from a cellphone or computer/laptop according to the device used to log in before.
After successfully logging into your account from your old device, see the notifications section.
Next, look for a notification from Facebook stating that someone wants to log in to the
Facebook account on the new device.
Open the notification and click Yes to approve the login account on the other device.
Next, open a FB account on the new device.
Finished.
If the login is not approved by Facebook, it means that the notification on the old device has expired.
The next step that must be done is to try to log into the account from the new device in order to get notified again on the old device.
After doing the process, try to follow the tutorial above again.
#7. Via FB Trusted Contact
How to open locked facebook other than uploading a photo ID is to take advantage of the help of a trusted contact on the FB account.
But this method only applies if you have previously added 3 or more friends who are associated with your account as trusted contacts.
The trusted contact function is a Facebook friend list that can help you when you can't access your accounts, such as forgetting passwords, hacking, and locked accounts.
The Steps are below:
The first step, open the Facebook page and then log in to the account with your email, cellphone number, and password.
Follow the instructions on the screen then select restore through trusted contacts.
Contact your friends one by one via telephone or meet in person according to the list of names that appear on the form.
Ask the three friends to open the https://www.facebook.com/recover link via a browser. (Follow the instructions given by the Facebook team).
Enter each of their codes into the fields provided in the trusted contact help form.
After that you will be asked to replace the old password with a new one, you can also skip it.
When doing this process, make sure the codes given by the three friends are not wrong so that the locked FB account can be immediately reopened.
#8. Silence Account
This method does take a long time to unlock, but if you use this method, a temporarily locked FB account can be unlocked after 30 days.
Unfortunately, this method can only be used last year. I think 2023 will be a bit difficult, but it doesn't hurt if you want to give it a try.
Here are the steps:
Sign in to your Facebook account on UC browser, Opera mini or Chrome.
Guess the friend's photo until the trial period is up. (fail no problem).
After that log out of FB.
Note:
For 3 – 4 weeks, do not open the account, (Do not tamper with). A Fb account can be opened after 3-4 weeks, then the account opens itself.
If the FB account is opened before the specified time limit has not been completed, then your attempts to open a temporarily locked Facebook account fail miserably.
How to Unlock Facebook Account [2023]
This last method can be used to open Facebook which is locked due to age. But this method requires an Identity Card (ID).
Changing the date of birth on Facebook under 18 years old can cause the FB account to be locked for reasons of age restriction (age).
Example: It's 2023 now, if you change your birth date to 01/01/2005 it will result in your FB being temporarily locked.
This calculation shows that the age is still 16 years old. This means that you are still a minor and this violates Facebook's community policy.
Actually, the Facebook team does not prohibit minors from using Facebook.
But if the account already cannot be opened because of the age limit, then you must confirm your age with photo identification before you can use Facebook again.
The Steps are below:
Ready for photo identification cards such as Student Cards, KTP, or SIM
Open a locked FB account due to age restrictions via a browser.
Enter a Facebook profile name. Make sure the name entered matches the Identity Card (ID).
Enter the Email address or cellphone number according to the data on your Facebook account if prompted on the form page.
Adjust the date of birth, month, and year such as the date of birth that was last modified in the FB account.
Finally click Submit, good luck.
Make sure the data is entered into the identity confirmation form because they are not old enough according to the ID card with the data on the FB account.
If you fail, you have to try again!!!
So, How Long is FB Account Locked?
Locked Facebook can be temporary, but also permanent, this depends on how often your account violates the terms of Facebook.
Then how long is the Facebook account locked? Here are the steps:
If this is the first time you violate Facebook's policies, your Facebook account will be locked for 3 days.
If you commit a second violation, you will be locked for 7 days.
For the third violation will be locked or limited for 30 days.
Likewise, if you violate one more time, your Facebook account will be locked for 60 days to 3 months. Even accounts can be deactivated forever.
The explanation above is the stage of account locking time carried out by the Facebook team. This also applies when a Facebook account suddenly disappears without warning.
Closing
Thus a series of tutorials or several ways to open a locked Facebook account. Make sure to always follow facebook policies when on the move so that FB is not locked.
If you have other problems regarding your Facebook account or want to ask questions, please share them in the comments column below.