Howdy gamers, in this article, we are going to share with you the Free Fire Colour Code which Make Your Writing Colored.
In addition to the unique symbols in the Free Fire account name, Survivors also often use colored writing on their profiles and chats.
Nicknames as the identity of the players, of course, would be better if they were unique. For example, using symbols, colors, or empty FF names that might make your account different.
Now for those of you who are curious about how you can take a peek at the tutorial using the Free Fire color code below.
Free Fire Color Code Guide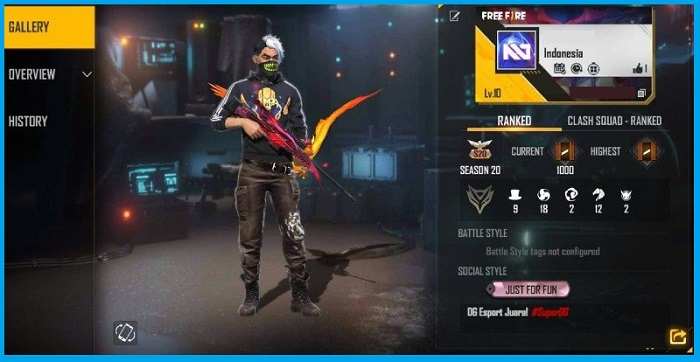 Similar to how to add a Free Fire symbol to your account name, how to change the writing color on Free Fire is also as simple as copy-pasting.
Here are some Free Fire color codes that you can use right away:
Free Fire Color Code:
Yellow = [FFFF00]
Green = [00FF00]
Red = [FF0000]
Biru = [0000FF]
Light Blue = [00FFFF]
Pink = [FF00FF]
Orange = [FF9000]
Purple = [6E00FF]
Light Green = [CCFF00]
Dark Green = [0F7209]
Light Pink = [FFD3EF]
White = [FFFFFF]
Black = [000000]
Light Brown = [808000]
Dark Brown = [482B10]
So how do you use this Free Fire color code? Immediately see how below yes!
How to Use Free Fire Color Code
How to use the Free Fire color code is to directly copy the code into the chat or profile column.
You don't just copy the numbers, you also have to copy the opening brackets '[' and closing brackets ']'.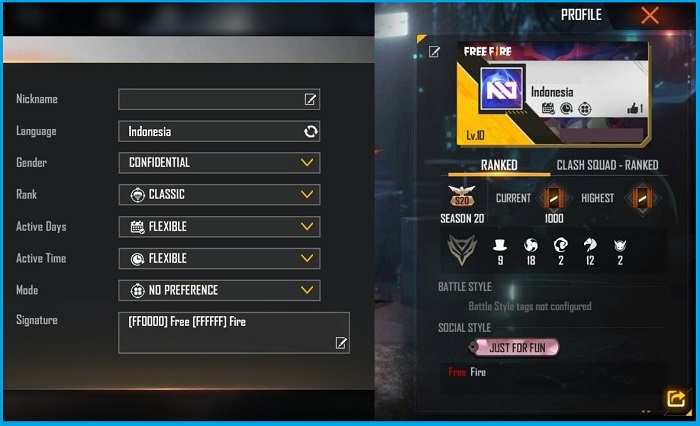 For example, if you want to write "Free Fire" in blue, all you have to do is write "[0000FF] Free Fire" in the chat column, then the Free Fire text that appears will turn blue.
So what if you want to use more than 1 color, for example, the words "Free Fire" are red and white? You just write "[FF0000] Free [FFFFFF] Fire".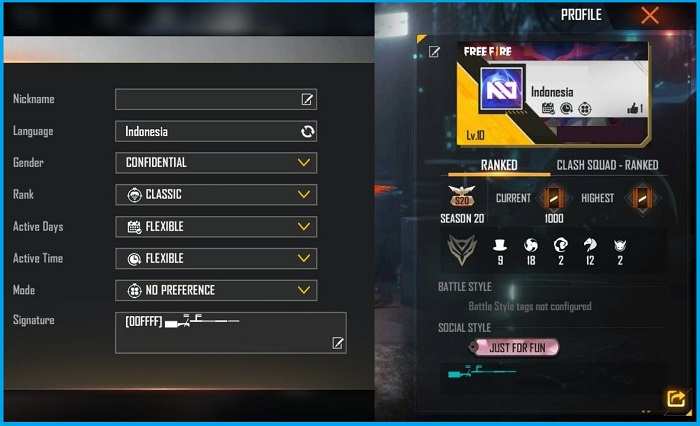 How about writing life underscore ( underline ) , bold ( bold ) , or italics ( italic )? You can use the code [u] for underscore, [b] for bold, and [i] for italics.
How to use it is to add the code in front of the color code, for example "[b][FF0000] Free [FFFFFF] Fire".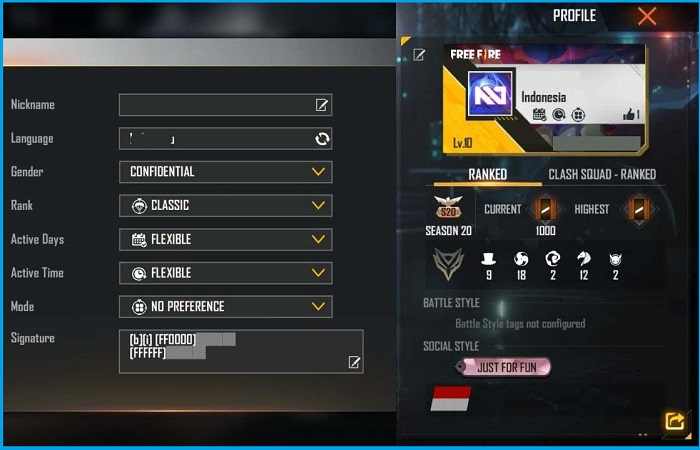 Can this color code also be used for symbols? You can too! The method is the same, namely by entering the symbol you want to color behind the color code you wrote.
With this trick you can also make an Indonesian flag in your profile column, you know! So, so you don't get confused, you can directly copy the code below and write it in your profile column, OK!
[b][i] [FF0000]▓▓▓ [FFFFFF]▓▓▓
Free Fire Colour Code Site

Can't find the color code you want on this list? You can find more than 16 million Free Fire color code options on the color-hex site.
Here are the steps for using the color-hex site:
Go to the color-hex site,
Click the black box column at the top,
Choose the color you want,
Copy the color code that appears in the column to the left of the color box,
Add brackets [ ], then copy it into the Free Fire chat column,
Add the text you want to color behind the closing brackets.
It's easy? Let's just decorate your profile page with colorful writing so that your profile will be cooler and different from other Survivors, guys!