In this article, we are going to share with you how to fix Instagram Videos Not Playing error on android, iPhone, and PC.
Instagram, is usually used to update status with photos. Many people like this application because of its various features and its clean appearance.
Besides being able to be used to upload photos, Instagram can also be used to upload and play videos.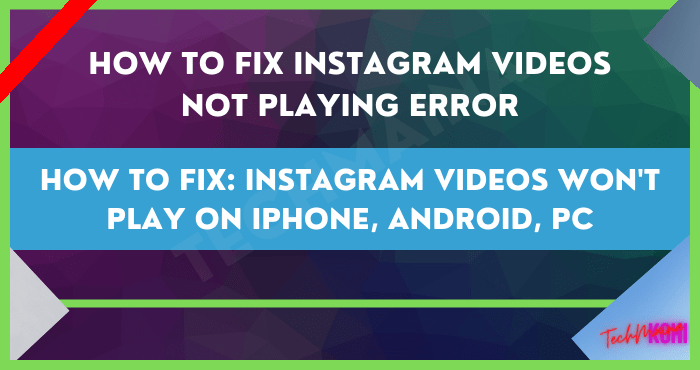 Well, talking about playing videos, there are some Instagram users who complain that the videos they play experience lag / broken.
Some also experience the video feeling slow, slow motion, and even stuck (cannot play).
How to Overcome Instagram Video Error / Stuck or Can't Play
For those who often use Instagram, if each video is played intermittently like that, it must be quite disturbing.
Oh yes, you should know, the slow IG videos found on each cellphone are different. Some are small, some are big. And this can also happen on Instagram Stories.
At first glance, it is not so clear. However, those of you who have experienced it yourself will definitely feel that the video is not smooth when played.
Well, how to solve it? Let's check these out.
#1. Clear Cache dan Data Instagram
First, you must clear the cache and Instagram data first.
The clear function here is to reset Instagram, to be fresh like it was just installed. So hopefully in this way, the problem of slow-playing IG videos can be lost.
The steps:
Please open Settings on the Android phone you are using
Then please go to the Applications menu > Then search for Instagram
Do clear data and clear cache
If so, restart the phone.
Keep in mind:
The method above, can make Instagram logout . You just log back in as usual when the data and cache have been deleted.
#2. Turn off NuPlayer Features
In some versions of Android, there is a feature called "NUPlayer (experimental)."
NUPlayer, is a video player, but this NUPlayer already supports online video which incidentally not many players have the same features.
In some cases, sometimes NUPlayer can be the cause of your Instagram feeling slow. I myself just found out from an outside phone forum that discussed this.
How to disable it:
First, please enable Developer Options (developer options) first
If you have, go to Settings > Then go to Developer Options settings
Then look for NUPlayer ( experimental ) then disable it.
Notes:
NUPlayer is mostly available on Android 5.0 and above (Lollipop). So not all cellphones have this feature.
#3. Instagram App Updates
If there is a problem with Instagram videos being slow or even not playing, it is not impossible that it is indeed a problem from Instagram.
For this, of course, you can't do anything, other than waiting for an update from IG to be released.
Well, when the update is available, don't delay the update .. Go ahead. Because usually the errors are gone.
#4. Check Internet Connection
Actually almost the same as other video problems, internet connection can affect.
I was able to explain how to solve WhatsApp can't play video. If the internet connection is slow, the video playing can get stuck or even stop.
For IG, make sure your internet connection is sufficient, at least 1Mbps. Because on IG there are lots of photos and videos that must be loaded.
Notes:
How to check the Internet connection can be in several ways.
But don't bother. You just need to make sure the signal you get is HSPA . or better if it's LTE.
#5. Phone System Update
It's not just Instagram that must be updated, you know … the phone system as well.
This method is highly recommended, especially for those of you who feel your phone feels slow or slow.
Not without reason, a slow or slow cellphone, it can have an effect on applications. Well, including Instagram.
Moreover, if the IG is used to watch videos, the application will automatically become heavier.
Well, this system update can help you, to reduce lag problems on the system. It's also easy, just go to Settings > System Update.
#6. Set Battery Saving Mode
Especially for Android Nougat (7.0) users, some say battery-saving mode could be the cause.
I got this from the Android Central Forums, and you can try it, it might work for your phone.
The method:
Go to Settings > Go to Battery menu
Please disable Battery Saver.
Then go to Settings > Applications > Instagram > Then Force Stop IG.
Open IG, then try to play the video. Hopefully, the video that was stuck earlier will be normal again.
#7. Logout Instagram Account
Log out of your IG account, you can try to do it. The goal itself is to refresh the homepage.
Well, for the way itself is easy. On the main Instagram page, please select Settings > Then select the logout option.
If you have finished logging out, please restart your cellphone first, then try logging in to IG again.
Closing
Well, maybe that's all the tips for overcoming Instagram videos stop, freeze, slow, and can't even play.
Each application problem has a different solution. But even though they are different, the basics are the same.
Hope it is useful.