Working to earn money has become a common thing, but did you know that playing games can also make money?
Along with increasingly sophisticated technology, many money-making games have sprung up.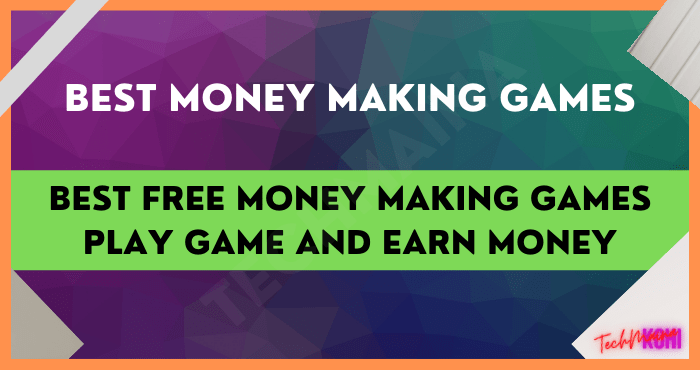 Because of this lucrative advantage, not a few people are interested and make the hobby of playing games a source of additional income.
To find out what games can make money, here's a full review.
19 Best Free Money Making Games
1. Fortnite
One of the battle royale games that can make money is Fortnite. This game made by one of the developers, namely Epic Games, has also supported professional creators with the presence of Support a Creator using a commission system.
One of the creators who managed to become a millionaire through this Fortnite game is Tyler 'Ninja' Blevins.
For those of you who are interested in following in his footsteps, you can directly download the game Fortnite and play it for free.
Get Also:
2. Market Glory
The next best money-making game recommendation is Market Glory. This game presents the sensation of building a city starting from the development of the economic system to the military system.
To be able to build an economic system and beat your opponent, you are required to have a smart strategy.
Later, you can convert the virtual currency that has been collected into real money that can be transferred to your account or Paypal.
3. Mobile Legends: Bang Bang
One of the best Android games that has no doubt about its popularity is Mobile Legends: Bang Bang (ML). This game can also be a source of additional income with lucrative profits.
There are many ways you can try to make money from this ML game, starting from opening jockey services, ML streamers, and selling ML accounts, to winning official tournaments.
Prizes from winning official ML tournaments are also very tempting and can even reach billions of $.
Get Also:
4. PlayerUnknown's Battlegrounds (PUBG)
PlayerUnknown's Battlegrounds better known as PUBG is one of the recommended games that can be used as an additional source of income.
The battle royale game, which is the main rival of the Fortnite game, has many fans.
Compared to the Fortnite game, the PUBG game has advantages in terms of visual style and more realistic gameplay.
However, comparable to its superior quality, PUBG requires a more powerful and large-capacity device.
To get money from this one mobile game is also fairly easy, namely by opening a jockey service to level up or become a PUBG streamer.
Not only available for smartphones, you can also use this PUBG game on PC devices.
But unfortunately, the PC version of PUBG is not free. You have to spend 219,999.00 to play PUBG via PC.
5. Free Fire
Free Fire is one of the most popular battle royale games, especially in India. In 2019, this game was able to beat the popularity of other games PUBG and made it to YouTube Rewind.
This game is in great demand by gamers because it can make money, even without capital at all.
This game also often appears in eSports tournaments such as SEACA and the President's Cup by offering a total prize of millions to billions of rupees.
6. Black Desert Mobile
The next recommended game that can make money is Black Desert Mobile. As the name implies, this one game is a mobile version of the popular game Black Desert Online by a South Korean developer named Pearl Abyss.
To be able to earn money from playing this game, you must have a good strategy or you can also sell items.
This game has even been dubbed the hottest game because there was once a gamer who managed to sell his character for 22 million rupees.
7. Arena of Valor
Since the emergence of the Mobile Legends game, the popularity of Arena of Valor (AoV) has indeed started to wane.
In fact, this one game has the potential to be a promising moneymaker.
Even today, Garena India as the creator of AoV games still often holds official tournaments with total prizes reaching 1 billion rupees.
For those of you who want to try to get additional income from playing games, AoV can be the right choice.
Compared to the Mobile Legends game, the level of competition for AoV games is relatively lower, so it can be an opportunity to generate money by opening up services as a jockey, streamer, or selling accounts.
8. Dota Underlords
The next recommended battle game is Dota Underlords. This game created by the Valve developer is the result of concept development with characters from the MOBA Dota 2 game. Not only is it fun to play, Dota is also a money-making game.
For this reason, many streamers and YouTubers use the Dota Underlords game as an additional source of income that can be transferred to a DANA or bank account.
Although the prestige of Dota has started to fade, but until now there are still many tournaments for this game.
9. Dota 2
Apart from Dota Underlords, the popularity of Dota 2 as a leader of the MOBA genre game is unquestionable.
Dota 2 is one of the most popular eSports games and is often competed in tournaments both domestically and abroad.
This game can also be a source of additional income because it has many rare items that you can resell on the Steam Community Market.
To get more money from this Dota 2 game, you can become a streamer or content creator.
10. League of Legends
League of Legends is a money-making online game inspired by the Dota game. It's just that, LoL games are less attractive to game fans in India, so in 2019 this game was officially closed by its publisher, Garena.
Even so, if you are interested in trying this one game, you can download it on the Playstore under the name Wild Rift.
You can make money from this game by becoming a jockey, content creator, game streamer, or selling an account.
11. Pro Evolution Soccer
Pro Evolution Soccer or often referred to as PES is one of the best online soccer game recommendations.
This game even managed to enter as one of the eSports competitions at the 2018 Asian Games and continues to be a popular game to this day.
Even every year, this game always releases the latest version on various platforms. Not a few PES athletes have managed to become finalists and even champions in various tournaments such as the International Pro Evolution Soccer tournament and earn income from this one game.
12. Domino QiuQiu: Domino 99
Just like its name, Domino 99 is a mobile game that carries the theme of casino games with the Qiu Qiu card model.
This game is classified as a gambling game that can make money and the money can be directly transferred to your account.
To play this one game, you are required to arrange the largest number of the 4 cards that have been dealt. If the four cards have the highest value, then you win aka Qiu Qiu (99).
Well, to get money from the Domino QiuQiu game, you have to earn points which can later be exchanged for money or credit. Very easy and interesting, right?
13. Ragnarok M: Eternal Love
For those of you in the 90s, you must be familiar with the game Ragnarok M: Eternal Love, right?
The best-selling online games in the 2000s include games that can make money by becoming a jockey or selling zeny services because of their relatively low competitors.
14. Ayodance Mobile
Ayodance Mobile is a smartphone or mobile version of the game that was previously only available on PCs. This one game can also be a source of side income because it can make money.
To make money from the Ayodance Mobile game, you can do it by increasing the level as high as possible.
In addition, you can also use unique and rare items, then later your account can be sold at a high price.
15. Golden Towns
Golden Towns is an online game whose gameplay is similar to "Market Glory" because it requires players to build cities and defend the country.
This game can generate virtual money which can later be exchanged for real money.
Not only that, the Golden Towns game also provides an opportunity for players to get a bonus of 24 karat gold weighing 1 kilogram.
16. Lineage 2 Revolution
The next recommended money-making game is Lineage 2 Revolution. This online game created by Netmarble allows you to interact and make transactions with all players from various countries.
To earn money from this game, you can sell unique and rare items. You can also level up, then sell for a fairly high price.
17. Exodus 3000
Exodus 3000 is also one of the games that can make money. This game that can be played on PC takes the theme of an RPG or role-playing game where the user will play the role of a character in a fictional setting.
There are various kinds of missions that you have to complete such as exploring the planet Mars in search of minerals.
For every 300,000 Mars dollars, you will get a value equivalent to 20 US dollars.
18. Entropia Universe
The Entropia Universe game is indeed somewhat less popular among Indian gamers. However, this one game you must try because it can generate quite promising coffers of money.
This game requires you to complete missions and later you will get a reward in the form of PED (virtual currency in the Entropia game).
Later, every 10 PED you can exchange for real money whose value is equivalent to 1 US dollar.
19. Clash of Clans
Clash of Clans better known as COC) is one of the online mobile games that was booming a few years ago.
To play this game, you have to build a complete empire with soldiers, a defense system, and mines as a source of income.
Later, when the kingdom and the soldiers are strong and capable, you can attack the enemy kingdom to get the loot.
Meanwhile, to earn money from this game, you can reach a high level and then sell your account.
Conclusion
Some of the money-making games above you can use as a reference to get a pretty promising additional income.
To reach a high level, you must hone your skills and play game skills so that the results obtained can be satisfactory.