Free Mobile Legends Mythic Accounts – Hello gamers friends, still playing Mobile Legends games? Yes, of course, it still is.
Mobile Legends game is the most popular MOBA game in the world, in India, almost all Android gamers play this game.
Because this game is fun and can be fun with friends. Anjay Mabar XD.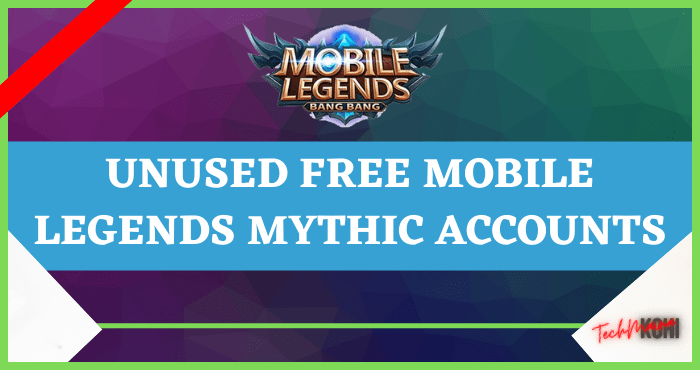 This game has several ranks or tiers according to the ability of the player. Like the most noob or lowest-ranked player is Warrior, while the pro player has a high tier Mythic rank.
Everyone wants to have a mythic account. Because if you use a mythic account, you will be considered someone else is the most pro ML player.
But it's not that easy to get to the highest rank, you have to always win in ranked mode games. Of course, the opponent will also be more difficult and difficult to win.
For you, noob players, take it easy because in this article I will share several free ML accounts or high tier Mythic Mobile Legends accounts for FREE.
So if you want to have a mythic account for free, you can just grab the account I gave below.
Free Mobile Legends Mythic Accounts [2021]
The accounts below are mostly Mythic and there are some that are Epic and Legend.
Because it was obtained from a phishing web spread, it is estimated that the account below is still active and unused.
So immediately take the account below, because he can get it fast, hehe.
Read Also:
Free Mythic ML Accounts With Google Mail [2021]
Free Mythic ML Accounts With Facebook [2021]
Conclusion
Please check one by one the accounts above, if you are successful in logging in, it will be yours.
If you fail to log in and you don't get any accounts, maybe the account has been taken by someone else first.
Please look for other free ML accounts on the Free Accounts blog if you don't get an account in this article.
Attention: TechMaina does not support any kind of hijacking or illegal use of accounts. The accounts mentioned on TechMaina are submitted by users or collected from other open-access portals.
Maybe that's all for today's article about sharing for the highest tier mythic or Mobile Legends ml account. Please share this article so that I am excited to give a free account to all of you️