How to Create New Account in ML [Mobile Legends] – One of the games with the MOBA genre, namely the mobile legends game, has changed to become as popular as it is today, in 2020 alone, Montoon as a developer of mobile legends games made an extraordinary update.
One of the significant changes from the patch update called the next mobile legends patch is the improvement on every old hero that is rarely used such as Layla, Zilong, Miya, and revamped the skills of the hero.
In addition to hero changes, there are also changes to the appearance in the lobby that might make you look because it's the first time you've seen it.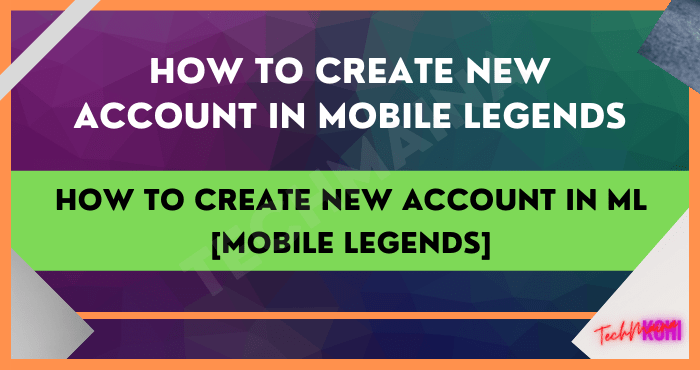 Now, the cool thing about this next mobile legends is that the size of the mobile legends game application is smaller than the previous version.
Therefore, it's no wonder so many people want to register for mobile legends, maybe some of you want to have more than a 1 ml account, one reason is that your previous ML account couldn't log in again because you forgot your password or email, and several other things.
Here are some ways to create a new mobile legends account, one way you can use is to create an ml account without having to delete data.
Prior to the creation step, there are several reasons why most people create a new ml account.
Reasons to Create a New Mobile Legends Account
Actually, it's not only in mobile legends games, in other games it's often found that gamers have more than 1 account.
This is done for a number of purposes that may give them an advantage. So what are the most common reasons when ML game players create new accounts?
The old mobile legends account cannot be renamed again because there are only 2 times the limit for changing nicknames/names after that you will be subject to a limit. The only way to change your ml account name is by buying a renamed item with the diamond in the shop.
Old ML accounts have limited heroes so that it makes players bored.
Many account levels or emblems are still low (not max).
Often hit or hit by other people because maybe previously the ml account belonged to someone else or you sold it.
The credit score on the ml account is very low.
Doesn't have a lot of skins.
Winrate is crushed or low.
So maybe that's the common reason we see most often, if you have other reasons to create a new mobile legend account then you can comment below this post. Now let's create a new ml account.
Read Also:
How to Create 2 Mobile Legends Accounts Without an Application
The first way to create a mobile legends account is that you can do it without additional applications, parallel space, and other third-party applications. So you can easily create 2 ML accounts or as many as possible this way.
It's just that if in the mobile legends game you already have an ml account, then the old ml account must be in a connected status to one of the social media used to log in or enter ML accounts such as Facebook, google play games, vk, or montoon accounts.
Here's how to create a new account on mobile legend without deleting the old account:
Please run the mobile legends game first.
In the lobby, you can tap on the avatar icon or your profile photo in the upper left corner.
On this profile page select Account Settings in the left menu.
After that, please link or bind your old ml account to one of these platforms.
Finished.
That way, even if you delete the mobile legends game application data and reset it, your account will be safe because it is already connected to a social media account and you only need to log in using the social media.
Now let's try to create a new ml account, once again don't forget to make sure your old ml account is connected to FB, or your other account because otherwise the old ml account can be lost permanently.
Steps on how to create the latest 2 mobile legend accounts:
Go to your phone settings.
Then go to the all applications page. If you are using a Xiaomi phone, you can go to the Apps menu > Manage Applications.
After that select the Google Play Services application (google play services).
Scroll down and then please clear the data and cache.
Do the same for the mobile legends game application.
Finally, open the mobile legends game and you can create an ml account with a new id.
Don't forget also that your newly created ml account is not lost, please bind or associate it with the social media you have.
Of course, the social media account had never previously been connected to any mobile legends account.
How to Create a New ML Account Without Deleting Data
For those of you who want to play 2 mobile legends accounts at once on 1 cellphone, then you can use this method because here we don't need to delete data to remove your old mobile legends account like the previous method.
The way you can use the second space that every Xiaomi cellphone already has, If on your android phone you don't have it then you can use the second space application that is already widely available on the google play store.
how to create a new mobile legend account without deleting data:
Please open the second space application through the cellphone settings menu or use the parallel space application, or dual apps to duplicate the application on the google play store.
If you have entered the second room, there are no applications yet, only the default mobile application.
For that, please select the mobile legends game so that it can enter and be installed automatically in the second room.
Now try to open the mobile legends game in the second space, or parallel space.
Then you can create a new ml account.
So you don't need to be afraid anymore if your old ml account is lost because you have installed 2 ML game applications on your 1 cellphone.
This way you also don't have to bother to re-download the legends mobile game application.
If you want to play mobile legends using a new account, you can open a second room. Eitss, you don't need to be afraid, notifications like if there is an incoming chat from your WhatsApp that is not in the second room, it will also come in, you just switch to the initial view if you want to get out of the second room.
Conclusion
So those are the various ways to create a new account on mobile legends that you can try. Both methods have their advantages and disadvantages.
Now you can create as many ml accounts as you want without fear of losing your old ML account and re-downloading the app.