Capturing every precious moment in life feels very worthy to be immortalized, one of the most important ways to do valuable moments in life is to immortalize them.
In a piece of video, precious moments that can be immortalized in the wrong life only such as weddings, birthdays, and so on that deserve to be immortalized in video form.
Now we can edit the precious moments captured in this video or edit it again using the Online Video Editor Software to enhance the appearance.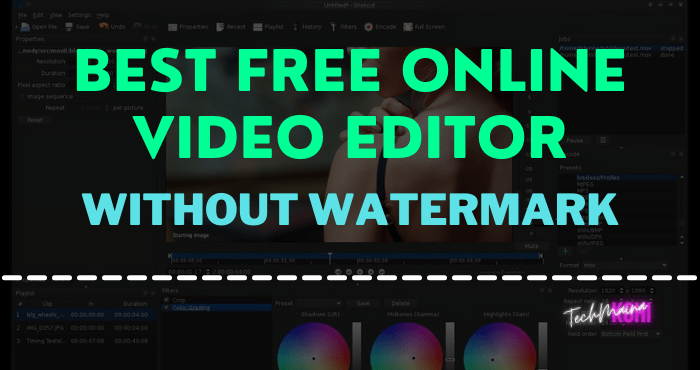 Usually, the editors will edit the video that has been successfully captured to make it much more interesting.
Such as adding music, or other filters that make videos more interesting, that's why here we are sharing the best Online Video Editor Application Without a Watermark.
Best Free Online Video Editor Software Without Watermark
Actually, there are a lot of Online Video Editor applications that you can do for free, but this time I narrow it down to just a few applications that you can try.
Here are the best online video editor applications without watermark according to tech maina:
1. FlexClip
Maybe this FlexClip feels foreign to your ears? If so, you need to try this online video editing application.
I myself have tried FlexClip and in my opinion, FlexClip is an online video editing application without a watermark which is very practical and easy to use, especially for friends who are still beginners in video editing.
This FlexClip has many features, templates, and animations that you can apply to your video later. What I love the most about FlexClip are the templates.
You can find free video templates without watermarks with a maximum limit of 12 projects for the free version.
The template itself consists of Food, Animation, Technology, Fashion, Education, Wedding, Business, and many more.
If you want to know more about the features that FlexClip offers, you need to read at a glance about the features below.
Following are the features offered by FlexClip:
Easy & free to use.
You can choose footage from a variety of high-resolution photos, video recordings, and royalty-free music.
Having a clean storyboard allows anyone to cut videos, insert text, add music, and record sound with just a few clicks.
Export videos in various ratios and resolutions including 1080p, 720p and 480p.
Now we dive deeper, here I am trying to create a project using the available templates. When you try to create a new project, you will be directed to the editor page where you can edit videos, insert text, animations, music, etc. on the page.
You can also delete unnecessary parts of the video. When you have finished editing the video, you can click the Export Video button in the upper right corner.
After that, my friend can choose the type of video resolution after the export process is complete. If you are still using the free version, then you can only choose 480p resolution.
Friends, you can immediately click Export Video to start exporting and wait a few moments until the video creation process is complete then click Download Here to download it.
2. Movie Maker Online
Secondly, there is the name Movie Maker Online, I'm sure you have heard of or are even familiar with the name Movie Maker, one of the well-known software.
That you may have installed on your desktop, now this tool also has an online version and is free of its name. watermark, same as the desktop version.
Similar to the Desktop or PC versions, in Movie Maker Online, we can also make a video consisting of a series of photos then compiled until finally, it becomes a video, you can add a series of music or audio when doing the editing process.
Which is not too difficult and easy to understand, of course, it is very suitable for beginners who are going to learn video editing online.
3. Clipchamp
Continue to number three, there is the name Clipchamp as one of the Online Video Editors without a watermark that you can try.
Here you can also do video editing online here, you can do editing like professional editors, for friends who are just using the Clipchamp software for the first time.
Here, my friend can find various guides in the form of videos embedded in the menu bar on the Clipchamp site.
What made me fall in love with this software, one of which is the stock images that are quite a lot, but unfortunately these stock images are only available in the paid version.
For the matter of using it as a moviemaker, here we can also place some images which can then be compiled into a video.
In addition, this software is also trusted by large companies such as Google, Deloitte, Microsoft, and many more.
4. Video Toolbox
Furthermore, there is the name Video Toolbox, in terms of appearance and how to use it is indeed a little more complicated than the previous 3 software.
However, in this Video Toolbox, you can use a variety of sophisticated tools and can save videos in popular formats such as MKV, MP4, MOV, and many more.
Another advantage of this software is that you can import videos with a size of 1500MB and many more things you can do with the Video Toolbox such as cutting videos, recording audio, and much more.
Not only is it free of watermarks, but you can also add your own watermark in the Video Toolbox.
5. Video Cutter
Number five, there is the name Video Cutter, maybe this is a very simple video editor application whereas the name implies.
You can only cut videos, play the tilt of the video, and a few other small things you can do, all editing is done through your browser.
6. Magisto
Sixth, there is the name Magisto,  Magisto itself is an Online Video Editor application designed for PC users, not only PC Magisto can also be downloaded in the Android version.
Magisto already uses Artificial Intelligence technology to make the video editing process faster and simpler.
One of the software that is recommended enough for friends who really want to start learning to do video editing online.
7. Kapwing
Next, there is the name Kapwing which is different from some of the previous software, this Kapwing is actually more focused on changing the size of an existing video.
for example, we take a video from Instagram or Facebook, then the file size of the video is very large and makes it impossible to save, now using Kapwing allows the large video to be resized or smaller in size.
Another advantage in Kapwing, you can add subtitles or video captions and gifs.
8. RotateMyVideo
Eighth, there is the name RotateMyVideo as the name implies if interpreted in Indian, this RotateMyVideo means Rotate My Video, which means we can rotate the video tilt as desired.
This makes it unique it doesn't take long to complete the video rotation on the site, it only takes a few seconds, after that save it and you can share it on social media networks.
The most important thing is that this software, my friend, can access for free and free of watermarks.
9. WeVideo
Furthermore, there is the name WeVideo as one of the online video editing software that you can try.
In terms of appearance, it may be more similar to the Desktop version of Movie Maker, friend, with a display whose interface is very easy to use and understand.
besides that WeVideo also offers flexibility in its use, where WeVideo users can access or use the software through various platforms such as Windows, Mac, Chromebook, and others.
Besides that, in WeVideo we can also edit videos as you wish very easily like a professional editor.
10. Loopster
Next, there is the name Loopster in this software that makes it easy for any user, then inside there are various tools that make edits like a professional.
The main advantage of this Loopster itself is that we can add a collection of varied sound effects where the sound effects are. can be used on the video that we are editing.
User guide questions are not too difficult, Loopster's site has provided a tutorial on how to use them.
11. Kizoa
Finally, there is the name Kizoa in the list of recommended Online Video Editors, which makes Kizoa different from other software.
Here we can add subtle effects to the video we are editing, besides that, Kizoa also offers animations that make the video look even more attractive.
Well, friends above are some applications or software that you can try when you want to start learning how to do editing, where video editing can be a separate skill, or it can be used for personal use.
12. Online Video Cutter
Well, Online Video Cutter is more of a video cutting tool that offers some basic video editing features.
For example, you can cut a small portion of a long video. Not only that, but the tool also provides some basic video editing features such as color control, exposure control, etc.
The best thing about Online Video Cutter is that it doesn't watermark the edited video.
13. VideoLouder
Well, if you are looking for the best online video editor without watermarks, then VideoLouder may be the other best option for you.
Because of what? VideoLouder is one of the best video editing tools for adjusting sound levels. You can increase or decrease the sound level of any video.
In addition, this web-based tool also offers some basic video editing features.
14. RenderForest
Nowadays, it is very difficult to find even a free online video editor. Even if you manage to find it, it will watermark the video you edit.
However, RenderForest is unlike any other and does not watermark the videos you edit.
This web-based tool is free to use, but for advanced features, you will need to purchase a subscription plan. For paid packages. Prices range from $ 9.99 / month to $ 49.99 / month.
You can upload and edit your own videos or choose from an editor library of 195,000+ videos.
Make your videos interesting with these features; Broadcast Video Editing Tools, Animated Title Packs, and Creative Title Packs. To change the look of your video, a typography pack will be the best tool to use.
Definition of a Watermark
So from earlier, we have always discussed what is called a Watermark, what is meant by a Watermark? what is the difference between a video with a watermark or a video without a watermark?
ok, let's discuss a little about this, watermark itself if translated into Indian means a watermark where the watermark is usually found in a video or image.
In addition, the watermark itself explains that the image or video is copyrighted or the work of another person, the watermark is usually in the form of a logo of the copyright owner.
then what does it have to do with Online Video Editors? maybe my friend has used several video editor applications on Android, we take an example like VivaVideo.
Well, in that application when we share it on social media, of course, there is a watermark that says made by VivaVideo in the lower right corner of each video.
Unlike the Online Video Editor without Watermark, where we won't see a watermark like VivaVideo, until here it's quite clear, right friend? hehe.
Conclusion
Doing video editing can actually be done from various types of applications, both online and offline.
With a watermark or without a watermark, if without a watermark, you can use some of the software that I wrote above.
Where the results can be similar to professional editors without the need to install applications on the device. the computer you are using.