In this article, we are going to share the Best Free Voice Recorder Apps for Android. So, let's get started…
Actually, Smartphones clearly already have a feature to record sound. But sometimes the built-in voice recorder feature is not enough to meet your needs in recording voice activities.
Not only that, sometimes for some reason or need, it requires you to install an additional voice recorder application.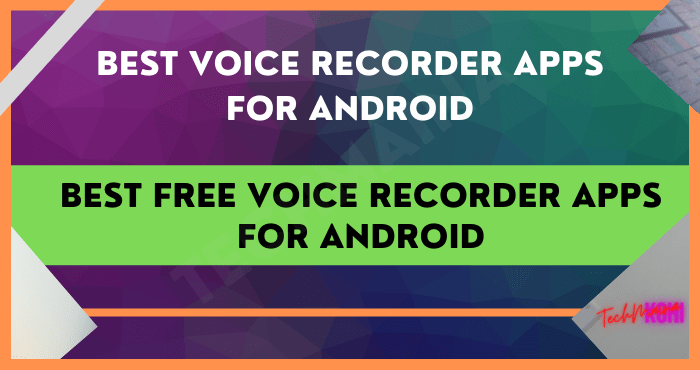 Now there are indeed many voice recording applications that you can install on your smartphone.
What's more, there are also many voice recording applications that offer more varied and better features, compared to the built-in voice recorder from your smartphone.
Well, on this occasion, you have prepared some information about additional voice recording applications for your smartphone.
Maybe there is one voice recorder application among the recommendations that we provide that can be suitable and according to your needs.
Free Voice Recorder Apps for Android [2023]
Nowadays, more and more people are competing to create content in the form of videos.
So, so that the video is not too ordinary, it is clear that the video must be added with sound. Yes, sound can make videos come alive.
So that the resulting sound results are satisfactory, then you can just try using a voice recorder application.
Here we will provide some recommendations for Voice Recorder Applications.
#1. Smart Voice Recorder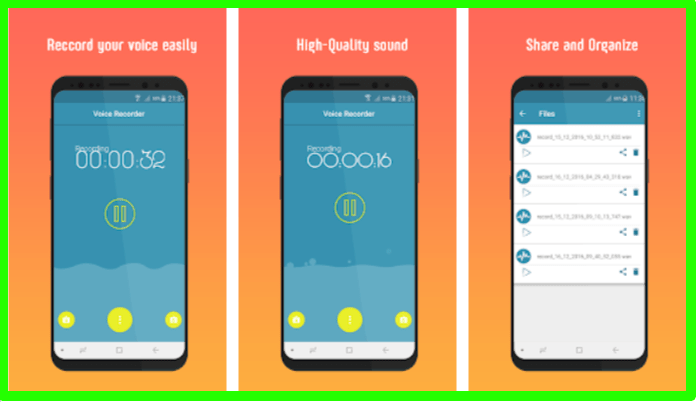 First, there is a voice recorder application called Smart Voice Recorder. Yes, this application can be a recommendation for those of you who are looking for a voice recorder application.
This voice recorder application can actually be said to have an interface that seems old, and simple.
Yes, even so there are some excellent features that you can use and take advantage of if you use this one voice recorder application.
Among the features of this application are WAV support, manual and automatic calibration tools, background off when you are recording sound, skipping silences on tracks, sensitivity controls, adjustable sample rates, and of course many more.
As previously stated, this app has an outdated and simple look, but this can be a plus, especially for those of you who are looking for an easy-to-use voice recorder app.
#2. Titanium Voice Recorder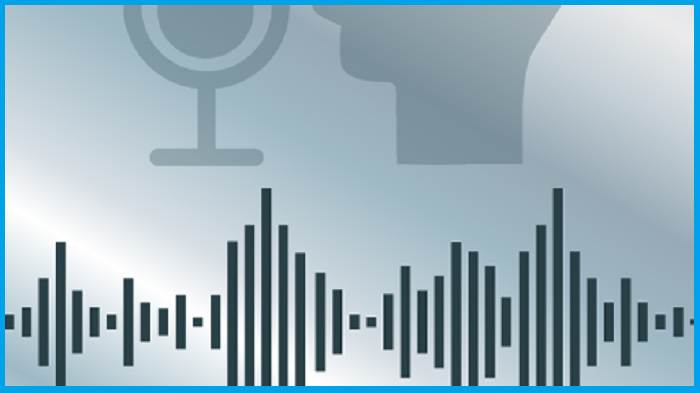 If Smart Voice Recorder still doesn't support your needs and activities in recording voice, then there are other applications.
Yes, next we will recommend an application called Titanium Voice Recorder. Why do we recommend this app?
The first answer is because Titanium Voice Recorder is the most installed voice recording application by smartphone users, especially Android. But obviously, the first answer could be less interesting for you.
Well, you also need to know that this voice recorder application has various advantages or excellent features.
The excellent features of Titanium Voice Recorder include this application you can use to record HD quality sound with 16 bit and 8-bit configurations, then you can record in audio codecs, Titanium Voice Recorder also has an easy-to-understand interface, and what's more interesting again is this application you can install and use for free.
Download Titanium Voice Recorder
Read Also:
#3. RecForge II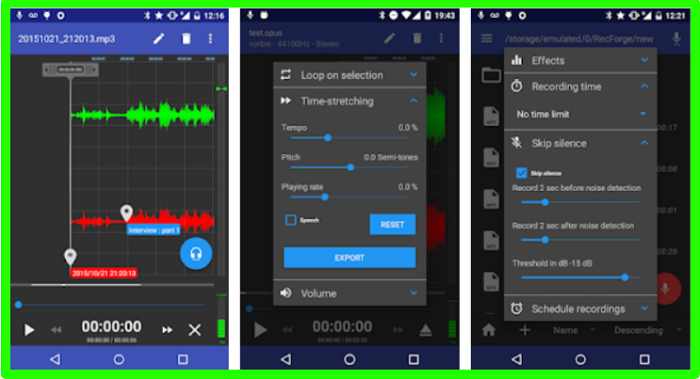 For those of you who need an application for a voice recorder that can be used for serious activities, such as recording music, then RecForge II is the answer.
This application has more in-depth features and is specially designed for those of you who want to be more serious about recording your voice.
There are several features or advantages of this RecForge II. These include having half a dozen audio codecs, then being able to schedule recordings, and much more.
You can just use the free version of RecForge II. But if you want to have and use more complete features, then you can subscribe to the pro or premium version.
#4. Easy Voice Recorder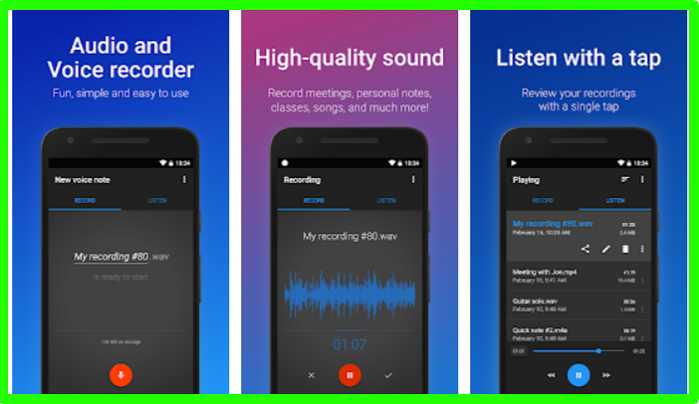 We still have other best voice recording apps. Yes, then there is Easy Voice Recorder. As the name suggests, this application is easy for you to use.
With this application, you can share your recordings directly to your email or social media. In addition, you can also record sound in various formats, such as AAC and PMC formats.
You need to know, too, that there are two versions of this application. The first is the free version, for the free version you can only enjoy some of its features.
Yes, there are features that you can only enjoy if you subscribe.
Well, secondly there is also a subscription version. In this subscription version, there are some additional features.
These additional features include being able to record stereo, then it supports Bluetooth microphones, there is also software support that can be used to improve your audio quality.
#5. Hi-Q MP3 Voice Recorder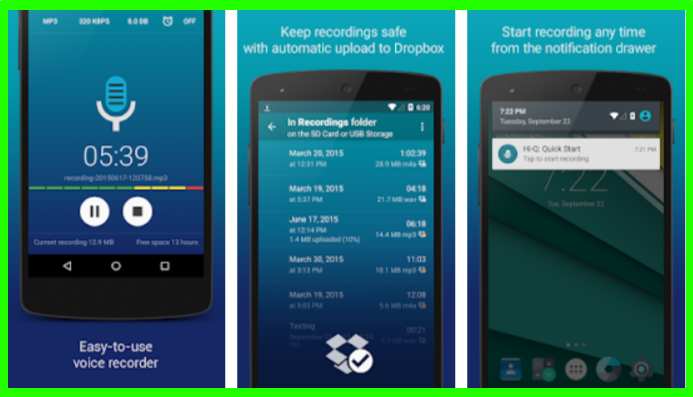 Next, there is the Hi-Q MP3 Voice Recorder. This voice recorder can directly convert the format to MP3.
Yes, you could say that not all sound recordings can directly choose the MP3 format. But with Hi-Q MP3 Voice Recorder, your voice recordings can directly select the MP3 format.
It doesn't just have that feature. Of course, there are other interesting features of this video recorder application.
Well, other features owned by Hi-Q MP3 Voice Recorder, among others, you can directly upload your recordings to Dropbox, then there are also widgets that you can set, support for WiFi transfers and there are other features.
If you are interested, then you can just download and use Hi-Q MP3 Voice Recorder to make it easier for you to do voice recording.
Download Hi-Q MP3 Voice Recorder
#6. ASR Voice Recorder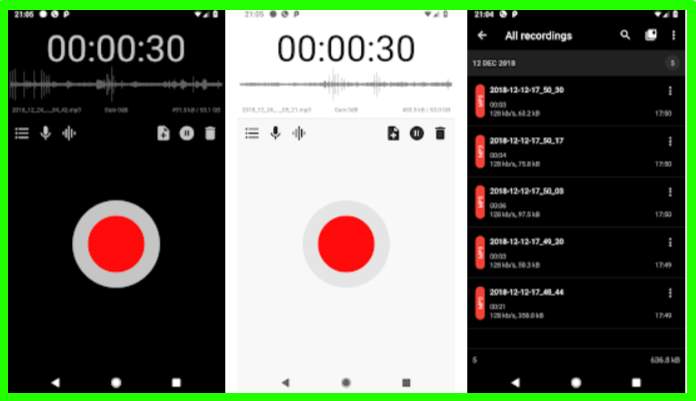 If you are looking for a voice recording application that can record various audio formats, then you can use ASR Voice Recorder.
Yes, ASR Voice Recorder can record audio in various formats, from MP3, FLAC, OGG, WAV, and of course there is MP4 format.
Of course, the advantages or superior features of ASR Voice Recorder are not only that.
Yes, there are several other features, such as you can directly uploading your recordings to Dropbox, Google Drive, and to other platforms.
ASR Voice Recorder can also automatically skip parts of the recording that are silent or have no sound, there is also gain switch support, and Bluetooth devices are also supported.
With these advantages, it never hurts to use ASR Voice Recorder for your voice recording purposes.
The Final Word
Those are six voice recording applications that you can use for voice recording activities for your content purposes.
Of course, the application clearly has features that you can take advantage of. Hopefully one of our recommendations for voice recorder applications can help those of you who are looking for the best voice recorder app. Maybe that's all from us, hopefully it can be useful.