Dragon Age inquisition Won't Launch? We recently bought a new, rather expensive PC, and one of the main goals was to finally be able to play DAL without having 10 fps at the lowest graphics settings.
Since the installation, Inquisition does not want to launch, it launches the .exe file, the window opens with the typical " black loading screen ", then closes again.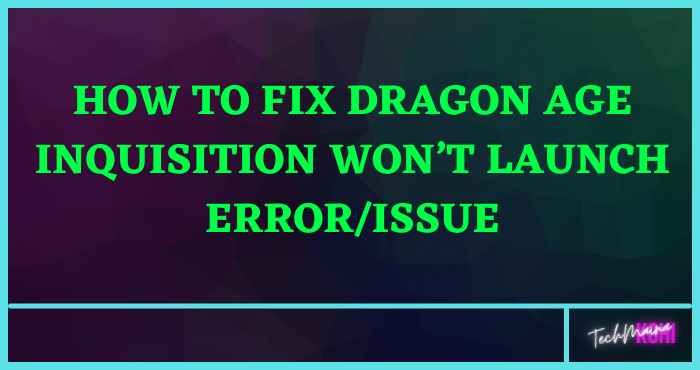 Causes Of Dragon Age Inquisition Does Not Launch
This is because the reason for this problem is not specific and it can be triggered by a number of configuration errors, here are some examples:
Background Services:
It is possible that a service running in the background is causing the problem.
Oftentimes, Windows services or even other third-party apps can prevent all of the game elements from working properly, resulting in the issue.
Missing Files:
In some cases, some game files may be corrupted or even missing. All game files are needed for it to work and launch properly.
Therefore, if only one file is missing, the game will not launch correctly or cause issues in the game.
Direct X / VC Redist:
The Direct X and VC Redist are provided with the game in the installation folder of the game.
It is possible that the version of Direct X or VC Redist you have installed is incompatible with the game and is preventing it from launching. It can also cause Dragon Age Inquisition to crash to the desktop upon launch.
Administrative Privileges:
In order for some of its elements to function properly, the game may require administrative privileges.
If the game has not been granted these privileges, it can cause a number of operational issues.
Full-Screen Optimizations:
In some cases, Windows' full-screen optimization feature, which was introduced to make the game function as a ' borderless window ' and to make gameplay smoother, may interfere with certain elements of the game and prevent it from launching.
Compatibility:
Another possible reason could be the incompatibility of the game with Windows 10. Many programs are not adapted correctly to the architecture of Windows 10 and therefore cause problems.
Fortunately, Windows 10 includes a feature that lets you run any program in compatibility mode for previous versions of Windows.
How To Fix: Dragon Age Inquisition Not Launching on Windows 10?
By now you know the causes that prevent the launch of Dragon Age Inquisition on the Windows 10 platform.
Here are some solutions that will help you resolve these issues:
Recommended system requirements for Dragon Age: Inquisition
Supported operating system: Windows 7 or 8.1, 64 bit
Processor: Intel Quad-Core @ 3.0 GHz or better or AMD Six Core @ 3.2 GHz.
RAM: 8 GB
Video card: NVIDIA GeForce GTX 660 or AMD Radeon HD 7870 or R9 270
Hard Disk: 26 GB
Solution 1: Grant Administrative Privileges
It is necessary to grant administrative privileges to run some games without problems.
If you have not granted administrative privileges, you may face a problem because of it.
To grant administrative privileges, follow the procedure given below:
Step 1 :
First, open the installation folder.
Then right-click on the executable.
2nd step :
Next, select the Properties option, then go through Compatibility.
Step 3:
Next, check the Run as administrator option.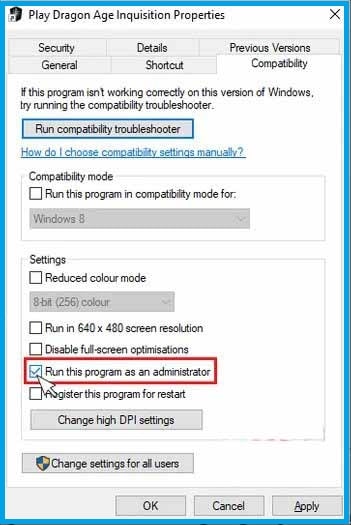 Finally, run the game to see if it launches correctly or not.
Solution 2: Perform a Clean Boot
A clean start allows you to prevent the background program from interfering with your game.
To perform a clean boot, you need to follow the given procedure:
Step 1 :
First, log into your computer as an administrator.
Then navigate to the taskbar and type misconfig in the search bar, then select system configuration.
2nd step :
By selecting System Configuration, you will see different tabs.
Among these, choose the service tab and select Hide all Microsoft services.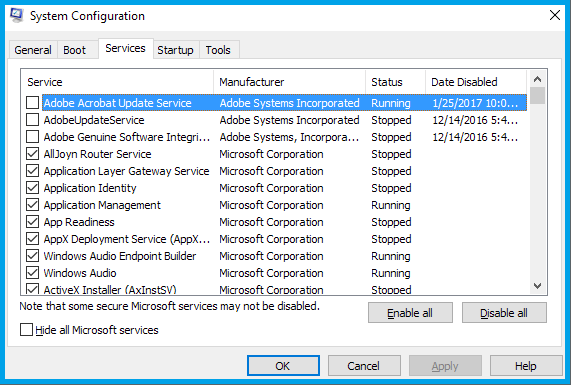 Step 3:
Now select Disable All, and it will disable all third-party services that are running in the background.
Step 4:
Then go to the Startup tab click on Open Task Manager, in this location you will find all the programs, select Disable.
After that close the task manager.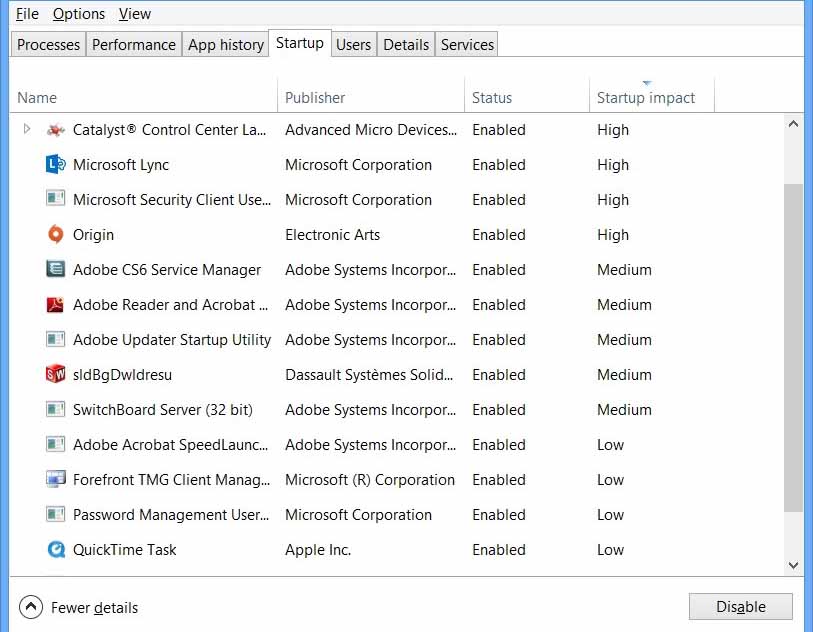 Step 5:
Now go to system setup and select OK from the Startup tab.
Step 6:
Finally, restart your computer, run the game to check if the problem exists.
Most of the time, restarting fixes the issue of the Dragon Age inquisition not launching.
Solution 3: Check The Game Files
When restarting does not resolve the issue, it means the issue is not resolved.
You need to apply other solutions. For a game to work properly, all game files must be present and up to date.
If any of the files are missing or corrupted, you may have a problem.
To find out if a file is missing or corrupted and to resolve it, follow these steps:
Step 1 :
First, go to the Control Panel and select from the options " Programs and Features "
2nd step :
Then right-click on the Dragon Age inquisition. After that choose the repair game.
Step 3:
Now check the files. All your missing files will be downloaded automatically, and all corrupted files will be replaced.
Step 4:
Finally, run the game to check if it is working properly.
Solution 4: Try Reinstalling the Direct X and VC Redist Files.
The Direct X and VC Redist files on your computer may be corrupted.
If this is what is causing the problem, you will need to perform a reinstallation.
For Direct X:
Go to C: \ Program Files (x86) \ Origin Games \ Dragon Age Inquisition \ __ Installer \ DirectX \ redist using file explorer.
Run the " DXSetup.exe " file and replace the previous versions.
For VC Redist:
Go to C: \ Program Files (x86) \ Origin Games \ Dragon Age Inquisition \ __ Installer \ VC using file explorer.
Run all the "VCRedist.exe" executables that are present in the folder.
Restart your computer and check if the Dragon Age Inquisition issue does not start.
Conclusion
It is estimated that this article will work for you to fix Dragon Age Inquisition Won't Launch Error. I tried my best to make a complete list of errors and bugs with the game.
But if you are still facing errors with the game Dragon Age: Inquisition then tries running the PC Repair Tool.
Sometimes due to PC internal errors, gamers start experiencing errors while playing or running games.
And running this tool will fix various computer problems and errors and also repair corrupted Windows system files.
I hope this article worked for you and you start playing Dragon Age: Inquisition subsides. You can check out our Gaming guide to learn how to fix other PC gaming errors.
Good luck..!