Free Virtual Credit Card for Paypal Verification 2023 – VCC which stands for Virtual Credit Card, the VCC system is almost the same as the credit cards we already know but this VCC does not have a physical form, the card only has 16 digits of the card number, CVV number, and expiry date.
One of the uses of VCC is to verify a PayPal account, if you have a PayPal account but it has not been verified, you can use VCC as a medium so that your PayPal account can be verified with only USD $3.
Paypal is one of the most famous E-wallet platforms in the world, you will be asked to enter VCC if you want to use the application or website on a trial basis with PayPal otherwise you can't try the trial.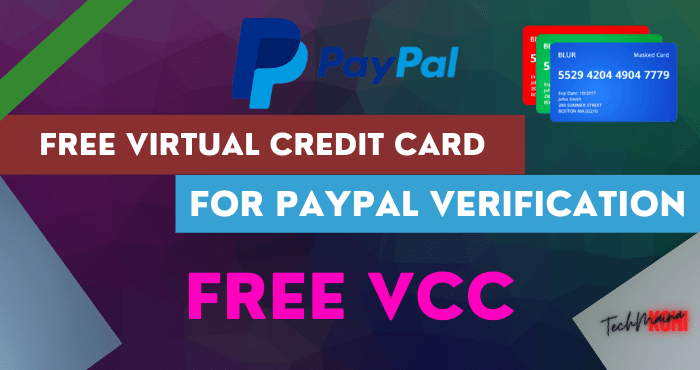 Making VCC itself is very difficult and very complicated because it is a world-class transaction, there are also many websites that provide VCC creation even with a balance of 0, used for digital product needs such as trying trial features and others.
What is VCC?
As the name suggests, this card is virtual and does not have a physical like a credit card in general.
VCC also has the same information as a credit card, such as a card number, expiration date, owner's name, CVV number, and others.
The advantages of having a VCC also vary, ranging from online shopping, buying website domains, account verification, paying for web hosting, software payments, and other online activities.
Many people tend to continue to use VCC in order to avoid experiencing cybercrime.
Because if you use VCC, you don't need to fill in your personal data and credit card data.
How to Verify Paypal With Neteller Free VCC
The steps that must be taken to verify a PayPal account with free VCC without a credit card are as follows:
Step 1. Login to your Paypal account
Login and log in to your PayPal account.
Then head to " My Account ".
then click the " Get Verified " link after the link is clicked it will open.
Step 2. Enter VCC Details
Fill in and complete the data in the data column
Card Type: please fill in this column with " Mastercard" because Neteller is still a MasterCard card class.
Card Number: enter the 16 digit card number without space.
Expiration Date: the expiration date consists of only the month and year.
CVV/CVC: consists of 3 digit numbers, see VCC.
Click " Continue " if the data is appropriate and filled in all.
Step 3. Check the Verification Code on the Neteller Account
Paypal will send a bill to your VCC Neteller account for 1 GBP.
Then look at the account address used by PayPal to send funds, like this the format is " PP*1234CODE XXXXXX ".
Write down the 4 digit number in front of the word CODE.
Then return to the PayPal dashboard.
Step 4. Enter Code to Paypal
After my friend has got the 4-digit number code from Neteller.
Then return to " My Account" on the Paypal page.
Enter the 4-digit code that you got earlier.
If the 4-digit code is correct, the Paypal account status will change to Verified.
Step 5. Paypal Account Verified
Congratulations because your PayPal account has been verified. With a verified PayPal account, the withdrawal limit will be deleted and get full features from PayPal as well as flexibility in online transactions.
What must be remembered for friends who have just verified their PayPal account, don't use it immediately, wait a few weeks to 1 month until the PayPal account is old enough, to avoid the security limit.
Get Also:
Free VCC Account For Paypal Verification [2023]
For all of my friends who don't want to be complicated, even they have tried but failed, no need to worry because I will give you a free VCC account for all of you.
So my friend can try the trial version of digital products and also get full features from PayPal. Immediately, my friend login with the account that I share below.
Account 1:
Network: Visa
Card Number : 4287 5258 0245 2328
PIN: 2645
Name: Aileen Wallace
Address: Seaham Street 2199
Country: Liberia
CVV: 742
Expiration Date: 6 / 2023
Account 2:
Network: JCB
Card Number : 3580 0989 2491 3201
PIN: 5123
Name: Laurence Baker
Address: St. Luke's Avenue 9798
Country: Uzbekistan
CVV: 628
Expiration Date: 10 / 2023
Account 3:
Network: Mastercard
Card Number : 2616 5745 1359 4107
PIN: 5681
Name: Hector Humphrey
Address: Old Brompton Road 6985
Country: Morocco
CVV: 924
Expiration Date: 12 / 2019
Account 4:
Network: American Express
Card Number: 3420 601599 90788
PIN: 3648
Name: Quinn Talley
Address: Pastor Street 4529
Country: Singapore
CVV: 5548
Expiration Date: 5 / 2024
Account 5:
Network: Visa
Card Number : 4280 7341 7470 6900
PIN: 5888
Name: Rod Pearson
Address: Baptist Gardens 1500
Country: Malaysia
CVV: 847
Expiration Date: 11 / 2025
Account 6:
Network: Visa
Card Number : 4208 8068 6558 1278
PIN: 9710
Name: Manual Stevenson
Address: Wilton Row 7354
Country: Sudan
CVV: 205
Expiration Date : 9 / 2020
Immediately, my friend uses the VCC above for what you need. Can also be used for the trial verification process or Paypal. Because this system is open to the public.
If the VCC above cannot be used, it means that it has been used for verification on other people's accounts or has expired, it may also have been blocked.
FAQ's on PayPal Verification
1. What is PayPal verification?
PayPal verification is to confirm the identity of the PayPal account. This process is done by confirming the name and address via credit card.
2. How long does the PayPal verification process take using a credit card?
PayPal verification takes about 2-3 days after we enter the credit card information into the PayPal account.
3. What is a verified PayPal account?
A verified PayPal account is a PayPal account that has passed the verification process.
4. What are the advantages of a verified PayPal account?
Some of the advantages of a verified PayPal account include:
The risk of being hit by a smaller limit
The trust of business partners is higher
5. How to verify PayPal using a credit card?
PayPal verification steps:
Enter credit card data
PayPal will debit the credit card
The verification code will appear on the credit card bill
Enter the verification code to complete the verification process
6. What is PayPal's Expose code?
The code that PayPal provides for credit card verification is added to the PayPal account.
7. How do I see the Paypal code expose?
The verification code can be seen on the credit card bill.
8. Can I verify with an ATM card bearing the MASTERCARD or VISA logo?
ATM cards cannot be used for PayPal verification even though there is a VISA or MASTERCARD logo on the ATM card.
9. Can you verify with an Indonesian bank account?
We cannot verify using a local Indonesian bank account. Bank accounts are used for cash withdrawals, not for verification.
10. How to verify if you don't have a credit card?
You can verify PayPal without a credit card by using a Virtual Credit Card (VCC).
11. Can you verify with someone else's credit card?
We cannot use other people's credit cards for our PayPal verification.
12. What is the easiest verification?
Using VCC.
13. Can verification with an expired credit card?
Expired credit cards cannot be used for PayPal verification.
14. What if the credit card has expired?
PayPal will ask for a new credit card to be added to your PayPal account. PayPal account is still verified even though the credit card has expired.
15. Can one credit card verify two PayPal accounts?
One credit card can only be used to verify one PayPal account.
Attention: TechMaina does not support any kind of hijacking or illegal use of accounts. The accounts mentioned on TechMaina are submitted by users or collected from other open-access portals.
 Conclusion
Maybe that's enough for the free VCC for Paypal this time. If you don't get any of the VCC above. you can look for VCCs that haven't been picked up in other articles on our blog. thank you.