Windows is an operating system that is currently the most widely used throughout the world.
Many people use the Windows operating system because of its attractive and easy-to-use interface even for beginners who are just learning.
Because of this people who are just learning and have just bought a Laptop / Computer using the Windows operating system.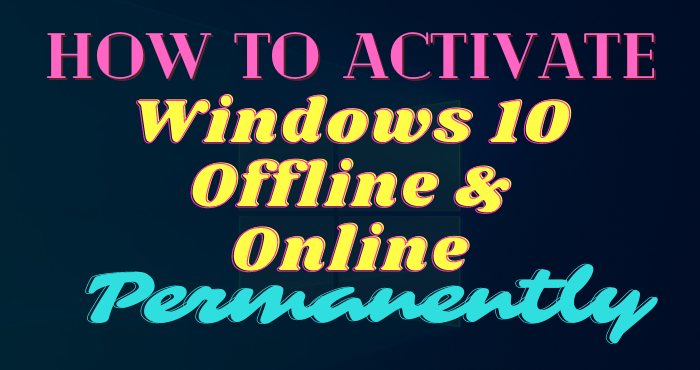 When we install Windows on our laptop or computer, we need to activate it so that we can use all the features on Windows and there is no time limit to use it.
Windows 10 is the newest operating system made by Windows and is one of the most widely used operating systems in the world.
When doing Windows10 activation sometimes failure occurs, this requires us to reactivate.
Well, on this occasion, TechMaina will provide a tutorial on how to activate Windows 10 that you are using.
But before continuing, here I will explain the advantages and disadvantages of Windows 10.
Pros and Cons of Windows 10
Before we proceed to the tutorial on how to activate Windows 10, you must first know the advantages and disadvantages of the Windows 10 operating system that you are going to install.
Here, I will mention some of the advantages and disadvantages of Windows 10.
Pros of Windows 10:
Modern features.
Managed by Microsoft in full force.
Powerful for gaming.
Safer.
Improved desktop experience.
Practical activation.
Have a windows store.
Tablet mode.
Supports various devices with various screen sizes.
Has features that are not available in other versions of Windows.
Cons of Windows 10:
Update frequently.
Wasteful internet usage.
Never Final.
Change experience.
Not many Windows Store apps.
But of course, you have your own reasons why you want to use Windows 10, right? For those of you who are looking for how to activate Windows 10 offline and online.
You can use the windows 10 pro product key, with cmd, and without using software, be it for the pro version, or even the home single language, here is how to activate Windows 10 pro.
Genuine VS Pirated Windows 10
Genuine vs pirated Windows 10 via instagram.com/windows
Windows is one of the largest operating system providers in the world and is widely used by various levels of society.
You need to know that there is no term for pirated Windows 10. This is because Microsoft has released Windows 10 software officially and for free.
What distinguishes it is Windows license or activation. To maximize the use of Windows 10, you need to activate it by purchasing an original license.
Microsoft License Type
Microsoft license type via instagram.com/lisensimicrosoft
In general, there are 3 types of licenses used on the Windows operating system, namely:
1. OEM / Original Equipment Manufacturer license
If you buy a PC or laptop at a computer store, you usually have a Windows operating system installed and ready to use.
It was genuine Windows that the device manufacturers had teamed up with Microsoft.
This OEM license has been planted in hardware, so the license is specific to devices with this series.
Another characteristic is that there is a sticker with the Windows logo on the bottom of the laptop.
2. Retail / Full Packaged Product License
You can usually get this retail license at the official Microsoft store and Microsoft partner stores.
If you buy this license, you will get a Box, Manual Book, DVD Installer, and a product key for activation.
This type of license can be installed multiple times but only for the same device.
If you want to use it on another device then you will have to reinstall Windows on the old device.
The retail license price is quite expensive, namely Rs 2,400 for Windows 10 Home, Rs 3,620 for Windows 10 Pro, and Rs 2,400 for Windows 10 Pro for Workstation.
3. Volume License
Volume licenses are usually used by companies, universities, business people, and other agencies that have a large number of devices.
What counts is not the number of equipment but the number of employees who will receive the license.
The product key or license obtained can be used for all devices at the same time.
The interesting thing is that you can apply for a license if the license quota is full. Users of this license usually have collaborated with Microsoft.
Even volume license users can access various types of Microsoft products for free for programming, gaming, business, and others.
Why Should Windows Be Activated?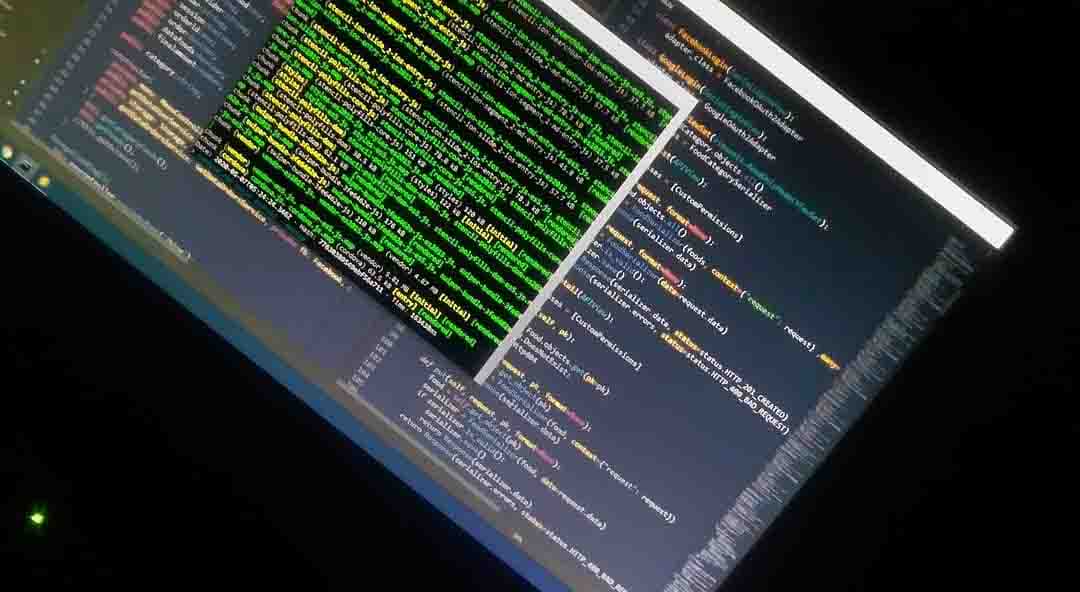 But what happens if this system is not activated? Of course, there are many shortcomings that you will find when using your device, such as:
1. The activation notification appears
The notification is a watermark that will appear on the lower right side of the screen. What's really annoying is that the notification won't disappear.
Usually, these notifications will start to appear 30 days after Windows 10 is not activated.
2. Cannot carry out the personalization function
This function includes several things, namely the background and color mode. Of course, you will not be able to change the theme that will enhance your appearance.
3. Windows update malfunction
Your operating system will not receive updates from Microsoft. If you can't receive the update, then some features won't work properly.
4. The device cannot be used
If Windows is not activated, your device will not be able to enter the Windows system itself. Then you won't be able to operate the device to do anything.
5. Automatic repair orders
You will be prompted to request a repair automatically by the Windows system. This means that there is one system file that is missing or damaged.
Windows 10 Activation Benefits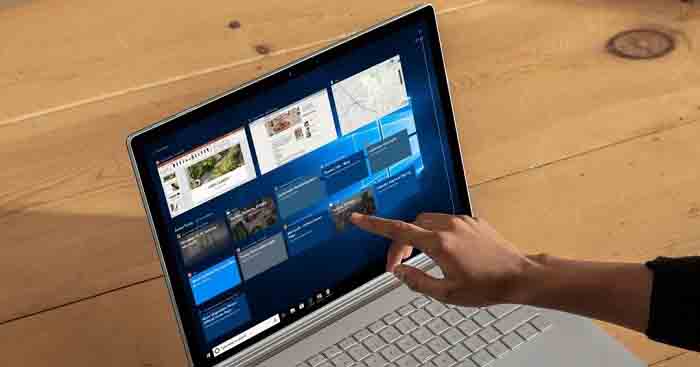 There are so many benefits that you get when you activate Windows 10 or original Windows.
1. Easy permanent activation process
The activation process is very easy just by entering the serial number that is on the license, either OEM, Retail, or Volume.
2. Supported by Microsoft
If there are problems with both the operating system and the application, you can file a complaint with Microsoft.
3. There are no problems with Windows updates
Windows 10 will update the system frequently. If you have activated Windows then you will always be connected to Windows Update.
4. More safe and comfortable
The files in Windows are more secure from viruses or Malware.
How to Activate Windows 10 Online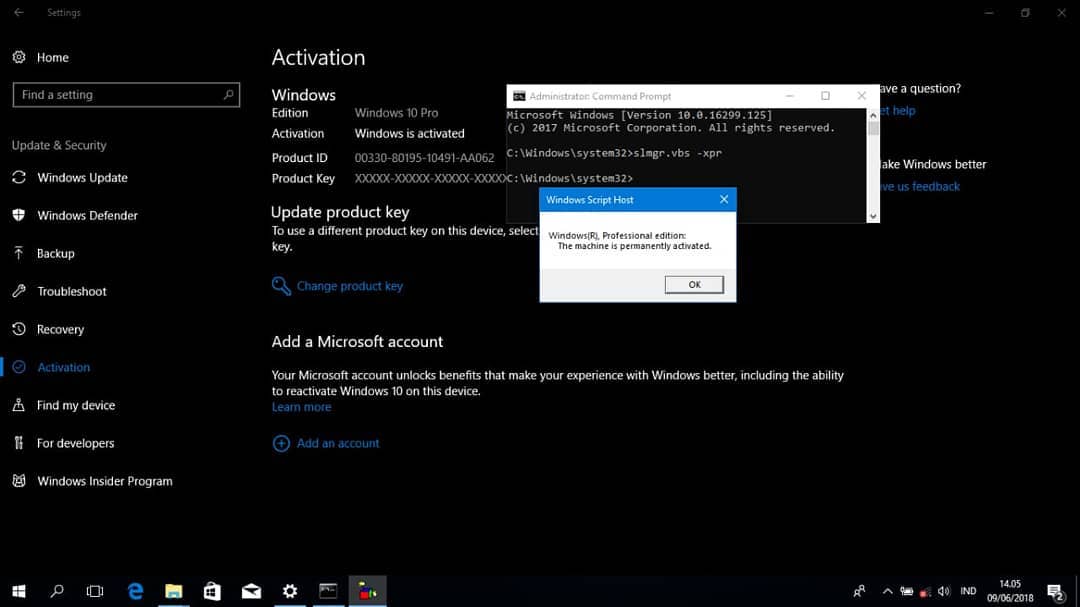 This online Windows 10 activation method is the official method provided by Microsoft. Where you will get a product key consisting of a 25 digit number combination.
1. Product Key
If you buy an official Microsoft Windows 10 Pro product, then you will get an Original DVD containing the license or product key.
However, if you buy online, you will usually get the license via email.
You can use the following method on Windows 10 Pro 32 bit or 64 bit.
Connect your laptop or computer to the internet.
Then click Start and select the Settings icon.
On this menu select Update & Security and look for the Activation menu.
Then you will be taken to the activation page which contains the currently active version of Windows.
Then at the bottom look for the Change Product Key button.
Then copy and paste the license or product key that you purchased earlier into the Product Key column.
Continue by clicking Next and start the activation process by clicking Activate.
Please wait a few moments for the validation process.
If the validation process is successful, there will be a notification Windows is activated.
You can close the activation process by clicking Close.
The Windows 10 activation process is permanently complete.
How to Activate Windows 10 Offline
Genuine Windows 10 licenses are more expensive for some people. But are there other ways to activate without expensive fees?
Of course, you can, namely by using Windows Activator. However, activation with the activator or offline method is a little more complicated than the online or official method.
1. KMSPico
The KMS product that is often used to activate Windows is KMSPico because it is easier and more practical.
The size of this application is relatively small and can be run automatically. This activator is also considered very suitable for novice users.
Download the KMSPico application first.
Then turn off the internet connection and antivirus.
Enter the KMSPico application then open the KMSPico Portable folder and right-click the KMSELDI application and select the Run as administrator option.
Wait for the application to open and click the red button.
Wait a few moments for the activation process to complete and the application closes itself.
To check whether the activation process is successful then check directly on the system by going to File Explorer then right-clicking on the This PC option then selecting the Properties option.
If successful, there will be a notification Windows is activated.
2. KMS Auto Lite
KMS Auto Lite is a product made by KMS. To activate, you only need a flash drive.
Besides being used to activate Windows 10, of course, this activator can be used to activate Windows with other series.
Download the KMS Auto Lite application.
Then first turn off your laptop or PC internet connection.
For WiFi, you can disconnect it first or if you use LAN, you can disable the interface first.
Then first deactivate Windows Defender Security and anti-virus.
By clicking Windows Defender which is located on the right side taskbar.
Select the Virus & threat protection menu and look for the Virus & threat protection settings option.
Pay attention to the Real-time protection menu,  whether it is on or off.
Turn it off.
Then a notification will appear to make changes to the device, then click Yes.
Then Windows Defender Security is no longer active.
The next process enters the KMS Auto Lite application.
For Windows 10 Pro 64 Bit then use KMSAuto x64, if you use Windows 10 Pro 32 bit then use KMSAuto.
The activation method is almost the same, only the application is different.
Right-click on the KMSAuto x64 application then select Run as administrator.
After the application opens, select Install Keys and click Windows GVLK.
Then a question will appear about Installing Keys then select Yes.
KMSAuto Lite will automatically find a suitable key and immediately install it on the Windows operation that is running.
If the product key is installed successfully, there will be notification of Product Key Installation Successful.
If the activation process is complete then you can restart or reload Windows.
The activation process is complete.
3. KMSauto Net
KMSAuto Net is a KMS activator with the highest success rate among other KMS.
Besides being used for Windows activation starting from the 7 to 10 series, this activator can be used for Office activation.
First, download the KMSAuto Net application then extract it.
Just like the tutorial above, turn off Windows Defender Security first.
Then run the KMSAuto Net application by right-clicking and selecting Run As Administrator until the application opens and select Activation.
Then select Activate Windows and wait for the Forced GVLK Installation to appear then click continue.
Select the yes option on the Task Scheduler notification.
If the activation process is complete, there will be a notification.
4. AAct Portable application
AAct is a Windows activator application. Although not as popular as KMS, AAct also has a high activation success rate.
The file size is small and easy to use.
Look for the AAct Portable file then extract it first.
After that, open the AAct folder for the 32-bit version and the AAct_x64 for the 64-bit version.
After that, click the Run as Administrator option and click Yes.
Wait for the application to open and select Windows Activation.
Wait again until the activation process is complete until the Activation Complete notification appears.
5. How to Activate Windows with CMD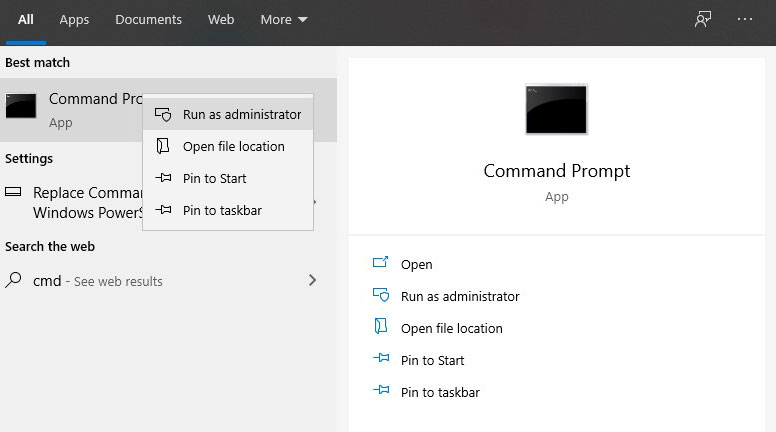 Did you know that we can activate Windows 10 offline with cmd? Here are the steps to activate Windows 10 with cmd.
The first step is to open the windows logo in the lower-left corner.
Type in Command Prompt or CMD.
Right click> Run as administrator.
Then you can type the following command word.
slmgr.vbs / upk
slmgr.vbs / cpky
slmgr.vbs / ipk xxxxx-xxxxx (Replace xxxxx with product key)
slmgr.vbs / ato
slmgr.vbs / xpr
Alternative
Please open " command prompt as admin " and enter the command:
vbs -upk

vbs / ckms

sc config wuauserv start = auto

net start wuauserv
After that, enter the blocked Windows 10 MAK key, namely (use one):
vbs / ipk MASUKA-LICENSE
After a successful or successful notification appears, please enter the command
slui 3
then, please enter MAK Windows 8 Pro / Entreprises or MAK Windows 7 below and make sure your internet connection is active when entering the key, and activation must be successful.
LICENSE WINDOWS 10
If the license above is not active, then please check your laptop PC internet connection first, because it is possible that certain connections cannot access the internet. If that doesn't work you can use the alternative key [here] or [here].
Note : Enter the key after the word slmgr.vbs-ipk
Please try the key and adjust it to the upgraded version of your Windows 10 edition, you can check it on the Microsoft page.
Then the last step is to click the start menu and the windows settings icon → security &; Update → Activation. On the existing activation menu, please click " change product key " then enter the following key:
LICENSE
Done, now you have successfully activated your Windows 10 and get a Digital Entitlement or Digital License. You can check the permanent activation of Windows 10 via the command prompt by using the command:
slmgr / xpr
How to Deactivate Activation Requests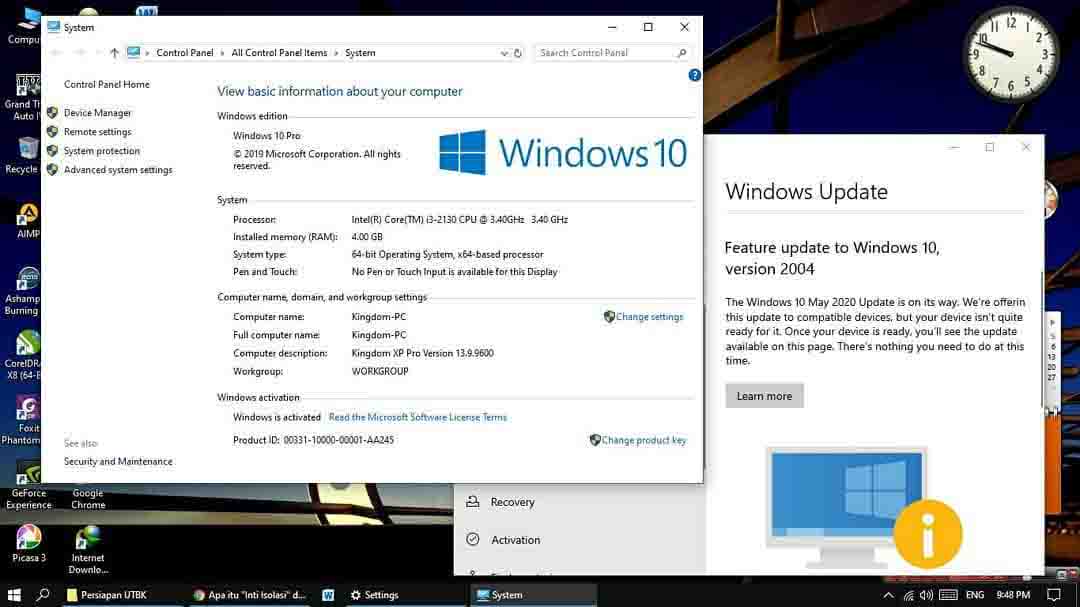 To get rid of the activation request notification and the Windows activation watermark temporarily, you can do the following:
1. Program Services
Open the start menu or click the Windows logo then in the search field enter the word services.
 Then click the services menu and the Program Services window will open.
Scroll down and look for the Software Protection menu then click Properties.
Then select the Stop button to stop the Software Protection service.
Then select OK.  
2. Registry Editor program
Open the Start menu then look for the Regedit menu and click on the icon.
Click the Yes option and wait for the Registry Editor page to open.
In the HKEY_LOCAL_MACHINE folder select the System subfolder and look for the subfolder titled Services again.
Look for the subfile named sppsvc and click the Start file.
Right-click select Edit select Modify.
Enter the number 4 in the Value data column and fill in the Base column with Hexadecimal then click OK.
3. Windows
After opening the Windows icon look for the Settings menu then click Update & Security.
Select the Activation menu then activate the copy of Windows that is being used,
Click Troubleshoot to enter your email address and Microsoft account password.
Then click Activate Windows and select Activate.
Or you can click Go to Store and click Buy.
Restart the device by restarting.
Causes Of Windows 10 Activation Failed
Here are the reasons for Windows 10 activation to fail:
Slow and unstable internet connection
Windows activation server is busy
Neither the antivirus suite nor the Firewall hinders system activation
Windows 10 which was upgraded from pirated versions of Windows 7 as well as 8.
The device that is being activated is behind a proxy server.
How to Fix Windows 10 Activation Failed
Sometimes the activation process fails by not being able to reach the server. The following methods can be used:
1. Reinstall
Simultaneously press Windows key + R to open the Run Window.
Type control update in the Open field.
Then on Windows Update click Check for updates and wait for the utility to check the system.
Restart the device if there is a reload request.
Return to the desktop if the problem is resolved.
2. Product Key Default
Simultaneously press Windows key  + R and enter the word Slui and click OK.
Then click the change product button and enter the generic key that corresponds to your Windows.
Windows 10 Home Edition: YTMG3 – N6DKC – DKB77 – 7M9GH – 8HVX7
Windows 10 Home Edition Single Language: BT79Q – G7N6G – PGBYW – 4YWX6 – 6F4BT
Windows 10 Pro Edition: VK7JG – NPHTM – C97JM – 9MPGT – 3V66T
Windows 10 Home N Edition: 4CPRK – NM3K3 – X6XXQ – RXX86 – WXCHW
Windows 10 Pro N Edition: 2B87N – 8KFHP – DKV6R – Y2C8J – PKCKT
Then select next and wait until the activation window closes then reboot your device.
Return to the activation page and see if the message containing the Windows activation error has disappeared or not.
If the problem still occurs then open the Command Prompt menu or type .cmd in the search field, right-click and select Run as administrator.
In the menu type slmgr-ipk and follow the product key click Enter to send.
If the process is complete, the Windows Host Script display will appear.
Exit this menu and reload the device.
3. Chat Support
Press the Windows key and R simultaneously to launch the Run Windows menu.
Please type SLUI 4 and press enter to open the page ID Installation.
Then select your country and click Next.
When you are asked to call the number listed on the screen, then minimize the Installation ID page then look for the Get Help menu.
Type test and click No on the message until you get a talk to a person notification.
Open application & features, settings then select the online chat option with a Microsoft Answer Tech.
After getting the call, explain that you want Windows 10 activation again.
Provide an Installation ID, then you will be given a Confirmation ID and re-enter then click Activate Windows.
Conclusion
This is the tutorial that you can convey about how to activate Windows 10 Pro offline completely.
There are approximately 6 activation methods that I explained above, so if one method doesn't work, then you can use another activation method.
You can also choose which activation method you want the easiest and fastest to do.
FAQ's
We summarize some of the most frequently asked questions as follows.
Is activation of windows 10 safe?
The steps above are safe from viruses and malware, as long as you download them on the official site like step one.
Can it remove windows activation?
Anyone can remove this activation and replace it with another activation.
Does it require an internet connection?
The steps above do not require an internet connection, can be used when offline mode.
That's all the tutorial that you can convey, hopefully, what I have said is useful and can help you to activate Windows 10 installed on your laptop PC.
If you are still confused and have something to ask, please comment below this post. If we know how to solve it, then we will answer.