How to Fix Free Fire Exit Alone – Free fire is one of the most popular battle royal games in India.
Free Fire is a friendly game because it can be played even using cellphones with specifications that are not large or can be said to below.
This game can be obtained very easily, you can install it on the Play Store or other download applications.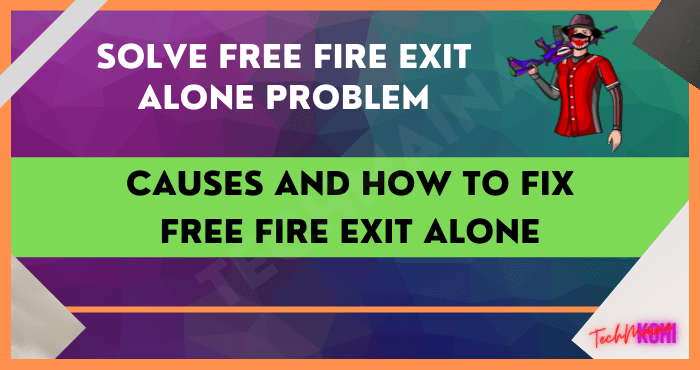 Talking about Free Fire, even though it has low specifications and is light to play, of course, there are also obstacles or problems experienced when playing Free Fire such as Force Close.
Force Close or Free Fire that comes out on its own when played is certainly very disturbing. This time we will help tell what is the cause and how to overcome Free Fire coming out on its own so that you can play the game comfortably without any significant obstacles.
Here's the full explanation:
Cause the Free Fire Game Comes Out Alone
Have you ever experienced Free Fire force close yourself? First, identify what the cause is before knowing how to solve it.
It's good for you to know so you can play the game without any distractions. The following are some of the causes of a force close, including:
Smartphone Specifications That Are Too Low
Even though Free Fire is light and can be used on cellphones with low specifications, there is a minimum cellphone capacity that can be used to play Free Fire smoothly.
We recommend for mobile phones that have 1 GB RAM specifications to use smooth or standard and do not use ultra, as well as for RAM specifications below 1 GB.
Too Much Garbage Piling Up in RAM
The next cause of force close can occur because a lot of garbage has accumulated in RAM.
So, we suggest before playing Fire Fire to delete junk and cache files first, so that the phone's performance is better.
Too Many Applications Currently Running
The third cause is due to the large number of other applications running at the same time.
For example, when using WhatsApp, Instagram then immediately opens Fire-Fire without losing access to the previous application. This of course can burden the performance of the cellphone.
Disconnected Internet Connection
Connection is an important thing that must be considered when playing games. If the connection is bad or lost, it can be the main cause why the Fire Fire suddenly exits by itself. Check your internet connection first.
You just need to pay attention to the above, then find out and fix where it went wrong.
If you feel that there are no errors, it is guaranteed that your Fire Fire will not force close, but if it still occurs you must know for sure how to fix it.
Easy Ways to Fix Free Fire Exit Alone [2023]
Have tried several ways but still force close?. Maybe you missed some of the proper ways to deal with it. Don't worry, we will help, you just need to pay attention to the steps as below:
#1. Immediately Update/Reinstall Free Fire
The first way is to update the Free Fire. Updates are made to eliminate bugs that still exist in Free Fire.
For that, you have to be diligent in updating the game. This method can be said to be the most effective way to overcome problems like this.
#2. Clear Cache
The next way that can be done is to regularly clean the cache on the cellphone. You can easily download cleaning applications available on the Play Store, of course, for free.
#3. Deleting Free Fire Data
Next is to delete Free Fire data. The trick is to go through the settings on your phone then select application management, then select Free Fire and delete data.
Before deleting data, make sure to connect your account with accounts on social media.
#4. Refresh Internet Network
To overcome this one problem can be said to be very easy. If the cause is an unstable network, then you just need to refresh.
The trick is to turn off data and then turn it on or turn on airplane mode and then turn it off again.
#5. Restart Mobile
The last way that can be done is to turn off the cellphone and then turn it back on. This can be done if you feel your cellphone is slow and often force close.
Slow happens because you open too many other applications and forget to close them.
The Final Word
Well, that's the various ways to deal with free fire coming out on its own. If you already know the causes and how to overcome them, you will have no trouble if you experience these obstacles at any time.
For those of you who are experiencing a force close, immediately try some of the methods above, it is guaranteed that these obstacles will likely not happen again.