There are 7 ways that you can try to get 8 Ball Pool Free Coins on Android games for free, all the ways that I share can be done even without root.
Running out of coins when playing 8 Ball Pool is really annoying, many players then buy coins so they can play again.
Even though there are tricks that can be done to add coins for free, you can even get a lot of coins as long as you are diligent.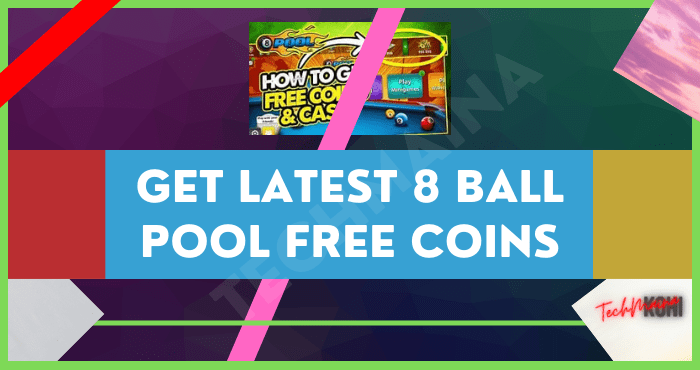 7 Ways to Get 8 Ball Pool Free Coins [2023]
In addition to the 7 ways that I will share in this article, there is actually a way that is much easier but has a big enough risk.
What's that? Namely, by using the 8 Ball Pool cheat, one of the features is that you can enjoy unlimited coins.
I have discussed the tutorial in another article.
1. Take Free Coins Every 1 Hour
If you don't know, every 8 Ball Pool player is actually given a free coin quota that can be taken every hour.
You can take this share by tapping Free Coins in the upper left corner of the main screen.
The number of coins you earn depends on your rank, the higher the ranking, the bigger the coins you will get.
2. Watching Video Ads
For this second method, I'm sure you already know, usually, players are offered to watch videos that are generally 30 seconds long to get coin rewards.
Of course, the more often you watch videos, the more coins you will get.
Get Also:
3. Ask Friends for Coins
In 8 Ball Pool, you can send gifts in the form of coins to friends, you can also ask friends to send coins to you.
Of course, this can only be done if the game friends you have are sultans who have a lot of coins.
To ask a friend for coins, please follow the steps below:
Open 8 Ball Pool game.
Select the menu next to Settings.
Select Request Gifts.
Select the friend you want to ask for coins.
So that you are more likely to be given coins, please ask a friend you do know.
4. Spin the Wheel of Fortune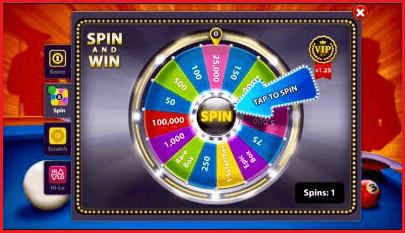 You can spin the wheel of fortune or Spin only once in 24 hours, there is no guarantee that you will get a lot of coins. But at least it's free.
If you are lucky you can get a large number of coins (maximum 100,000), but if you are not lucky you may only get 50 coins.
5. Scratch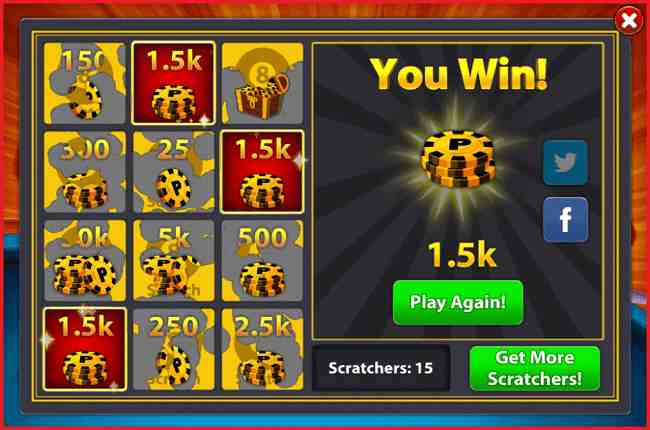 Scratch is one of the mini-games in 8 Ball Pool, actually, the system is similar to Spin, which relies on luck.
The difference is, if the Spin can be played every 24 hours, the scratch usually comes every few days.
To be able to get a free coin prize from scratch you have to rub the cards and find the same 3 numbers.
Get Also:
6. Battle Against Enemies
This method is also sure you already know, 1 by 1 battle with enemies or participating in tournaments can indeed give you quite a lot of coins.
But the main condition is that you have to be able to win every game.
7. Using the Pool Rewards App
This last method uses an application called Pool Rewards, this application has long been known to be able to give 8 Ball Pool coins for free.
Don't worry, this method is safe and does not indicate phishing. It has been proven that many players have used it and succeeded.
How to? Please follow the steps below:
First, please download and install the Pool Rewards application via the link below:
Open 8 Ball Pool, go to the profile page, and note the Unique ID in the top right corner.
Open the Pool Rewards app, enter Unique ID then select $ GET COINS $.
If successful, a notification will appear as shown in the image below:
How? Very easy isn't it?
Those are 7 ways to get free coins in 8 Ball Pool Android.
Attention: TechMaina does not support any kind of hijacking or illegal use of the above method. The mentioned methods on TechMaina are submitted by users or collected from other open-access portals.
Conclusion
so to get 8 ball pool coins for free, you can use this method, the coins you get cannot be as desired.
In addition to getting free 8 ball pool coins, you will also get two Rar Boxes and one Spin, even more than that.
This trick can only be done once, the ID is different, the coins you get are different, although the results are not very satisfying, at least it's good enough to add coins
Enough to get here first for my information, that's how to get 8 Ball Pool Coins for free, hopefully, it can be useful for all of you.