Free Online File Converter: If you wish to have any documents protected yet in a professional manner for different uses you can choose to use a free online converter.
There was a time when people used to download or purchase software applications to convert different files to a PDF format.
However, this is not necessary anymore as there are simpler ways in which this can be done.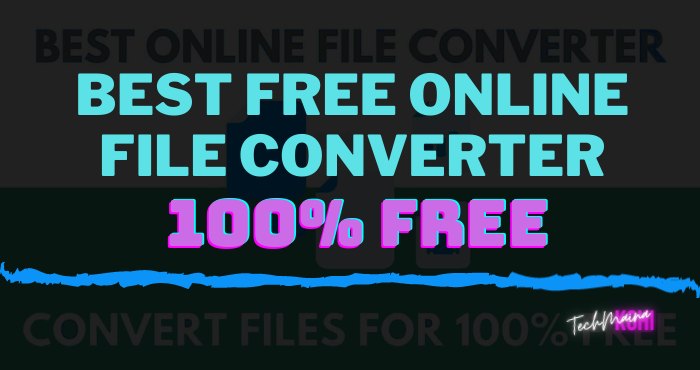 You would not have to spend a dime to be able to convert your sensitive information into the PDF (Portable Document Format) format when you choose to use a free file converter.
Best Free Online File Converter in 2023
There are numerous websites that allow you to have a file converted from or to a PDF file.
We look at some of these top websites that you can choose to use and the pros and cons involved in using them. This would allow you to choose the best from the list below.
#1. OnlineConvertFree.Com
This website offers people some of the easiest ways in which a file can be converted from one format to another.
You can simply drag and drop the file onto the space provided or click on browse to select a file from your computer to use this online converter.
The services offered by this website are free and you can upload up to 2 files on it. If you choose to have more files converted you might have to choose a plan to do the same.
The service is fast and the converted file can be downloaded with a click on your computer.
Pros:
Easy upload and download of converted files
Almost all files can be converted to any format of your choice
No need to provide personal details like email
Offers cheap membership rates with 3 plans with no ads
Cons:
Free service limited to 2 files per conversion
#2. Convertio
Convertio is essentially considered one of the top options for people looking for a free online converter.
Accurate conversions are one of the advantages that you get when you choose to use this online application to convert files.
If you want to convert files that are encrypted with a good quality rate you can choose to use this.
This website also offers 3 models of membership from which people can choose one for a variety of conversions on different file formats.
Pros:
Allows for drag and drop of files to be converted
Fast conversion and ETA are less than 2 minutes
3 membership options are available to choose from
Cons:
Files stored on server/cloud to be removed after 24 hours/manually
#3. Zamar
You can rely on this online converter to provide you with excellent quality of converted files between different formats.
Like many other websites, this would also ask you for the format that you wish the file to be converted.
All converted files are sent to your email from where they can be downloaded. It also has allowed for extra features on the converted files like protecting them with passwords or using a watermark on the files to copyright protect them.
Pros:
High-quality conversions between different formats
Basic, pro, and business plans available
Members get unlimited file conversions/day
Cons:
Converted files take longer
No simultaneous or bulk conversions
#4. Go4Convert
Go4Convert is popularly used by ebook users due to different reasons. This free file converter helps you convert different formats into PDF in the shortest time possible. Moreover, it gives the entire converted content in a readable ebook format.
The conversion takes place fast and allows for the converted file to be downloaded. You can either choose a file from a cloud-based storage platform or from your local disk or computer. This website is also mobile-friendly to enable users to use it from any device.
Pros:
Conversions take place at a rapid pace
Quality of the original document retained
All conversions are done free of cost
Cons:
Does not support batch or bulk conversions
No membership available
Third-party services might be used
Security concerns
#5. Unipdf
Although this rates at one among the best free file converter there are a few disadvantages associated with it.
This is why we have rated it last on our top 5. The main advantage of this converter is the fact that it allows for batch conversions.
High-quality PDF conversions are possible with this free file converter. You would be limited to 3 pages of conversion with each session that you use on UNIPDF.
You may also choose to purchase this file converter if you wish to have it installed on your computer.
Pros:
Batch conversion is possible with this program
High-quality conversions
Multiple language options supported on this
Cons:
Online conversion is not possible as it requires to download and installation
Free download or trial version limits you to 3 pages of conversion
#6. Convert.Files
Convert.Files is another simple option that covers a wide range of input and output file formats.
Browse to your file or enter its URL to get started. Choose your format from document, image, presentation, ebook, video, image, archive, or audio type.
If you upload your file, the input method can fill in the correct format automatically if it is easy to detect.
Next, you can tick the checkbox to have the link directly sent to your email or simply hit the Convert button to grab your file right away.
When the conversion is complete, click on the link provided to get your new file. And if you're looking for a specific but rare file type, you can review all the supported formats.
#7. FileZigZag
FileZigZag is an email-based file converter similar to Zamzar. It also supports document, audio, image, video, and archive file formats.
Just upload your file, select an output format, enter your email address, and click Convert. When you receive the email, follow the link to get your converted file.
Once your file is converted, FileZigZag offers several options for review before you head to your inbox.
You can delete files from their servers (which are kept for three days), upload the converted files to your cloud storage, or convert the source files or converted files to a different type.
Again, if you like having emails with links to your files, FileZigZag is a great free service.
#8. FreeFileConvert
FreeFileConvert supports 8,700 conversion combinations. So, if you have something unusual, this is the site to visit.
You can add up to five files to convert at once, please keep in mind that they must be of the same type.
After you upload your file, the output format box will automatically adjust to the suggested format. Click Convert when ready, then get your file by clicking Download.
With FreeFileConvert, you can convert archives, documents, ebooks, audio, images, presentations, vectors, CAD, and font file formats.
And, by clicking on one of these supported types on the home page, you can quickly review all available file formats.
Conclusion
You might want to check on the security features of these online converters. This is specifically the case when you choose to have sensitive information converted to PDF files.
Using a free online converter can be very helpful when you choose the best in the market.