Howdy bloggers, in this article we are going to share with you how to increase Alexa rank of your website. so, let's get started…
Alexa rank is an indicator used by the Alexa company to measure traffic from a website. To increase the Alexa Rank of a blog or website, of course, we have to do continuous optimization.
So, what optimizations must be done? To find out, please refer to the following article…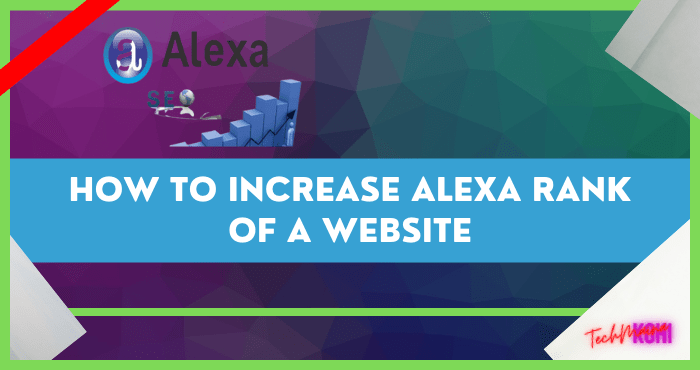 Get to Know Alexa
Alexa is a California-based company that was acquired by Amazon. Alexa is an independent institution that provides marketing services to make it easier for webmasters to win the competition with competitors.
Alexa services include:
SEO Analysis
Keyword Research
Competitive Website Analysis
Check Backlinks
Target Audience Analysis
API
SEO Audit Tools
Keyword Gaps
Site Comparison
Keyword Difficulty
On-Page SEO Analysis
Etc
Then, How to Increase Alexa Rank?
Alexa Rank is divided into two, namely Global Rank and Local Rank (Country). To increase the ranking of a website/blog, you must understand how Alexa works and the indicators used to measure the quality and traffic of a website.
According to the Alexa site, they use sample data they get from various valid sources to measure website traffic, one of which is the Alexa Toolbar plugin.
In addition, they use complex custom calculation metrics to analyze traffic accurately and ignore spam and fake traffic for fairer rankings.
However, according to research and case studies that the admin has tried, here are some factors that can increase the Alexa rank of a website or blog.
1. Total Traffic
The most influential factor in increasing Alexa ranking is increasing the amount of traffic! Yes, this is indeed the most powerful and proven thing. However, how do you get Alexa to know more about our website traffic?
The trick is to install the Alexa Tool Bar plugin in your browser! That way, every time you open a website or blog that you want to manage, Alexa automatically reads the traffic and data in it.
Every time you open a website or blog, make sure you click the Alexa toolbar and there you will see your web ranking.
In addition, when you click on the toolbar, the data will be sent to the Alexa server so that it can make it easier for Alexa to recognize your site.
2. Backlinks (Natural)
In addition to traffic, Alexa also analyzes the number of backlinks your site has obtained. The more backlinks that are linked then this is an added value for your site's rank.
But here you have to pay attention that there are also many types of backlinks.
If the backlinks you get are really natural and relevant, then this is a good thing because it can increase the popularity and authority of a website.
However, if the backlinks you get are spam backlinks, for example, the results of buying, comment spam, submitting on archive sites, then it can worsen your Alexa ranking and the amount of your traffic.
So, create quality content so that other people's sites are interested in citing and providing backlinks for free. Backlinks like this are expensive backlinks.
Read Also:
3. Speed (Page Load)
Try clicking on your Alexa toolbar, in addition to rank, there will be data about the page speed of the website you are currently opening. Apparently, Speed ​​is also an indicator in increasing Alexa rank.
If the web loads quickly, the user will feel at home. So Session average will increase. Likewise Page View. Indirectly this will affect traffic and Alexa rank.
4. SEO (Search Engine Optimization)
Huh, what's that got to do with it? It turns out that SEO is very influential so our blog Alexa is low.
Alexa will analyze Onpage and Off-page SEO. Therefore, maximize the SEO optimization of the web that we have.
If SEO is Maximum, then traffic will be abundant = Lean Alexa Ranking.
Lots of SEO material has been discussed on this blog, please read one by one.
5. Keyword Domination
What is keyword dominance? KD or keyword domination is the dominance of the number of your keywords in search engines, such as Google.
The more keywords you master in the search engines, the more opportunities for large traffic to come.
Therefore, be diligent in updating content and mastering all the keywords that match the niche of the website or blog that you manage.
If keywords already dominate the search, then the Alexa rank will be very slim.
6. Bounce Rate
Bounce rate is the percentage of visitors who leave your website immediately after opening a page. In a nutshell, Bounce rate is the percentage of users running away.
The lower the bounce rate, the better a site is. This can be an indicator of whether the articles we write are useful or not for readers.
7. Average Session
Now, this is still related to point number 6. If the bounce rate is low, the average session will usually be longer.
If your content is useful, it will make visiting users feel at home and linger on our website. Well, this duration will be measured by Alexa. The longer the average session, the better the site will be.
Conclusion
In essence, to increase the Alexa rank of a blog or website, we must increase incoming traffic. To increase the traffic, we have to do continuous optimization. In addition, we must diligently update new content.
That way, the ranking will increase periodically. Hopefully, this article is useful for you. If you have anything to add or ask, please leave a comment below.