When it comes to accessing the internet, we tend to use mobile data because of the convenience it offers. You only need to buy a data package then you can enjoy internet access at will.
Mifi is more than just mobile data and WiFi which cannot be carried anywhere. Mifi makes your internet access much simpler due to its portable nature.
Let's explore more about what is Mifi? how Mifi works, and what is the difference between WiFi and Mifi.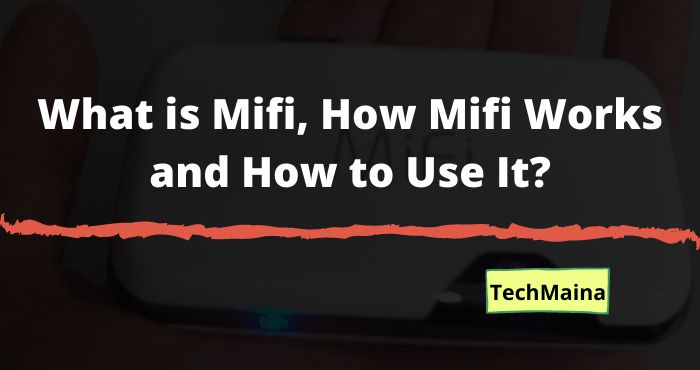 What is Mifi?
Mifi is a wireless device that is smaller than a smartphone, which loads an internet signal like WiFI and you can use it when traveling outside the house.
Mifi is also often referred to as a portable modem because we know that computer modems cannot be carried anywhere, and Mifi comes as a modem that you can use on various devices that you can put in your pants pocket.
Talking about Mifi, it's actually not much different from WiFi and mobile data itself. Mifi has the same settings as a router on a computer that requires an IP address in order to connect to the internet network.
When your device is connected to the Mifi network, you will get the appropriate IP address that is on Mifi.
Usually, Mifi has one SIM Card slot and one Micro SD slot. The main benefit of Mifi is that it allows you to share a mobile broadband network connection with many users at the same time.
Like Wifi and cellular data, Mifi also uses a monthly or annual billing system. However, now many internet providers offer Mifi with a quota purchase system.
Read Also:
How Does Mifi Works?
Mifi generally still uses 3G, 4G, or 5G cellphone networks and uses these connections to create cloud or broadband hotspots. After all, if that means there's no difference with cellular data?
Hold on, it's not over yet! Mifi can share its internet network with supported devices such as smartphones, tablets, laptops, and even game consoles.
Mifi will give you internet access according to the payment system you are using, whether it is a monthly/annual billing system or a quota system. If you use a quota system, Mifi will read the SIM card installed in it.
Meanwhile, if you use a billing system, then you are required to pay bills to the internet provider before they are due, otherwise, your Mifi will automatically be isolated.
In this case, we can already see a small difference, namely, you can pay by billing or by buying quotas.
As for the connection speed, the type of connection used, and the resistance of the signal, it still depends on the internet provider in question.
Also Read:
How to Use Mifi?
How to use Mifi is very simple, it doesn't even differ much when you buy a quota. Here I will give an example of how to buy Mifi quota because on average Mifi providers have now switched to the quota system and rarely use the billing system.
Unlike the case in European countries which still use a lot of billing systems.
Here's how to use Mifi:
Please insert the Mifi SIM card first.
Turn on Mifi by pressing the power button.
You can see the default password right behind the Mifi or the back of the box.
Use the buttons to change the password to your liking.
If Mifi is on and ready to use (usually marked with a green sensor light), then Mifi is ready to use.
As for purchasing the Mifi quota, you can follow the method below. Here's how to buy an Mifi quota:
Open your cellphone and download a package purchase application such as Mylink, or another application that suits your Mifi vendor.
Please top up your credit in advance to the application as needed.
After the top-up is successful, enter the SIM card number installed on Mifi.
Choose the package you want.
Buy a package and wait a few minutes for the purchase to be successful.
You can also go directly to the Mifi counter and buy the desired quota there. Usually, if you buy Mifi for the first time, you will be told what methods are supported for purchasing your internet quota.
Also Read:
The Difference Between Wifi and Mifi, Which One is Superior?
Talking about the differences, of course, each has its advantages and disadvantages. Therefore, I will discuss these two things neutrally.
The difference between Wifi and Mifi lies in their role, Wifi plays a role in regulating channel width, bandwidth, IP blocking, proxies, and so on.
Meanwhile, Mifi only acts as a network router that can accommodate more users at the same time.
Wifi is also a solution if you want a fast internet connection, provided that the Wifi has a large bandwidth and the connection medium used is an optical fiber cable.
Meanwhile, Mifi has more or less the same speed as cellular data in general. Meanwhile, about the price, it all depends on the package used.
We can conclude that Wifi is superior in speed but not flexible, while Mifi's advantage lies in its flexibility, which is it can be carried anywhere.
Mifi vs Data Package, Which One to Choose?
Choosing between the two options is relative. Everything is returned to the individual about what are your main needs?
If you need a device connection that tends to be a lot, for example, you want to access the internet from a laptop and cellphone simultaneously without reducing internet speed, Mifi is the right solution to this problem.
Conversely, if you only want to use the internet for one device with standard usage then a data plan is the right choice for you.
I myself cannot force you to choose according to what I have written, if you really like Mifi, please use it.
I personally tend to use a data plan, because with a data plan I only need one device to have internet access on the cellphone I use, and I rarely share the internet with other devices at the same time.
In addition, if I use Mifi I automatically have to charge Mifi if the battery runs out, which only takes time.
How Much is the Price of a Mifi Modem?
If you really want to use Mifi as your main internet access, don't forget to make sure that the product you buy is of good quality.
Buying a product of poor quality is a waste of money because the price of a Mifi modem is also quite high. Not to mention buying an internet quota.
Mifi modem prices start at Rs. 200,000 – up to Rs. 1,000,000 an. Price certainly reflects quality, usually for prices above Rs. 500,000 already features USB, power bank, storage sharing, high capacity battery, can adjust the frequency and has a much higher speed than the lower price.
There are many ISPs that provide Mifi products such as Jio, Airtel, and others. Make sure you choose the right provider, because not all Mifi can work well in all areas like cellular data. So if you ask things like:
What is Mifi Airtel?
What is Mifi Bolt?
What is Mifi Jio?
or What is Mifi VI?
all that is no different, it's just a brand.
Conclusion
If you still don't understand what Mifi is, how Mifi works, and how to use Mifi, you can read the summary below:
Mifi stands for Mobile Wifi, which is a device that can provide internet access like Wifi but can be carried anywhere.
Mifi's strength lies in its flexibility, while Wifi lies in its speed.
Mifi can accommodate many more users at the same time without reducing speed, while the mobile hotspot can only accommodate a few users and will affect internet speed.
Mifi has a system for purchasing quota packages or monthly/annual bills.
Mifi is priced starting from 200 thousand to 1 million according to its quality.
So what about technologers, do you understand what Mifi is? how does Mifi work ?, how to use Mifi, and the difference between Wifi and Mifi?
After reading this article, are you interested in buying it? If so, please explain the reason in the comments column as well if not. May be useful!