Article content is the spearhead of a blog or website. Therefore, optimization of blog articles is very important so that the blog appears on the first page of Google (PageOne).
However, many people are still confused and wondering, how to optimize articles properly and correctly?
As we know, article optimization is one part of SEO, more precisely SEO On Page. To make a blog appear on the top Google page, of course, article optimization is not enough. In such cases, a Digital Marketing course will guide you to take necessary actions.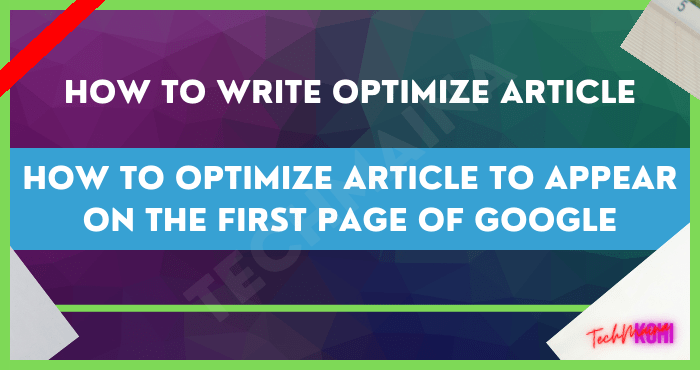 However, it would be nice for us as web owners to regularly update and optimize so that articles are more SEO Friendly.
Why should it be like that?
This is because the search engine algorithms are constantly changing, this year alone, Google has changed its algorithms many times.
Therefore, we must continue to update the latest algorithm info so that our blogs and articles last long on Google.
What Article Optimization Must Do?
In order for articles to survive and enter the first page, we must continue to monitor and optimize regularly. Here are things that need to be done to maximize the blog articles that we have.
1. Keyword Optimization
What are keywords? Keywords are strings of words that users type into search engines to find the information they are looking for.
Keywords are the point of interest of an article. Therefore, before you write an article, make sure you do keyword research first.
When writing articles, you should not carelessly choose keywords, because if you are careless then the results will not be optimal and will not be optimized to the maximum.
There are several indicators in researching a keyword for an article. You can choose indicators based on your purpose for creating articles.
Here are some indicators that are often used in keyword research:
Volume Search
CPC
Difficulty Level / Competitors
What does it mean?
If your blog is a large blog that already has strong authority, I suggest choosing keywords with high search volume with high difficult SEO as well. This has the potential to boost traffic from a blog or website.
And if you are a publisher, for example, Adsense. You can choose keywords based on CPC (Cost Per Click) or pay per click.
If you choose keywords with high CPC, then the opportunity to increase your income will be even greater.
However, if you are still a beginner and your blog is still new, I suggest looking for keywords with a low level of difficulty / SEO difficulty.
This is because new blogs are usually difficult to compete if they jump into difficult keywords such as short-tail keywords.
You better play on the keyword long tail for the beginning.
Free Tools for Keyword Research
You can use free tools such as:
Ubersuggest
Dojo
Related Google (Teknik Manual)
Read Also:
2. Optimization of Internal & External Links
The next step that can be done for article optimization is to insert internal links and external links (outbound links) in the article.
Internal links are links that point to other articles that are still on our blog. While external links are links that point out the web such as source links, download links, and so on.
Don't forget to add the link attribute according to the type. Example:
rel="sponsored" for advertising links or paid links
rel="ugc" for links to comments or posts made by users of a site/forum
rel="nofollow" for links you want to exclude from google bot
Optimization of links in an article is one of the parameters of SEO (SEO Rank). Therefore, it is very important to do this.
3. Image Optimization & ALT IMG
Image is supported in an article. However, the inserted image must have a function that is relevant to the article you are writing.
In addition, you have to be smart in choosing images. Choose an image with a small size so that the article is not slow to load.
Before uploading, make sure the image has been resized and compressed first.
Also, use the image name and set Alt Img on each inserted image.
Why should it be like that?
Because search engines are not humans! If you do not name and set alt img then search engines will not recognize your image.
For example, you enter a picture of a computer that is on a table. You can name it "image-computer-on-the-desk.jpg" then give the alt tag "computer on the table".
That way, when a user searches for "image of a computer on a table" on a search engine, the image you uploaded will potentially appear in the search, and when clicked it will go to the article page where the image was inserted.
4. Template Optimization
Why does template optimization fall into the article optimization category? What's the deal?
There are many relationships! There are so many factors that influence a blog or web template. That is :
Article Loading Speed ​​(Page Speed)
Legibility
Beauty
responsible
Structure
This has to do with UX (User Experience). If the article you write is good but the template used is bad then this will be very annoying and damage the article you write.
So make sure you pay attention to all the factors above and optimize it as best you can.
5. Optimization of Article Content
This is the main point of optimizing an article. You must write article content that is useful, original, efficient, in good language, neutral, and not misleading.
Currently, Google has a very sophisticated algorithm and uses AI (artificial intelligence) technology so that your articles can be easily recognized by Google bots.
If the article you wrote is weightless and useless, then don't expect your article to appear on Google, let alone the top position.
How do we make the articles we write quality? The key is one. Use the 5W 1H method.
What? Who? Where? When? Why? dan How?
Make sure all the necessary aspects are met and answer user questions that ask on google.
6. Article Title Optimization
Having already mentioned a little in the keyword point, let's discuss it more fully.
Of course, the most important thing besides keywords is the Article Title.
People will read our article after seeing the title.
No matter how interesting the content of the article is if the title is not interesting and not clickable then people are reluctant to enter our blog.
Therefore, use an interesting title and arouse the curiosity of others.
Things you should optimize in the title are:
Enter the main keyword
Words that attract attention and curiosity
Length no more than 60 Characters
Using Long Tail or Short Tail Keywords
Effective and Efficient
7. Optimization of Article Structure
Article structure is important so that our articles are structured and easy to read.
In blog articles, many structures are commonly used. Depends on the content of the article written.
However, in general, the structure of the article consists of:
Opening or Introduction of Material
Understanding or Meaning of the keywords discussed
Content or Core Discussion
Closing or Conclusion
From each section, you must set the correct heading format. Starting from H1 H2 H3 and so on.
H1 is usually used for blog titles
H2 is usually used for Article Titles
H3 is usually used for subtitles
H4 commonly used more concave subheadings
etc
However, this structure may vary depending on the template and the default structure used.
I recommend starting from H2 or H3.
8. Comment Moderation
What does the comment have to do with the article?
Apparently, comments are also one of the SEO indicators. If your article has a lot of SPAM comments, it is likely that your article rating will drop to the blacklist and enter the sandbox.
So be careful with comments, you should choose only quality comments and do not contain malicious links.
You must avoid comments from people who have active links/enter web URLs that violate SEO rules such as adult content, drugs, and so on.
From my experience, it turns out that comments can also be indexed by Google. Many of my visitors go to the web because it turns out that there are some keywords that come from comments indexed by search engines.
In fact, in the article I wrote, there is no keyword in question, but it is still related.
9. Readability
As mentioned in point 4. Readability is very important.
Make users focus on your content not on other things, for example, annoying widgets, too many ads, writing that is difficult to read sloppy paragraphs.
A good website display is not a cool website, but a website that is simple and able to convey content well.
Because that's the real function of the website.
10. Uniqueness
Yes, this last point is the most difficult point to realize.
Why?
Because making something unique and never existed is difficult.
Try to find something on a search engine, on average everything you type already has an answer.
To create something new you have to think more and use a different point of view.
This is what makes your article appear at the top of Google.
Even though all the points above have not been met, if your article is unique then I am sure your article will appear on page one quickly.
To create unique content, try writing articles based on your own experiences, coming from your own brain.
Try closing other people's tabs and blogs while writing and letting your fingers move on their own.
Conclusion
So many articles on how to optimize articles to appear on the first page. Hopefully this article is useful for you. If you have anything to add or ask, you can leave a comment below.