Howdy friends, are you facing the Download pending error on your phone? well, in this article we will share the best solution for how to fix the google play store waiting for download.
So, without wasting time, let's get started…
Playstore is a warehouse of applications for smartphones running Android OS. We can get various kinds of applications and games, both free and paid.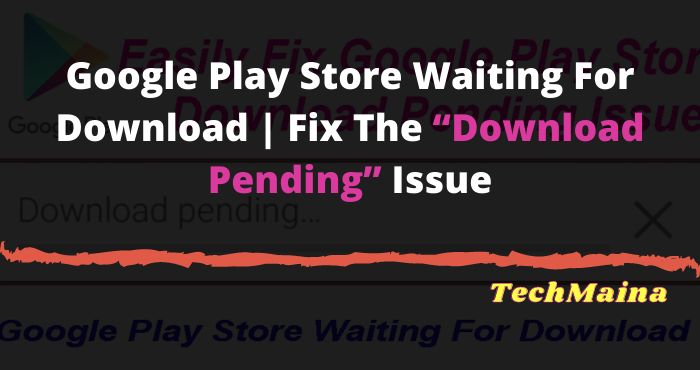 But sometimes there is an error that often occurs in Playstore.
Where when we want to download an application, the download process doesn't run, also known as pending.
The display only shows continuous loading with a pending Playstore download notification. Why is that?
This kind of error is quite common in various kinds of smartphones, both Xiaomi, Samsung, Asus, and others.
Actually, what is the cause of this problem? There are several things that might be the source of the problem.
For more details, please refer to the following tutorial from TechMaina.
The Problem of the Play Store Waiting For Download
For users of the Play Store, it is common to see the message "Download pending" which refers to the suspension of the download process of an application.
This can be caused by errors in the internet connection or Google Play update problems.
Therefore, the "Pending Download" motivates us to apply one of the procedures that we will discuss below. But before we start, we recommend updating Google Play Services.
How To Fix The Play Store Download Pending Error
Here you can try the following steps to be able to fix pending downloads in the Playstore, please see the explanation below.
1. Make Sure You Have Enough Storage Space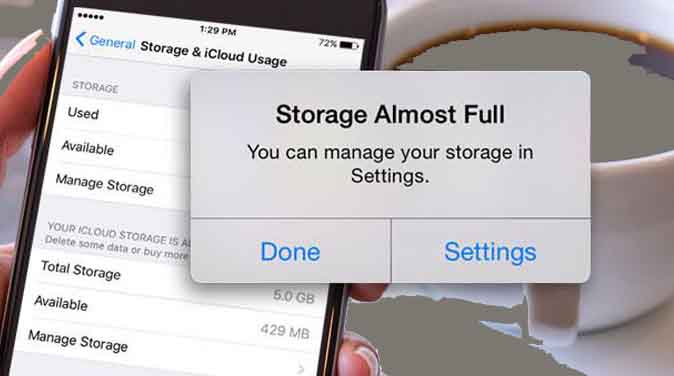 To be able to download and install applications, we need some space in memory. But if your storage is full, then of course the download process cannot continue and must be postponed first.
This could be the reason why application downloads are delayed on Google Playstore.
You can delete unnecessary files to free up some space in memory. Only then can the download process be continued again.
Is your mobile phone lost? want to find the phone? If yes, then well, in the previous article we have shared how to track lost phones using IMEI number to know more find phone using
IMEI Tracker
click here
2. Change Download Settings in Playstore
Many ordinary people don't know this, causing problems when they want to download applications.
Playstore has a setting where when downloading large applications, it is usually recommended to use wifi.
Now if you are using a cellular network, the Playstore will delay the download process until you are connected to wifi.
You can change these settings as shown in the below
Go to Settings in the Playstore
Then select the Preference download application option
And change it to Via any network.
Read Also:
3. Clear Play Store Cache
Repeated use of the play store will leave cache or junk files. So if left too long the cache will accumulate and fill memory.
You have to clean it regularly to free up some space in your storage.
The trick is to enter Settings
select Applications, look for Playstore
And click Clear Cache.
That way the application will be lighter than before.
4. Clear Play Store Data
If clearing cache is not enough, you can try to clear play store data too. However, before doing so please note that log data will be deleted permanently.
If there is important data you can do a backup first. The method of deleting data is not much different from the above.
Enter Settings
Then select Applications
Search for play store
And click Delete Data.
5. Force Close Play Store
Play store that cannot download can also be caused by a process that is not going well. That's why you can try tips for restarting the Play Store application itself.
First, do a forced closure through Settings
Then Applications
Look for Play Store and tap Force Stop
Then reopen the play store
The bugs that previously occurred can be resolved properly.
6. Update the Play Store to the Latest Version
Not only do ordinary applications need to be updated, but Playstore also regularly updates regularly.
That's why it's very important to make sure that your play store is updated to the latest version.
It could be that this is also the cause of delayed downloads due to a bug in the version that has not been updated.
Please enter Play Store Settings
Then tap several times on the Play Store Version section
If an update is available then you can immediately update it.
7. Update Your Android Version
Google also provides a number of updates to the Android operating system itself. This is to fix various bugs found in the previous version.
Make sure you have done an Android update to the latest version. Because if not, then the bugs on your system will interfere with the performance of the smartphone itself, including the applications in it.
8. Perform a Factory Reset
This is one last option if the tips above haven't worked. You can do the factory reset on the android phone which will return the smartphone settings to the factory version.
But it needs to be underlined beforehand that your data will also be deleted. So make sure to back up important data first.
9. Wipe Cache Partition
It's not just apps that leave cache and junk files. The android system itself has accumulated cache over time.
To be able to clean it you have to enter recovery mode first. The method varies for each smartphone brand, some use a power + vol up button combination, but there is also a power + vol down button. Please try it on your respective devices.
10. Change to Custom ROM
If you are stuck but have not produced any results, try changing the ROM. However, this method is recommended for those who are experienced.
If you are a layman, ask a friend or someone who knows how to change to a custom ROM. Why? Because if done carelessly it can even make the device boot loop or even completely die.
There are lots of custom ROMs that you can try depending on your Android device and version.
11. Change Gmail Account
If it still doesn't work, there might be something wrong with your Google account. Please can create a Gmail account on an android phone. Then enter as usual and replace the existing Gmail account in the Playstore.
12. Use Other Application Stores
If all the tips and tricks above have been tried but nothing works, then it's time to look for other alternatives. You can try various application stores besides Playstore.
They also provide various kinds of APK that you can download for free. What are some examples of applications? Much like Mobogenie or Apptoid.
13. Enable Background Data Usage
Sometimes it is impossible to update the Play Store and this is because the background data is disabled. To activate them you must follow the settings below
Go to the "Settings" menu
Then access "Data usage"
Click on "Smart data saving"
And finally the "Google Play Store".
Thus, you will remove the restrictions for this application.
14. Suspend Automatic Updates
It is possible that the "pending download" is due to the operating system trying to download updates for the other applications. This is why you might want to suspend automatic updates.
To do this see below
Go to Google Play and press the three bars (on the left of the screen) then choose "Settings "
Then go to "Update applications automatically
Select the option " Do not update apps automatically.
Conclusion
Those are some ways to deal with delayed application downloads on the Android Playstore. Hopefully, the tips and tricks above can be a download solution that keeps loading while in the Playstore.
If any of you have other suggestions, please write them down below. For those who have questions about the article above, you can also comment below.