In this article, we are going to share with you How to Remove Activate Windows Watermark on Windows 7, 8, and 10.
If you are a PC or Laptop user with a Windows operating system, you must have gotten the message " Activate Windows, Go to PC Setting to Activate Windows ".
Both Windows 7, 8, and 10 users, not infrequently will get notifications like that which are sometimes quite annoying when we are busy opening certain applications.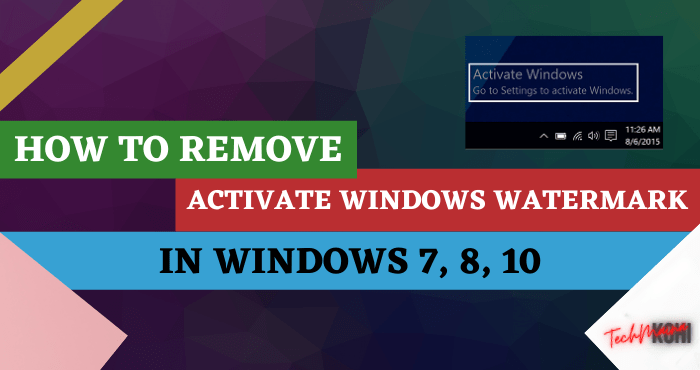 But you don't need to worry, because on this occasion we will share information on how to get rid of Activated Windows notifications that often appear.
Read the discussion in full until it's finished.
What Are Windows Activated Notifications?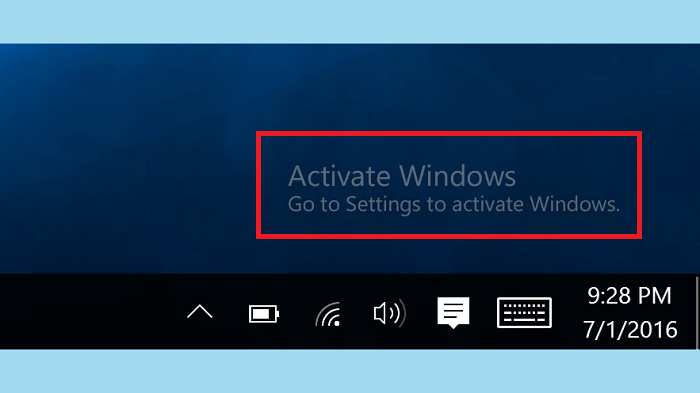 Windows activation is a process that asks you to activate Windows and verify that your copy of Windows is genuine and has not been used on another computer.
Windows itself has different licensing rules for each situation, such as:
Licensed: Status after successful activation
Initial Grace Period: After installing Windows, but not yet activated. You will be reminded to activate or Windows will automatically activate when online
Notification Period: If there is a major hardware change on the computer, Windows will ask the user to activate Windows
Non-Genuine Grace Period: If you get this message, your device is a non-genuine copy of Windows
Unlicensed: This message will appear if you are using an unlicensed copy.
In essence, this Activate Windows notification is a message that notifies the user that the trial period of Windows has expired so that you are prompted to activate it via the original windows serial code (Product Key).
If you get a problem like this, here we will provide several ways to remove and activate Windows 7, 8, and 10.
How to Remove Activate Windows Watermark With Toolkit
This method can be used by Windows 7, 8, and Windows 10 users.
For those of you who get the Activate Windows 10 notification, then to get rid of it you can use a tool called toolkit version 2.6 and above.
One of the functions of this application is to find out the serial number or activation to activate Windows.
You can do this by following these steps:
First of all, please download and install the Microsoft Toolkit software on the device you are using
If you have downloaded the Toolkit software, extract the file and run the program. Because here will be used for Windows activation, then select the Windows logo.
Next, the Microsoft Toolkit for Windows activation menu will appear. Tab in the "Activation" section, in the Activator menu, select Auto KMS, and then click install. In the Activation, section click Active and wait for the process.
Then go to the "Product Keys" tab, in this menu, you can choose the product to be activated and the Edition. In Key Function click install.
If you completed the steps above correctly, then the activation process should have been successful and there will be no more messages asking you to activate,
Please try this method to remove the notification and activate Windows 7, 8, or Windows 10.
How to Remove Activate Windows Watermark Without an Application
Getting a notification message asking us to immediately activate Windows is sometimes quite disturbing.
In addition to using the previous method, you can get rid of Windows 7, 8, and 10 activation messages without having to use additional applications. How to? Namely by using Regedit.
Here are the steps to use it:
First of all, please enter the Regedit window, or to make it easier you can use a shortcut by pressing the combination tombol Window + R, then enter the Run window. Here please type Regedit, and press enter.
Later you will be brought to the regedit view, go to the menu HKEY_LOCAL_MACHINE/ SOFTWARE/ Microsoft/ WindowsNT/ CurrentVersio/ SoftwareProtectionPlatform/Activation
Then in the right pane of the registry editor, you will see the REG_DWORD value with a manual name. Right-click and select Modify.
Then in the Value Data window that appears, you change the DWORD value to the number 1. The default value is 0 which means auto-activation is enabled. If you change it to a value of 1, then you disable the auto-activation.
Close the Regedit or Registry Editor window, and please restart your windows.
Now, you have completely disabled the auto-activation feature. This method can be used on Windows 7, 8, and 10 users who want to remove the Activate Windows notification.
Fyi, for those who are still using Windows Vista, then you can enter the HKLM/ SOFTWARE/ Microsoft/ Windows NT/ CurrentVersion/ SL/ Activation menu in the second step.
For those of you who do not succeed using this method, then you can try other methods.
How to Remove Activate Windows 10 Watermark
If the method described earlier can be used to remove the Activate Windows 7, 8, and 10 notifications, this method is specifically used by Windows 10 users.
Windows 10 is the latest version of Windows which is an update from the previous version. Windows users often get a message to activate Windows.
Just take a look at some of the ways you can use the following:
Remove Activate Windows 10 Watermark with KMSpico
To use this method, you must install a third-party application. Please download the KMS Pico application first on the internet.
If it has been downloaded, just extract the application, then follow these steps:
You need to turn off all internet connections and also anti-virus installed on the PC. Make sure you have turned off Windows Defender Security as well. Because if you don't turn off the Windows Defender security activity, the KMS Pico program will be quarantined and can't be run.
If so, just go to the KMS Pico portable folder, right-click on KMS ELDI, and select Run as administrator.
Furthermore, if KMS Pico is already open, you can choose the big red button option. Click the button.
This application works automatically to activate Windows 10, wait until the process is complete. The KMS Pico program will close automatically without any confirmation message whether the activation was successful or failed.
By using this method, it means that you have activated Windows 10, which means you will no longer get messages asking you to activate Windows.
KMS Pico is not only used to handle Windows 10 activation, but also Windows 8 and Windows 8.1.
In addition, this application also provides a feature to make a backup in the form of a file from the product license which is useful for restoring the product license when an error occurs in the activation process.
Remove Activate Windows 10 Watermark with CMD
To remove the activate windows 10 message, it can also be done using CMD. This method is actually used to help you activate Windows 10 and Windows 10 pro so that you will no longer be bothered with the "Activated Windows" message.
For those of you who want to use this method, you can follow these steps:
First of all, you have to make sure your device is connected to the internet connection.
The next step is to look for products by visiting the Windows 10 Activation Free Key. Because if you use this method you need to get the product key first, but this key can only be used to activate Windows 10 via CMD only.
If you have got the key, then please open CMD by going to Run as administrator. Right-click on the Start menu and select Command Prompt.
If so, you type "slmgr/ipk xxxx-xxxx-xxxx-xxxx (xxx = the key number you got in step number 2 earlier), then press enter.
When the next screen appears, please type "slmgr/skms kms.xspace.in", then type "slmgr/ato".
At this point, if you get a success message and it works, then that means Windows 10 has been successfully activated. But if it doesn't appear, there will be a message that says "Code Error or Keys Blocked".
If you experience failure, you can repeat the first step by using a different product key.
Because usually, the factor that makes you fail to activate is because you use an invalid product key.
Please try it first and good luck.
Remove Activate Windows 10 Watermark with KMS Auto Lite
This method is also used to remove the "Activate Windows" message on Windows 10 by activating it.
Don't worry, here you don't need to use a product key, but you need to download and install the KMS Auto Lite application first.
Please download and install the KMS Auto Lite application on your device, then if you have followed these steps so that the Activate Windows message does not appear again:
First of all, please turn off the internet connection. If you use wifi, you must disconnect, including those using a LAN cable, the cable must be unplugged first.
Next you disable Windows Defender security, including all other antivirus applications installed on your device. Make sure all antivirus programs are disabled. On the Real-Time protection menu, by default it is always on, then slide it off.
Next, enter the KMS Auto Lite application that has been downloaded and extracted. To use the KMS Auto Lite program, you need to know how many bits the Windows operating type is on your device. So, it must be adapted to the use. For example here using a PC with a 64-bit version, then please select KMS auto x64. Then select the Run as administrator option.
If the KMS Auto Lite application is already open, then next select install keys. If the application interface has changed, continue by selecting the Windows GVLK option.
In the next step there will be a question regarding the installing key, so select the "Yes" option so that later the KMS Auto Lite application will automatically find the appropriate key and install it to your device's Windows operating system.
You should now not get messages to activate windows anymore.
If you followed the steps above correctly, then you will no longer get the message you have to activate Windows.
The Final Word
Well, that's all we can say about several ways to get rid of activate windows 7, 8, and 10. Especially for Windows 10 users, it is recommended to use the Windows 10 activation method without a product key or with an application if you don't want Windows activation notifications to always appear.
This method has proven to be effective in eliminating those annoying notifications.
Hopefully, the information above is useful for readers, and good luck.