Question from a reader: Can someone tell me: What is GWXUX, and how to get rid of pop-ups about it?
Several times every day I get a pop-up telling me that GWXUX has stopped working.
I have checked other questions in the community, but they all refer to Windows 10.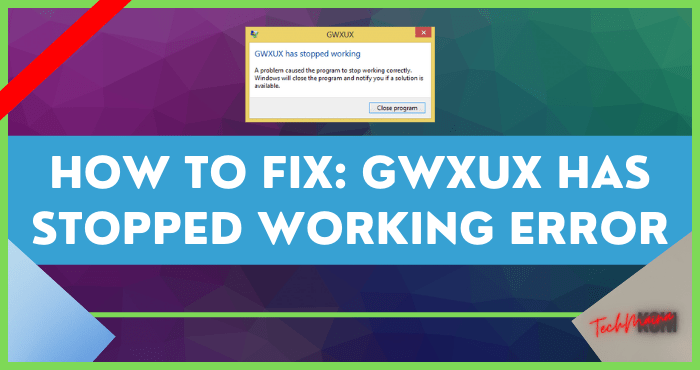 I don't have Win 10, and I don't even believe it's released yet, so why am I getting this message?
When I click on the window icon in my taskbar, it opens to the Windows reservation offer. So far, everything seems to be going well.
I am using a laptop and I have Windows.
What is the GWXUX.Exe?
Before we move on to the fixes, let's first find out what is?
Generally speaking, it is a Windows 10 executable file that is part of the automatic update.
It doesn't really have much use except for showing popups.
The worst it can do is show you an error message when you try to open certain apps.
These messages may appear as follows:
"Gwxux.exe has encountered a problem and needs to be closed. Sorry for the inconvenience ".
"End of program – gwxux.exe. This program is not responding. "
"GWXUX has stopped working. "
" Gwxux.exe is not a valid Win32 application. "
Because of these annoying error messages, most of the users would simply disable GWXUX or remove it altogether. We have written a bunch of strategies to do this.
Solutions for GWXUX has Stopped Working Error
Before you apply these methods, be sure to create a system restore point in case something goes wrong.
Method 1: Run the Troubleshooter Function of Win Update.
Open Control Panel and find Troubleshoot in the search bar at the top right, then click Troubleshoot.
Then, in the left pane of the window, select Show All.
Then, in the Troubleshoot computer problems list, select Win Update.
Follow the steps to complete the troubleshooting process.
You may or may not be asked to restart your computer. It all depends on what the Windows troubleshooter finds.
As mentioned above, he was incredibly controversial. It was essentially an adware Microsoft installed on your computer without you knowing.
It would advertise Win 10, then download the operating system "just in case" you wanted to upgrade.
If it made sense to upgrade while it was free, it would have been decided when and how to do it instead.
Method 2: Repair "GWXUX.exe has Stopped Working" by Uninstalling It
Click Start and type Control Panel.
Choose Control Panel and in the search bar at the top right,
Type Windows Updates and then choose Show installed updates under Programs and Features.
In the list of installed updates, locate KB3035583 and double-click to uninstall it.
After uninstalling, your PC should restart.
I recommend setting the updates setting to manual to avoid receiving such updates.
Method 3: Edit the Registry to Repair the "GWXUX has Stopped Working" Error Message.
Editing the registry may seem difficult, but it is not. The registry is just a database of configuration settings that Windows uses to function properly.
If you wish, you can make a backup of the registry before making any changes by selecting File and Export.
You can then use the Import function if there is a problem.
Type " Regedit " in the search box or in Cortana and select Registry Editor.
Navigate to " Computer \ HKEY_LOCAL_MACHINE \ SOFTWARE \ Policies \ Microsoft \ Gwx ".
Click with the right button of the mouse on an empty space in the right pane and select New.
Select the DWORD (32-bit) value and name it " DisableGwx ".
Give it a value of 1 to activate it.
Close the registry editor and restart your computer.
You must restart to apply the change you just made.
If for some reason the error still occurs after changing this setting, you can either delete the registry key or set it to 0 to disable it.
Read Also:
Method 4: Use the Task Scheduler
Another easy way to solve the problem is to use the task scheduler.
To do so, just follow the steps below:
Go to the Start menu and search for Task Scheduler.
Search for Microsoft then click on Windows.
After that search for Setup and GWX.
Find both tasks under GWX and disable them both.
Restart the computer and check if the problem persists.
If you don't know how to open the taskbar then you can check out the previous article where we have shared in detail how to open task manager in windows.
Method 5: Perform a System Restore
Another solution that a lot of people in the Microsoft community use is to perform a System Restore.
This is one of the last remedies that you should do, as it can disrupt your files.
To do this, just follow the following steps:
Make a backup of your system files and other personal files.
Go to the Start menu and run the rstrui program in the run window. Or you can do it by just pressing the Windows key and typing rstrui.
Wait for System Restore to finish and restart your computer.
Read Also:
Method 6: Perform a Virus and Malware Scan
We strongly recommend that you perform a virus scan of your computer, in case the GWXUX issue is caused by a virus. Sometimes viruses hide in the form of .exe files.
Just follow the next steps:
Open your antivirus ( 360 total security, Windows Defender, or Avast Antivirus …. or any other antivirus that you use on your machine).
Perform a full scan of your computer.
Check for viruses while the scan is in progress.
If you see any viruses, remove them immediately.
Perform the scan regularly so that you can check for viruses.
Method 7: Forum Comments
We've looked through Microsoft Answers and Reddit for some forum feedback – here's what we found:
A forum user mentions that GWXUX.exe is an executable file, owned by Microsoft. It adds that it is usually located in the Windows/System 32 folder and is no larger than 360KB.
The person also mentions that it is not a Windows system file and does not cause problems in most cases. cases.
Another individual said that he was starting to get an error message that GWXUX had stopped working several times a day.
He said he was using Windows 8.1 and Windows 10 hadn't been released yet.
The person mentions that when he clicked on the taskbar he got the offer to reserve a copy of Windows 10, so he thought GWXUX was tied to the next free Windows 10 upgrade.
It was scanning the system to make sure there was no conflict in case I decided to upgrade to Windows 10.
A forum member mentioned that you can remove GWXUX if you're not interested in upgrading to Windows 10 by going to Installed Updates and uninstalling KB3035583.
A computer user said that he wanted to reserve Windows 10, but every time he clicked on the taskbar, he got the error message that GWXUX has stopped working.
He discovered that the problem was that the KB3035583 update didn't install properly or got corrupted for some reason.
Another person said they didn't want the free Windows 10 upgrade and were annoyed by the constant pop-up.
She said it was a hassle to force people to choose Windows 10 and she didn't like the direction Microsoft was taking.
She mentioned that she preferred to choose her own drivers since she often had problems with Microsoft.
One poster commented that he tried to click "Get Windows 10" and got an application error.
The same thing happened when he clicked "Check your update status." He said that he had to reinstall the app because he wanted to get his copy of Windows 10.
Another individual complained that "GWXUX has stopped working" started appearing on his screen constantly.
He restarted his computer several times, and the message kept appearing even though he had changed his settings to hide icons and notifications.
The person added that he closed it several times only for it to reappear on the screen. He uninstalled the KB3035583 update, but that didn't resolve the GWXUX issue.
A computer user said that he tried Windows 10 for a few days, but he didn't like it. Therefore, he went back to Windows 8.1. However, he has since started getting an error saying that GWXUX has stopped working and he couldn't find a way to remove the update from the Windows update list.
A poster on the forum said that GWXUX was causing problems when working online and that you had to uninstall 3035583 and KB 2952664 as well as the GWXUX folder to completely remove it from your computer.
Another reader shared that he was having similar issues with the GWXUX process and the "Get Windows 10" button was not responding. Finally, he reset Internet Explorer settings and was able to install Windows 10.
A technical forum commenter said that GWXUX was installed by Windows update KB3035583 without any prior explanation from Microsoft as to its purpose.
He added that most people would find the pop-up irritating and would classify GUXEX as "potentially unwanted".
The person mentioned that using the system restore feature might remove the notification.
He also advised people who weren't interested in upgrading to Windows 10 to remove it from their machines.
A computer user observed that his laptop (Windows 7) was working fine until the new security patch from Microsoft was implemented. After that, his computer started crashing several times a week. Ultimately, he traced the crash to GWXUX.exe.
One person claimed that if you remove the GWXUX update from your machine, it will disable Windows 10 fallback and you will have to install a new one if you want a copy of Windows.
When we went through various technical forums and the Microsoft support site, we discovered that people were looking for GWXUX.exe application error, and GWXUX crash. GWXUX and GWXUX virus stopped working on Windows 7. People were also looking for answers on how to uninstall GWXUX.
Conclusion
These are the possible solutions to correct the Gwxux problem. Do you know of any other solutions to fix GWXUX has stopped working errors in Windows?
If so, mention them below in the comments section!