If it's Tuesday, it's another day to expect steam Tuesday maintenance. If you've been a regular gamer on steam, you would be familiar with steam Tuesday maintenance; otherwise, here's a perfect guide for you to understand what steam Tuesday maintenance is.
But before we go ahead as to what steam Tuesday maintenance is, it makes sense to understand what steam is and how it works and help you understand if steam is a good platform for you to consider in your gaming expedition.
Other things we would talk about in the steam Tuesday maintenance article are the settings and privacy features in steam. So, keep reading.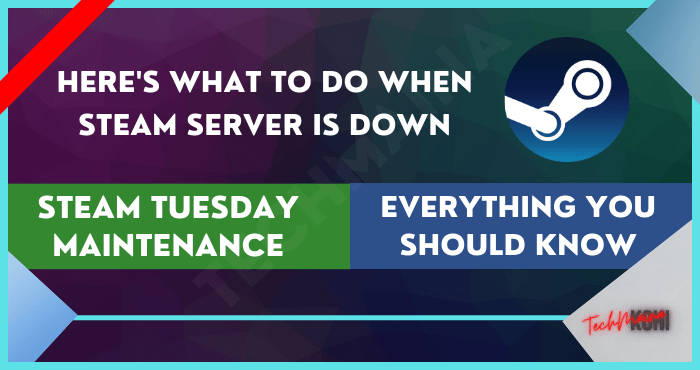 What's Steam, and How It Works?
It won't be long before you start to hear about the steam gaming platform if you have a game-savvy kid.
Steam was launched in 2003, and ever since, it has become one of the most important gaming platforms for gamers. You will rarely see a gamer in this age who's not conversant with steam.
Steam is a gaming platform where you can buy games, sell games, store games, watch demos, trade items, and many more.
Steam has a wide range of content that fits into different ages and interests. Yes, that's how flexible steam is for gamers.
Gamers must download and install the steam app on their computer to access the full library of software, forums, and games.
The best part about steam is that the games downloaded to a steam account can be played on any computer device.
There's parental control on steam to allow parents to control the contents their kids are exposed to on the gaming platform.
While there are much sexy stuff and graphic violence, you will still easily find family-friendly games on steam.
Must Read:
Is Steam Safe?
It is okay to worry about the safety of your steam account, especially for gamers who earn money playing games. And the good news is that steam has a security feature known as Steam Guard.
The Steam Guard secures your steam account via a verified Gmail address or a 2-factor verification.
Yes, I won't forget to mention that the games bought on the steam network can only be played on steam. Another thing to note is that the steam app is free to download and use.
But you have to pay a token to access some games on the platform. The fee could be as little as $1 or as costly as $70.
So, back to the steam Tuesday maintenance that causes several features and services on steam to be unavailable for a couple of minutes.
What is Steam Tuesday Maintenance?
On Tuesdays, gamers on the steam network usually experience a breakdown for a couple of minutes simultaneously. It is known as the steam Tuesday maintenance.
The steam Tuesday maintenance is routine maintenance by valve, steam's developer to ensure proper functionality of the gaming platform.
Steam has millions of active users, hence carrying out regular maintenance to prevent unexpected outages.
The steam Tuesday maintenance also helps the company improve the quality of their services and give gamers a good user experience.
Think of the steam Tuesday maintenance, your regular car maintenance routine, or your weekly yard maintenance.
You can know when the steam Tuesday maintenance is on by checking the status of the steam platform. I need to do is to visit steam stats and check their status update.
As an alternative, you can check the server status of a particular game to confirm the steam Tuesday maintenance.
Also Read:
However, you can expect the Steam Tuesday maintenance between 7 PM EST and 7:10 PM EST.
The steam Tuesday maintenance would last for 10 minutes, and gamers can continue with their activities on the platform.
Although, you may experience a few server issues after the steam Tuesday maintenance. The trick is to restart your computer before moving ahead with your games.
Restarting your computer helps to flush cache and system states while resetting other programs.
In the case of a severe update, the steam Tuesday maintenance can take up to 20 minutes before things fall back in place.
If you still cannot connect to the steam network after 20 minutes, you should give it more time to connect. It could be a general issue and not a server issue.
The recent steam Tuesday maintenance in North America was on for several hours, causing lots of agitations for gamers.
Gamers then suggested that the developer look into the steam Tuesday maintenance and find another means to let Gamers access installed games while the steam Tuesday maintenance is ongoing.
The common reports gamers made when there's a steam Tuesday maintenance are unable to log in, servers offline, and games disconnection.
So, if you experience any of these on a Tuesday, it's most likely to be a steam Tuesday maintenance by the developer.
Also Read:
How to See Who Gave You Steam Games
When someone gives you a game, you'll see it in your Steam account and receive an email about it.
You can always check your email and find the information. Look for the email sent by Steam with "Received a Gift" in the subject line.
You'll see the email address of the person who sent you the game. In addition, when someone sends you a gift, they will usually leave a personalized message with their name.
That's how you know who sent it without even checking the email address. You can also view this message in the Steam Client, so you can find out who sent you the game without checking your email.
If you accidentally deleted an email or can't find it, you can try posting a status update and asking the sender to contact you. Additionally, you can contact Steam support and ask for help.
Frequently Asked Questions About Steam Tuesday Maintenance
The steam Tuesday maintenance is a pain in the ass for most Gamers, and you will often find gamers asking lots of question about it.
So, check out the frequently asked questions about steam Tuesday maintenance. We've provided detailed answers to the questions to help gamers better understand the steam Tuesday maintenance.
When Will Steam be Back?
Expect the Steam to be up and running about 10-20 Minutes after a steam Tuesday maintenance.
As long as the issues are not hefty, you can easily get back to your game 10 Minutes after the steam Tuesday maintenance. Yes, the steam coming back is that quick and easy.
Although in the past, steam servers have been down for up to 2 hours after the regular steam Tuesday maintenance.
Why does the Steam Server Keep Going Down?
Three factors could be responsible for a steam server down problem: unforeseen server problems, steam Tuesday maintenance, and sessional events.
What this means is that you can experience a steam server issue during winter and summer sales.
Then, the steam Tuesday maintenance can be another reason the steam server is down. As earlier mentioned in the article, check with the steam stats to confythe status of the steam network before concluding on what could cause the steam server down problem.
Read Also:
How to Resolve the Can't Connect To Steam Server Issue?
The unable to connect to the steam server issue can get vataes by varying factors. But there's something you can do.
Start by restarting your computer to clear the cache and restart other programs. Then navigate to the steam app on your computer screen and right-click to see the properties.
Click on properties, and click on the shortcut tab. Type TCP in the target field, and boom! You've successfully resolved the can't connect to steam server issue.
Another way to resolve the can't connect to a steam server problem is to update your network adapter driver.
All you have to do is update the driver manually or automatically. If you want to update your network adapter server automatically, using Driver Easy is a good alternative.
However, follow the proper process if you want to update your network adapter server manually.
After updating your network adapter server, restart your computer to complete the unable to connect to steam server troubleshooting.
The Steam Servers Are Currently Down for Maintenance
Some gamers have reported getting the message, "the steam servers are currently down for maintenance" from Valve, Steam's developer.
When you get this message, it means that the steam network probably has its regular steam Tuesday maintenance or is unable to connect to steam servers.
In this case, you should find out the cause of the problem and give it time to be resolved. If it's on a Tuesday, the most likely reason could be the regular steam Tuesday maintenance which would be resolved sooner than expected. Otherwise, it could be a connection problem.
How Do I Activate a Steam Game I Received as a Gift?
There are two ways to activate talented Steam games.
The first is via your email. As mentioned, whenever you receive a Steam gift, you will be notified by email.
To activate the game, click on the link provided in the email. This will open the Steam Client, where you can redeem gifts.
You also receive notifications about rewards in the Steam Client. To activate the game, click on the notification and receive the reward.
Once you receive the game, the game will be automatically added to your Library and the sender will be notified.
If you decide to refuse a gift, the sender will receive a refund and notification of the refusal. You can also include a message explaining why you declined.
Can Steam Rewards Expire?
If you do not redeem a Steam gift within 30 days, the gift will expire. In this case, the sender receives a notification along with a refund.
Can I Refund the Prize Money?
If you receive a gift you didn't want, there are ways to request a refund. Keep in mind that the refund will go to the sender, not you.
You can request a refund if it's been less than 14 days from the date of purchase and you've played it for less than two hours.
Follow the steps below to agree to a refund and remove the game from your Library:
Go to the Support page.
Sign in to your account.
Press "Games, Software, etc."
Find and select a game.
Choose why you don't save the gift.
Press "I want to request a refund."
Complete the refund request and tick the box allowing the sender to continue the process.
Once you complete the refund request, the game will be removed from your Library.
How to Purchase Steam Gifts for Other Users?
If you've received a Steam gift and want to return the favor or if you just want to surprise your friends, here's what you need to do:
Find the game you want to send to other users. Be aware that it is not possible to send gifts to people who do not have a Steam account.
Select "Add to cart."
Press "Buy as a gift." You will see a list of all your Steam friends. If you want to send a gift to someone who isn't your friend on Steam, you'll need to add it first.
Select the recipient.
Choose whether you want to send the gift immediately or schedule it for later. To send it later, press "Schedule delivery" and select a date.
Add a private message if you wish. This message will appear in email and on Steam.
After you send a gift, the person receives an email and a Steam notification about it.
You can check the status of all the gifts you have sent on the Inventory page. Another option is to check the status inside the Steam Client.
Press "Game."
Select "Manage guest gifts and tickets."
You will also receive an email about whether the recipient accepted or declined your gift.
Here's What to do When Steam Server is Down
If you cannot connect to a steam server, here are the quick troubleshooting steps you can do.
Although it does not guarantee that the problem will be solved completely, depending on the cause of a steam server is down the problem, you can use the troubleshooting guide to resolve it on your own.
Close the steam app and restart your computer
Unplug the router or modem
Close background programs
Disconnect the wireless connection and use a cable connection
Don't use VPN
Turn off the FPS monitor and close the game booster
Conclusion
Steam is a perfect place to create and play games. And that's why steam Developers aim at improving the quality of their services and preventing unexpected outages by a Tuesday's regular maintenance.
Gamers are unable to connect to the steam server during a steam Tuesday maintenance. But that shouldn't stop you from enjoying the full library of games on the Steam network.
The steam Tuesday maintenance is only for a limited time, about 10 minutes, afterward, the app is back and functioning.
So, the best thing to do should experience a steam Tuesday maintenance is to relax and give it 20 minutes before restarting your computer. It is that simple.