D3DX9_43.DLL is Missing – After you finish installing the game, there will be lots of possible problems ( errors ) that can arise, ranging from mild to severe.
This problem can be caused by various things.
It could be because the specifications of the PC or laptop are not qualified
Due to the lack of required system files
Or something else.
Now, in this discussion, I want to discuss a little about the causes and solutions to the missing D3DX9_43.DLL problem.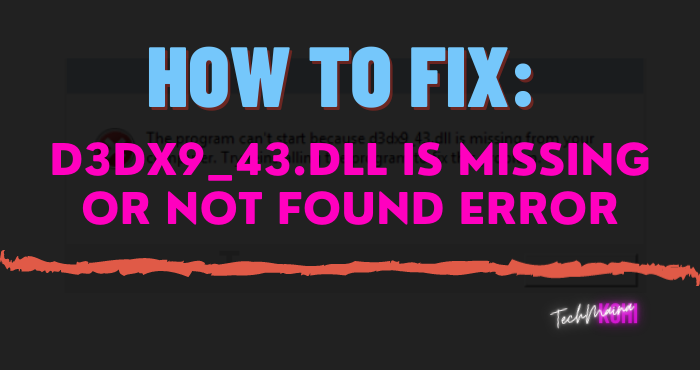 This problem is a lot going on in the game – a game popular, such as PES, GTA V, Euro Truck Simulator, and others.
What is a D3dx9_43.dll File?

DirectX is a set of program components that allow software, especially games, to function directly with your audio & video hardware.
Games that use DirectX can use the multimedia accelerator feature that is embedded in hardware to make it more efficient.
Meanwhile, d3dx9_43.dll is one of the many files that you can find in DirectX software. Today, many Windows-based games use DirectX for their graphics purposes.
On the other hand, the d3dx9_43.dll error occurs because the system cannot find this file.
Causes of D3DX9_43.DLL is Missing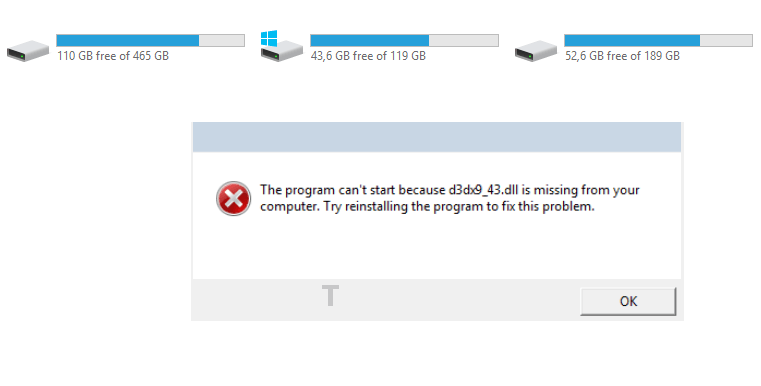 For the cause itself, I don't think it's that complicated, huh.
The word " missing ", means "lost". Then this message indicates that there is a file that is missing or not found on our system.
Yes, the file in question is D3DX9_43.DLL.
This could be due to a lack of system files installed. I myself am not surprised, because there are not a few who don't understand this.
How to Fix D3DX9_43.DLL is Missing in All Games (GTA, PES, etc.)
To solve this missing DLL file is very easy.
Because the files needed are missing, we only need to install the missing files again. That way, the system will be able to read it, right?
The question now is, how to add it?
Well, here I have at least 9 methods. You can try these methods, which I will discuss in detail below.
Note: we don't have any relationship with any 3rd party sites that provide dll files that you need as it is not recommended to get dlls from sites other than Microsoft. By reading this note, we assume you understand.
# 1. Install DirectX
D3DX9_43.DLL is a file that comes from the DirectX system. So, do you know what DirectX is?
In short, DirectX is a collection of programs that function to process the work of a game. For example:
Font.
3D graphics.
2D graphics.
Audio.
GPU (VGA) process.
And others.
Therefore, files from DirectX are arguably very important.
How to install it: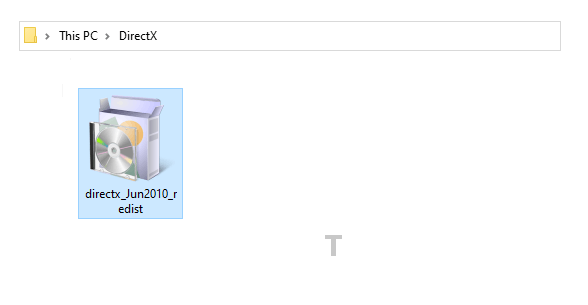 If so, please open the application> Click Accept This Agreement > Click Next > Then wait for the installation process as usual.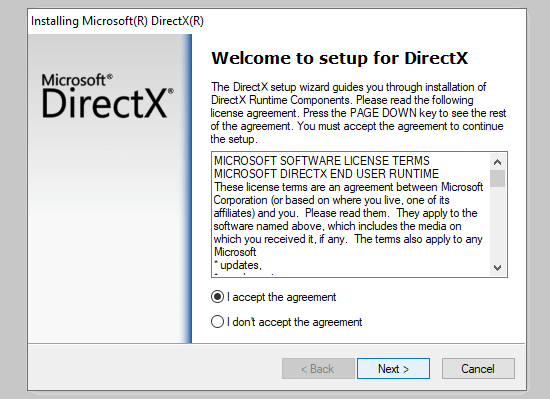 Wait for the installation process as usual.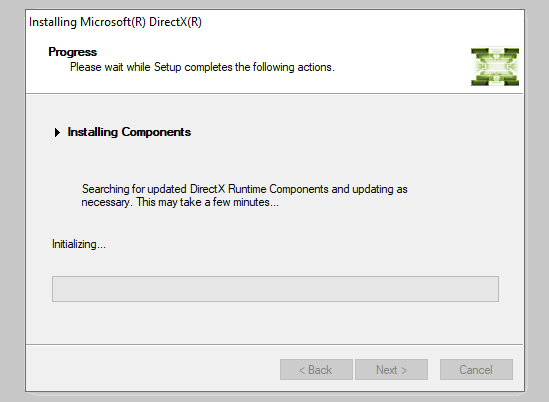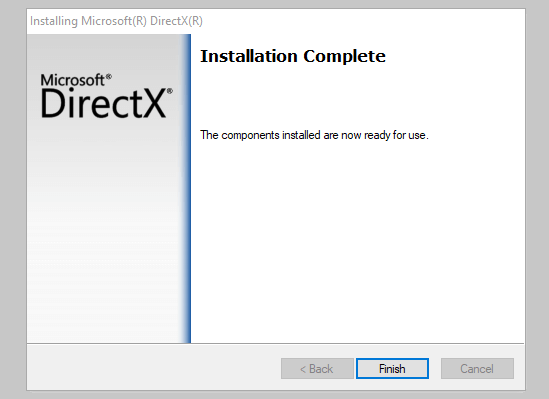 Then the game should return to normal, or at least the " missing " message has been resolved.
Not only when it comes to playing games. I usually do this method immediately after reinstalling Windows, so that I don't bother again later.
You could say this method is super effective. Most of the missing DLL problems, both in D3DX9_43.DLL and similar DLL files, can be resolved in this way. So, please have a try, yes.
# 2. Via File Redist
In some games, there are developers who save a folder called Redist, which included a set of files – the file system.
Well, you must install this, yes. Especially if there is a DirectX folder inside, then the D3DX9_43.DLL file should already be in the same package.
For how to install it yourself, it is more or less the same as before. You only need to open the DXSETUP file in the DirectX folder earlier.
Oh yes, not just DirectX, install also file – a file , such as Microsoft Visual C ++ and the like, so that errors not another.
# 3. Install It Yourself Manually
We have to do this last method if the first method and the second method are still not successful after being applied.
Basically, this manual installation is actually more aimed at making certain files exact. For example, for this discussion, D3DX9_43.DLL.
The result? Yes, it should be more effective in overcoming this problem.
How to install the files manually:
Step 1. First, first visit the DLL-Files.com page to get the D3DX9_43 file. Just search there.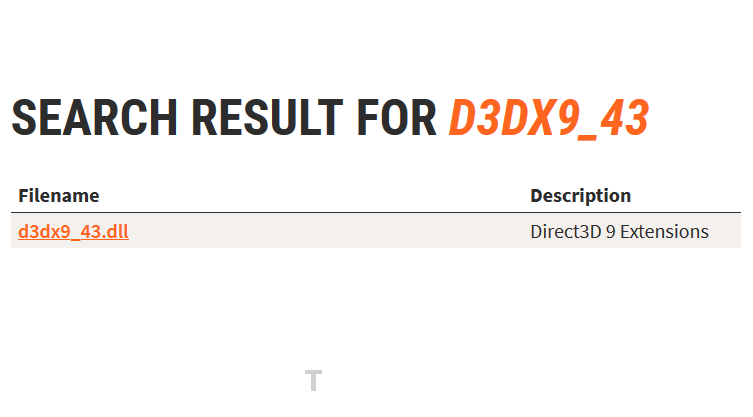 Step 2. Please download the file. Adjust to the version of Windows you are using. Is 32 bit or 64 bit.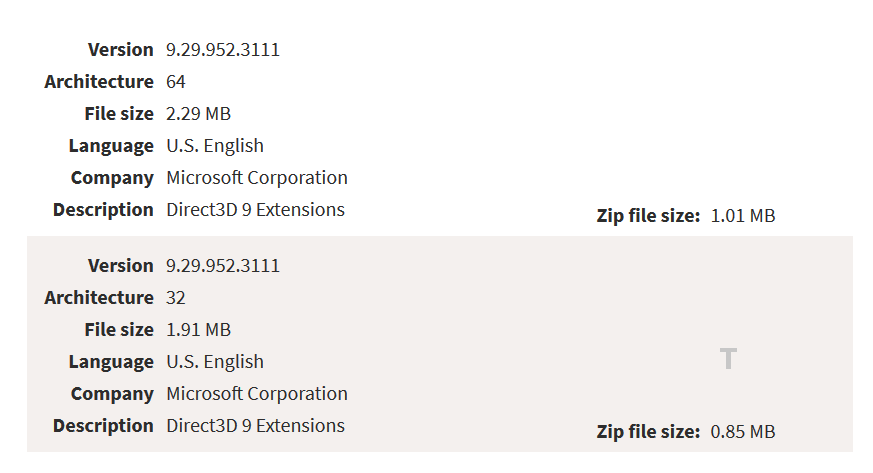 Step 3. If so, extract the files using the WinRAR application or something similar.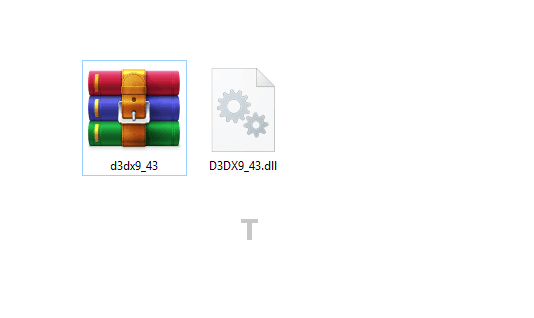 Step 4. Copy the extracted DLL file, then paste it right in the destination game folder (the one with the .exe, yes).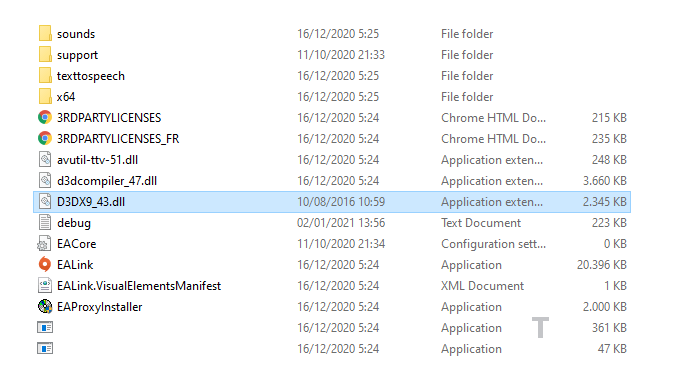 Step 5. If so, try to test the game again.
Oh yes, this method is just an alternative, yes.
Because of the results of my experience, there are many D3DX9_43 file types, and not all games can be compatible with that one file.
So, if it doesn't work, try to test again by installing the DirectX file as I have explained.
Even so, I myself have often succeeded in eliminating the problem of losing the D3DX9_43.DLL file using this method. So, I think it's worth a try.
#4. Copy The D3dx9_43.dll File From Another Computer
If the above methods can't solve your problem, you can try this one method. Faster, but there is a possibility to generate new errors.
Just copy the d3dx9_43.dll file from another computer, then paste it onto your computer.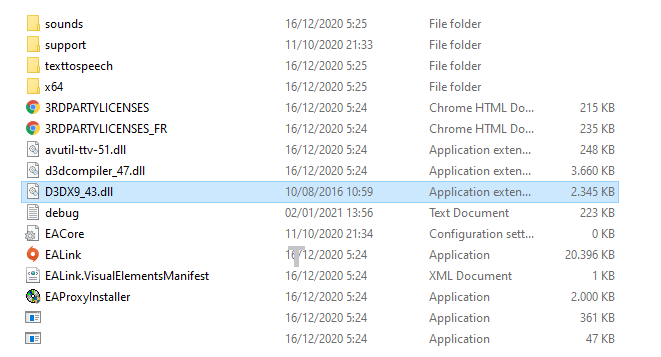 There are 2 ways :
First, copy and paste the d3dx9_43.dll file from another computer to the game folder that is problematic.
Second, copy and paste the d3dx9_43.dll file from another computer to the system folder. For 32-bit the location is at% WINDIR% \ System32 \ for 64-bit the location is at% WINDIR% \ SysWOW64 \.
% WINDIR% is the location of the WINDOWS folder on the OS installed partition, usually, the default location is C: \ Windows.
#5. Reinstall PES, GTA, And Other Games
Usually, this d3dx9_43.dll is missing error appears in PES 2013, 2014, 2017 and GTA San Andreas and GTA V.
Before you reinstall the game, let's check the game's folder first and see if there is a folder that says redist, vcredist, redist_ or something like this?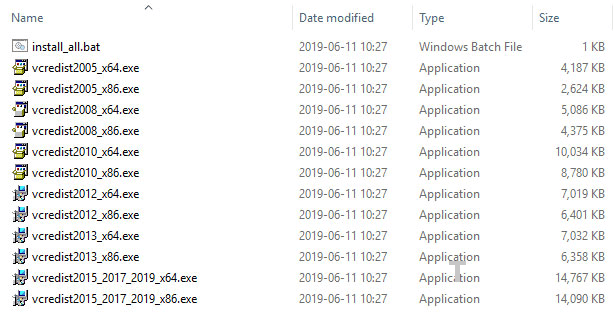 If there is, install all the files in that folder to solve the d3dx9_43.dll is missing problem in the PES or GTA game on your computer.
#6. Update the Windows 10 Operating System
The last DirectX version installed on Windows 7 is 11.0 and it has a built-in system, there is no standalone update for this version.
For Windows 8, the latest version of DirectX is 11.1 and for 10 is DirectX 12. There is a possibility that the Windows 10 you are using may not have been updated, you can get the latest updates through the Windows Update feature.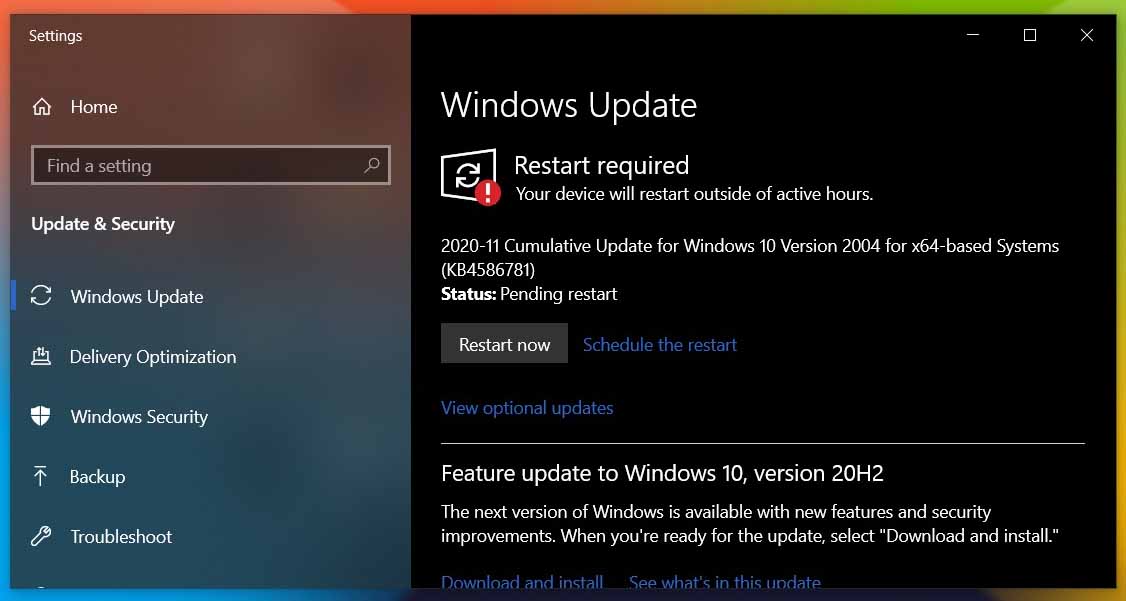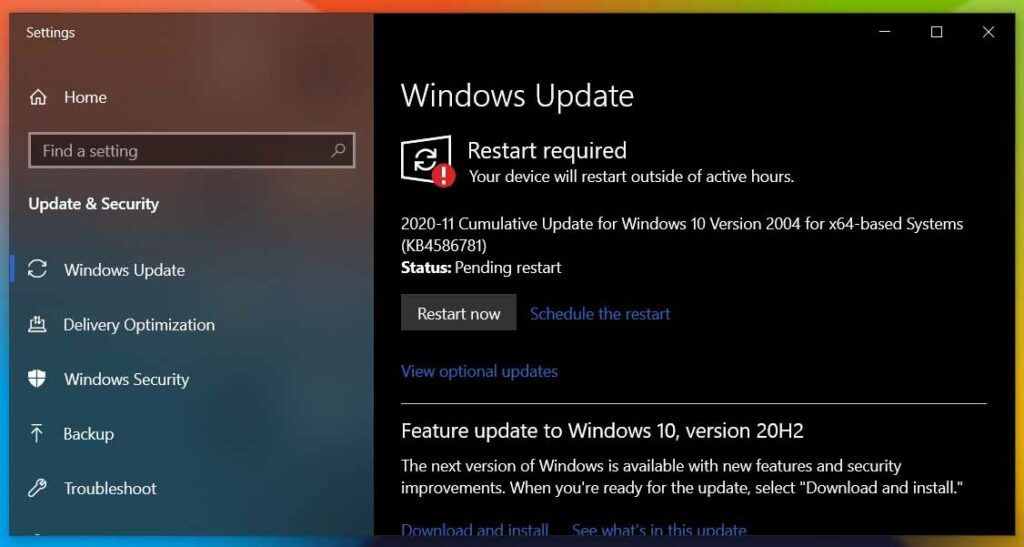 How: press the Start Menu ➡ then click Settings ➡ click Update & security ➡ in the right panel, click Get Updates.
#7. Scan The Hard Disk With Antivirus
Even though the chances are small, there could be a malware infection that attacks your computer and infects these dlls. In some cases, there is also Windows Defender which is taken over by 3rd parties.
Therefore, it is highly recommended to use additional antivirus applications to protect computers from malware attacks.
Even though this sounds like a preventive measure, try scanning the computer and looking at the list of files that are quarantined by the antivirus, is there d3dx9_43.dll?
#8. Update The Video Card Driver
Although this solution may not sound commonplace, in some situations, updating the drivers for the video card on your computer can solve the problem of DirectX not being detected even though the file is there.
Some examples of games other than PES that use d3dx9_43.dll so that the game can run normally are: League of Legends, Guild Wars, World of Warcraft, World of Tanks, LA Noire and GTA.
#9. Restart The Computer
Finally, the cure for all errors that occur in the Windows 7 operating system is to restart manually, open the Start Menu ➡ click the Power button ➡ click Restart and wait for the process to finish.
It could be that the appearance of the d3dx9_43.dll is missing error is just a fluke that resolves it by restarting.
Windows operating systems above Windows 95, have the possibility to experience this error.
The following are the types of d3dx9_43.dll error posts that were found in the problematic game:
D3dx9_43.DLL Not Found
The file d3dx9_43.dll is missing
File d3dx9_43.dll not found
D3dx9_43.dll not found. Reinstalling might help fix this.
The program can't start because d3dx9_43.dll is missing from your computer. Try reinstalling the program to fix this problem.
There was a problem starting d3dx9_43.dll. The specified module could not be found.
Error loading d3dx9_43.dll. The specified module could not be found.
The code execution cannot proceed because d3dx9_43.dll was not found. Reinstalling the program may fix this problem.
d3dx9_43.dll is either not designed to run on Windows or it contains an error. Try installing the program again using the original installation media or contact your system administrator or the software vender for support.
The Final Word
Those are roughly the 9 methods that I mean to solve the error D3DX9_43.DLL because it is missing.
There may be many other methods to solve this error condition. I myself still think of other ways. However, if it is discussed, it is feared that it will reduce the relevance of this method to the themes discussed here.
Do you have any other tips and tricks? I would be very helpful and grateful if you want to share it with other visitors on this site.
Hope it is useful.