Is phone not Showing up on pc or Unreadable Android phone? Wow, that would be a hassle too, here. Especially when you want to move data from a computer or laptop, for example.
Although currently there is a file-sharing application using WiFi, the use of a data cable is still popular.
The reason, may be because the transfer speed obtained is relatively faster, and the possibility of the file being corrupted (damaged) is also smaller.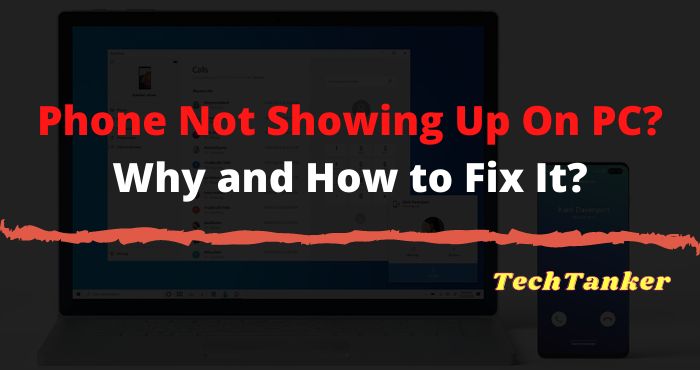 Well, there are many problems with Android not being detected on this PC, you know.
I myself have experienced it several times. Starting from the old cellphone to the one used today.
Hence, I am compelled to discuss the matter here.
Causes of Phone Not Showing Up On PC
Broadly speaking, the causes can be divided into two, namely system errors and hardware damage.
For example:
Setting error on the Android system.
The data cable used is damaged.
The data cable used does not yet support file transfer mode (only for Phone casings).
The Phone connector is damaged.
Troubled Phone system ( bugs and the like).
Driver not installed (especially for those who want to do flashing ).
To fix this, we just need to focus on these things.
Is your mobile phone lost? want to find the mobile? well, in the previous article we have shared How To Track Lost Phone Using IMEI Number, you can check out the post,
IMEI Tracker
.
How to Fix Phone Not Showing Up On PC / Laptop
Well, here I want to also discuss how to deal with an unreadable Phone USB on a laptop / PC when you want to transfer files.
It can be used for Asus, Xiaomi, Lenovo, Oppo, Vivo, and others.
Come on, listen to:
1. Make Sure the Data Cable Used is Not Damaged
Data cables are often damaged, especially when their useful life is too long.
The effect will vary. Can't charge especially. But in addition, this condition can also make your cellphone undetectable.
How do you check it?
It's easy. Just use another good data cable. If detected, it means that the old data cable is the problem.
2. Make Sure Your Data Cable Supports File Transfer
Please note, there are two types of data cables on Android. The first supports data transfer ( storage media ), and the second only supports charging.
If the data cable that only supports this cellphone charge is used to transfer data, then it is certain that Android will not be read at all on a PC or laptop.
The solution, replace the data cable with one that already supports media transfer, of course. Usually, the built-in Phone cables are mostly supported for this activity.
Read Also:
3. Move the USB to Another Slot
Try to change the position of the data cable connected to your PC or laptop.
This is intended to see whether the USB slot used was damaged, causing Android to be illegible.
Also make sure to connect the data cable directly to the main slot on the device, without using an intermediary USB Hub.
The reason is, that most USB Hubs only have a very low power flow, so they are unable to read data from your Android.
In fact, sometimes there are those who really don't support reading storage media.
4. Install the Android USB Driver
In some cases, there is an Android error problem, so it is not detected on the PC, which is because the Phone Driver has not been installed correctly.
Usually, this condition is often found when the cellphone is flashed again using certain software.
This driver serves to install Android devices on a computer system so that the device can be recognized.
You can install this Driver, by first searching and downloading it on the internet.
Don't forget to adjust it to the Chipset you use. For example, if Mediatek, that means also use Mediatek. Also, adjust to the type of cellphone used.
If so, try to test the cellphone again. If it's normal, it will be detected.
5. Change Android Settings to MTP Mode
In default conditions, there are some Androids whose USB settings are in the charging position. This condition eventually causes the cellphone to be undetectable on a PC or laptop.
When the smartphone is in charging mode, the case will be the same as a smartphone connected to a data cable without file transfer support.
Yes, it will only display a notification that is charging.
To fix this, you need to change the charging mode to the data transfer mode. How:
Connect Android to the PC or laptop > A window will appear charging > Select MTP.
Read Also:
6. Perform a Factory Reset
Phone connectivity can also be disrupted if there are wrong settings. Whether it's on purpose or not on purpose.
If it's intentional, of course, you already know how to return it.
For example, because we install certain applications, open root mode access, install system updates that still have bugs in them, or other things.
As a result, the cellphone is illegible when connected to the computer.
The problem is, what if the settings changed without us knowing it, or changed accidentally?
Of course, this makes us confused, what settings should be changed back, right?
Well, if you want it to be easy, you can try doing a factory reset. Most likely the Phone will return to normal because all settings will return to the way they were originally purchased.
This solution applies to setting changes made intentionally or not, of course.
7. Enable USB Debugging
USB Debugging, in short, is similar to Administrator access (similar to root but not root ). Usually used to change the Phone system.
Well, from several foreign technology sites that I got, using USB Debugging can sometimes help to fix Android problems that are not detected on Windows systems.
It's easy to do it yourself.
Go to Settings > Developer Options > Then Enable USB Debugging .
If you can't find the developer options setting, please open it first via:
Open Phone Settings.
Go to About Phone.
Look for the Build Number.
After that, press repeatedly until the message "You have become a developer" appears.
The settings for opening developer options must be on all Android phones. There's no way there's no anyway.
Read Also:
8. Flash Reset the Phone
We come back to the bug system problem again. Sometimes the reset option can do the trick.
However, if the bug already exists from the default system, then the only way to fix it is just by reflashing it.
Why? Because with this reflash, the Phone system will be replaced with a new one. Then it should be the bug – a bug that will automatically disappear.
9. Bring Phone to the Service Center
If you still can't, there is a possibility that one of the components in your cellphone is damaged.
Damage to this component, to be honest, is a little difficult to repair by yourself. Especially if we don't understand electronics.
One of the vulnerable components is the connector on the cellphone. This connector has a pin that functions to detect cellphones to other devices.
If the pin is damaged, the cellphone cannot be read on the computer.
Bringing a Phone to the Service Center is the wisest choice. Because fixing problems like this usually doesn't take long. The cost may also be free if there is still a special warranty.
The Final Word
Android phones that can't be read on a computer are quite a hassle.
We cannot copy the desired file, so we cannot flash again when the cellphone is completely dead or boot loop.
Well, the 9 methods above are the ones most often recommended by experienced Android users.
I also recommend it myself, because I've tried it myself, and it's proven that until now my cellphone is normal again.
If it doesn't work, please just tell us in more detail about your problem via the comments column below. Hope this helps, yes.